Permanent link
02/04/2011
I honestly have to say that over the last five years that I have worked in the business, I have seen people become more inquisitive in their bar-going experiences. Now the guest feels more empowered to find something that they like without having to resort to the more traditional (and boring) mixed cocktails. The more curious the guests become, the more informed the bartender must become. This generates a new and dynamic relationship between guest and bartender that will lead to a more satisfying and enjoyable experience for both, so don't be shy and try something new!
Here is a question I was recently asked:
So I just finished watching a James Bond film called Casino Royale. I love James Bond, and it got me wondering, what is a Vesper? And what exactly is the difference in the cocktail that is shaken versus one that is stirred?
Ah, you must be referring to the 1953 book's reference from Ian Fleming's "Casino Royale", uttered by Sean Connery, the famous Vesper cocktail James Bond loves to drink, "Three measures of Gordon's, one of vodka, half a measure of Kina Lillet. Shake it very well until it's ice-cold, then add a large thin slice of lemon-peel. Got it?"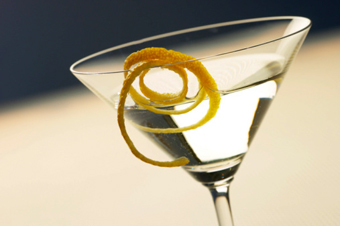 Well, this particular cocktail is very indicative of the time period and the overall cocktail revival that occurred in the 1950s, not because of the cocktail's construction but of its ingredients. So let's walk through it. First, it is strong, with over four parts of straight up alcohol. Gordon's gin is a London Dry Gin, a popular style of gin, even nowadays, that has a dry but prominent juniper nose and taste. Vodka is vodka, although did you know that the official vodka brand for James Bond films since Dr. No is Smirnoff? Yep.
Kina Lillet is a wonderful French aperitif wine, and the addition of quinine in the blend acts as a muscle relaxant and was also used to treat malaria. The name changed to Lillet Blanc with the introduction of Lillet Rouge, made with red wine instead of white, in the 1960s. Its unique flavor derives from a combination of quinine (greatly reduced since Bond's time) and various sweet and bitter citrus fruits and peels. All three ingredients are shaken so well that ice crystals appear in the cocktail glass when poured. It is served up in a cocktail glass, NOT called a martini glass because other cocktails are served in this glass besides martinis, or a deep champagne golbet if you're Bond, and garnished with a nice wide lemon peel, to accentuate the citrus notes of the Lillet, embolden the dry gin, and add a nice citrus effervescence while you sip.
So if you ever wonder what James Bond felt like, order one from your bartender and then tell me if you think it suits the superspy's personality. This cocktail is great on its own because of its strong construction and unique flavor combinations of sweet and bitter citrus, white wine and dried juniper notes. Martinis also pair well with various small plate appetizers like stuffed olives, salumi, charcuterie and cheese plates.
As for shaken versus stirred, I was taught by my master mixologist Bridget Albert as a general rule of thumb, to shake the cocktails that are opaque, usually due to the addition of juice or a dark colored liqueur. Usually one wants to shake cocktails when they include fruit juices, cream liqueurs, simple syrup, sour mix, egg, dairy or any other thick or flavorful mixers to ensure even distribution and blending of ingredients. Conversely, drinks that have no juice and have a clarity and translucent quality should be stirred. As a general rule of thumb, Stirring is a more gentle technique for mixing cocktails and is used to delicately combine ingredients with a perfect amount of dilution. Many gin and whiskey cocktails are stirred because shaking is said to "bruise" the spirit, or bashing it with shaken ice and diluting it to the point of changing the flavor profile. Studies have been conducted to answer this question over several decades, including ones done by biochemists.
Mixologists will stick to this rule for most cocktails unless the recipe specifies otherwise, but if you have a preference make sure to tell your bartender when ordering your drink. Do not assume the bartender can read your mind and know how you like your martinis made, so don't be shy and give the Vesper a try! Who knows, after drinking one you may be whisked off to save the world from evil villains, Vesper in hand. You never know...
L'Chaim!