Permanent link
02/17/2014
Weddings are in the spring and summer, so invites are going out soon, and that means you have to go wedding-gift shopping again. Well, we're here to help. Here are the major categories of Judaica (according to one website, at least…) and my unsolicited advice as to whether they will make good wedding gifts. Of course, everything depends on the bride and groom and how well you know them.
Candlesticks: You can never have too many. If the couple doesn't use them, they can save them for Friday Night guests. Get nice wooden ones they won't be afraid of damaging. A travel set is especially useful, and you'll probably be the only one who thought of it.
Hand-Washing Cup: Depends on their level of observance.
Kiddush cup: A very nice gift that's practical and pretty. Again, they can let guests use it if they don't. It's simple and elegant; neither too formal nor too modern.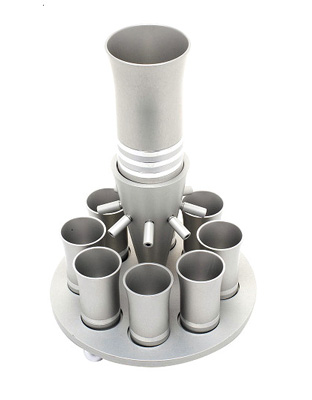 Kiddush fountains: Unless you have exactly eight diners, they are useless. Also, these are hard to clean and bulky to store.
Challah covers/boards: You have to know the couples' tastes, or even their dishware. On the other hand, these are relatively cheap. Go for a nice holiday-looking one that says "Yom Tov," as they may already have a Shabbat one. 
Mayim Acharonim: For the Orthodox couple that you know will get everything else on this list from someone else, sure, but post-meal hand-washing is too obscure a practice for most couples.
Havdalah set: How observant is the couple? If you do give one, be sure to include a candle, and one that fits the holder.
Menorah: I know – they'll only use it once a year, but it looks nice all year round. Again, it can be used by guests or children (and children of guests). And if you can't give a menorah as a Jewish wedding gift…
Passover items (seder plates, matzah covers, and Elijah cups): These have a lot of artistic value, but will only be used once a year, if that;  many new couples still celebrate seder at their parents' or grandparents' homes.

Shofar: It's loud and too bulky. If they happen to want one, it's something they'll want to get in Israel, if they go.
Mezuzah: This is a good housewarming gift, but couples may have very specific design ideas and color schemes in mind for their homes. A mezuzah isn't just a gift— it's a piece of décor. Many couples prefer to choose their own.
Kippot: They will most likely have leftover ones from the wedding itself.
Kitel: If the groom has one under the chuppah, he doesn't need another one. If he doesn't, he doesn't even need a first one. Also, this is a gift that only one of the couple can use at a time.
Tallit: This is a traditional gift from one half of the couple to the other.
Yad (Torah Pointer): That's more of a bar/bat mitzvah gift.
Wall Blessings: Again, more of a décor matter and a common souvenir of an Israel trip.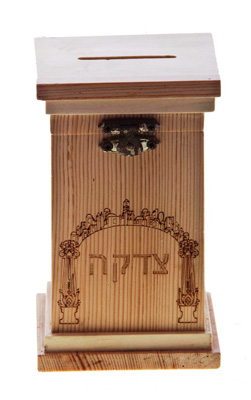 Tzedakah Boxes: It sends a nice message. Get something sturdy, yet pretty, and easy to open when full. 
Donation in their names: I do truly believe that some couples, rather than more things, would want to have someone else also have a nicer day because they got married.