Permanent link
12/16/2009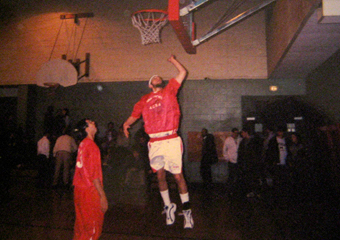 I was in eighth grade limping around on crutches when my family took me to an Ida Crown Jewish Academy vs. Fasman Yeshiva High School basketball game. It was a packed house. Literally, my broken ankle was hanging over the court because there was nowhere to sit. The Ida Crown Aces varsity team ran out onto the court and the atmosphere was electrifying. I know it sounds weird that a high school game featuring religious Jews could be so exciting— but it was. And from that point on, I knew I wanted to attend Ida Crown Jewish Academy for high school.
When I got to Ida Crown the games were exactly like I envisioned them. There was heated competition with fans screaming and chanting. And we played our hearts out in every games. Emotions were always high. I remember the coach, Gary Peckler's, locker room speeches and how we tried to ignore the other team during warm-ups, but were really sizing each other up. Fans would be passing out student papers that compared each player to his counter part. Throughout my years at Ida Crown we split with the Yeshiva. But each game came with a different feeling of either total demoralization or complete accomplishment. Those games usually decided the Metro Prep conference champion.
The games got so intense and so packed that the Yeshiva no longer plays its home games vs. Ida Crown at the school. Instead, they have started renting out a gym and changed their game from the Saturday night craziness to a calmer Wednesday night setting. This year they take on Ida Crown at Chicagoland Jewish High School.
In 2001 Chicagoland Jewish High School officially became the third Jewish high school with a basketball program and they quickly joined the Metro Prep. While CJHS is still a young team they do hold a few junior varsity wins. I remember going to a game and CJHS beat Ida Crown—that win meant a lot to the up and coming school. This year CJHS has left the Metro Prep and will play as an independent school. In 2007 CJHS also built a gorgeous new gym, a perfect setting for any high school basketball game.
For everyone out there in the Chicago Jewish world who has not gone and seen some of these games, I say go for it. The Yeshiva chants of "hit the floor" every time I touched the ball still rings in my ears. The excitement was unbelievable. Jewish pride is on the line with every free throw and every miscue (I mean it is Jewish basketball). Below is the rest of this year's schedule. Also, Ida Crown and CJHS plan on attending an all Jewish High School basketball tournament in New York at Yeshiva University on March 11th-15th. 
ICJA vs. CJHS - Dec 16th
ICJA vs. Yeshiva - Jan 24th
ICJA @CJHS - Jan 30th
ICJA @ Yeshiva - Feb 6th @CJHS
CJHS vs. Yeshiva - Feb 21st
Metro Prep Tournament - Feb. 22nd
Red Sarachek Tournament - Mar 11th-15th
For more information about high school sports or anything else in the sports world please visit www.thegreatrabbino.com.
And Let Us Say…Amen.