Permanent link
11/04/2010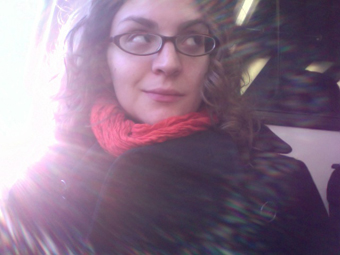 I sincerely believe that every day on public transit is an adventure. It's the ultimate people-watcher's paradise:  there's always something going on. We all get treated to drama and comedy of epic scope, for the price of admission onto a train or a bus.
Today, for instance, the Brown Line was packed. Usually when I catch the train, things are pretty laid back: there are a few seats open and the platform is fairly empty. But as soon as I saw there was one open seat in the front car, I planted myself in front of the door and made a beeline for it. (Maybe I'm a little aggressive about finding seats on the train. I can't get hungry for the first hour and a half that I'm awake, but I have fainted enough times on the Brown Line that I don't trust myself to make the whole trip hot, cramped and without calories. Generally I try to be polite on public transit, but this is one of the things I allow myself, like giving the stinkeye to people who take up two seats or who sit on the aisle and make it hard for others to get in.)
The lady who wound up sitting next to me was a sigher. For whatever reason, she constantly commented on the state of the world with these frantic little sighs. She wore a beautiful ankle-length black wool coat, and by the time I got curious enough to look from the window to my seat-mate, I saw that she had spread out a full array of makeup products on her knees. The eye shadow kit with which she was touching up her gold-and-gunsmoke color scheme had the Chanel logo on the outside and a mirror inside the lid. I was amazed that she had the confidence to put on her face on a bouncing train car, without knocking her elbows into anyone around her.
You can learn a lot by studying a train car on a macro level too. A game I play, because yeah, I am pretty judgmental about how people behave on public transit, is to figure out who is blocking the aisles. It's the worst when you're trying to get onto a car, and the area in front of the doors is packed tight as sardines, while other riders are hanging out just fine by the seats. (Pro-tip: Speaking up generally does get people to shuffle in a little and make some room. I've found that not letting my grouchiness get in the way will make them more accommodating, and may lead to good-humored mutual complaining about the state of the CTA.) Anyway, your culprit for bottlenecks is not always who you think. They're usually totally oblivious to their surroundings. They're also usually hanging off the second-nearest pole like a rhesus monkey, ignoring or not seeing the bar eighteen inches away that will free their fellow riders from a truly special brand of forced socializing. (Moral of the story: Be considerate as much as you can, because I may be watching and blog about you.)
If you'd rather not risk awkward moments of eye contact, I'm also a huge fan of staring out the window. I've lived in Chicago for most of the past eight years, and I still automatically sit as close to the window as I can, and on the side with the best view, whether it's the side of the bus where I can watch the lake or the side of the Brown Line where I can see the horses near the Noble Horse Theater, just past the Sedgwick stop. Even with all that time on the CTA, there are some things that still elude me. Why is the actress in that poster by the Steppenwolf Theater so angry? (Why did they choose that photo to entice us to buy tickets?) Who uses the community garden just past Armitage? What's with that six-story list of names near the elevated Chicago stop? How long will that early-rising worker stare back at us from her office while we're waiting for signal clearance?
Like I said, adventure for $2.25 a pop. And all before 8:30 this morning! Catch you on the flip side, Chicago. You're always fun to watch.