Permanent link
11/21/2014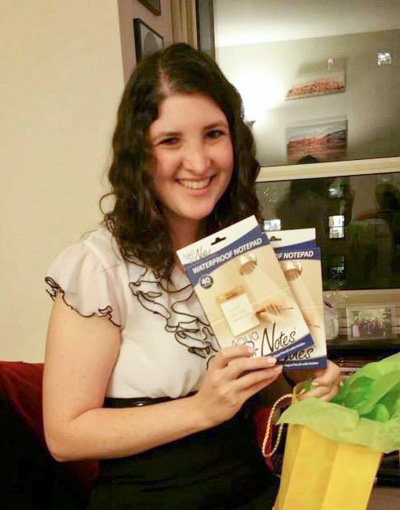 Though I'm sitting here at my computer, I very well could have written this blog post from the shower.
For my birthday this year, I received a unique and amazing gift: a waterproof notepad and pencil, designed for the shower.
I had requested this gift from Michael and Rachel, my brother and sister-in-law. "I'd like a dry erase board for my shower," I told them. "I don't know if it exists, but I figured if anyone in the world could find it, the two of you could."
So, they presented me with these packs of waterproof notepad paper and pencils.
I stuck the notepad and the pencil to the wall of my shower using the attached suction cups, and I was ready to write.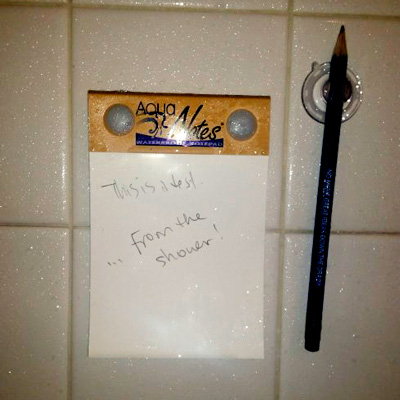 Why do I want this unusual product? I thought you'd never ask.
My best ideas come while in the shower. With the warm temperature and the sound of calming water, my mind is clear, allowing me to let the creative juices flow without distraction. Many of the ideas for posts on my blog originated in the shower.
To-do list items. When I'm not thinking of exciting, creative, fresh ideas, my mind wanders to my stress level and things I need to accomplish. My brain is filled with "Oh no, I forgot to email my advertising rep at the newspaper about an ad we're running," or "I need to buy stamps," or "It's been a while since I've had dinner with Kayla." I'm a much happier Lia when my thoughts are on paper (or on pixels), and this will allow me to never be more than an instant away from a pen. To my journalism, English, and writing teachers, who taught me to keep a journal and a reporter's notebook nearby: you've again ruined me.
Memory issues. Upon seeing this gift, my dad said, "Lia, either your showers are too long or your short-term memory is not functional. Can't you just remember these ideas and items until you get out of the shower?" Both may be true, but … what was I saying? Oh yeah, memory issues. I find myself making up a song so as not to lose my new thoughts — see how long you could survive singing "Contact solution, e-mail Rachel, blog about the vegetable aisle in the grocery store" to the tune of Lady Gaga's "Bad Romance."
So, I'd like to thank Michael and Rachel for this great gift — and actually, maybe I'll even write their thank you note while shampooing my hair.