Permanent link
11/19/2013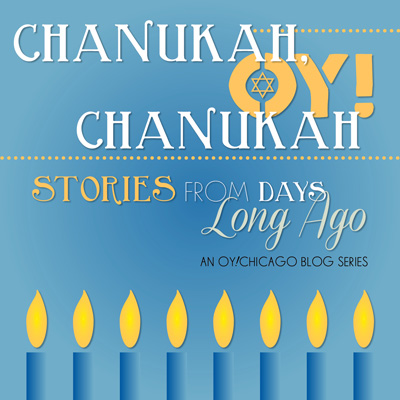 Somewhere along the line we got the idea that only those women can make true latkes. Who are those women? They are our mothers, mothers-in-law, grandmothers, and aunts ... all women of a certain—age. They had been making them for years with a knowing hand, all the while determined to have the best recipe around.
For many, potato pancakes have been stamped with the "Do Not Attempt" trademark and I am here to say we must stop with the madness! Potato pancakes are simple—they do not have to be the heavy and oily latkes that our ancestors used to make.
And to be quite honest, I never liked them that way. At my house we never ate latkes; they were not part of my mother's repertoire. It was my childhood best friend's grandmother who used to make potato pancakes for us all the time. My best friend dipped hers in ketchup, leaving only a nice pool of oil behind and I ate them plain with a bit of salt and pepper. I usually picked at the dry crispy potato crumbs left—a relative of the potato chip, or so I like to think.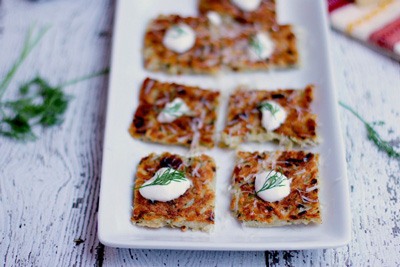 Latkes were good, but in my eyes never great. As I got older, it was hard for me to eat these potato pancakes in restaurants and even people's homes. I could not figure out what I did not love about them. "What's not to like?" I thought. Potatoes: good; onions: good; crispy bits: good. Why was the combination of these ingredients not adding up to be the crave-tastic food I willed it to be? It was because none of them were quite done my way. I wanted light, crispy and well-seasoned bites of potato, not dense, mushy pancakes that dribbled oil down my chin when I bit into them.
It was not until a few years ago that suddenly I realized what needed to be done: I needed to create my own potato pancake, one that had a following of its own that would leave not oily smudges, but gleeful smiles. After numerous test runs and a garbage can full of potato peelings, I figured it out. It was so simple that it made me wonder why it took me so long to come up with the recipe.
The beauty of this recipe is that it is done in the food processor, not with a grater like those women used to do. Just grate all your potatoes in the handy dandy food processor and combine with the rest of the ingredients. Then throw into a pan and finish off in the oven. The pancakes basically make themselves! No flipping or greasy mess necessary. An easy and uber-crispy potato pancake that can be served as a breakfast item with delicious fried eggs for breakfast, an Hors D'oeuvres with some Nova Scotia lox on it and a sprig of dill or my personal fav—a simple bite with a refreshing Greek yogurt dip.
Get excited! Pull out your food processors! Hide the tears! Burn the apron! And be ready to smugly say to your mother/mothers-in-law/grandmas, "I did it. I made these! And they are fantastic!"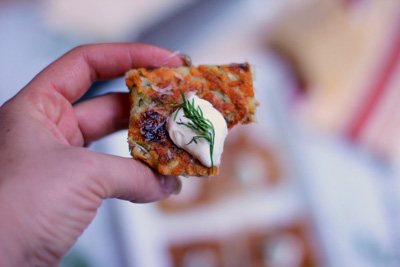 Crispy Potato and Shallot Pancakes with Greek Yogurt Dip
These super-duper easy potato pancakes require very little fuss and even less oil (your figure will thank you later). There are two key components to doing these potato pancakes correctly:
1. Make sure you squeeze out as much liquid as possible. The easiest way to do so is to wrap them in cheesecloth. I personally find the dish towel much more tedious and labor intensive.
2. When placing the potato mixture in the pan, make sure to squeeze it down as much as possible so the bottom gets really beautiful and crusty.
Crispy Potato and Shallot Pancakes
2 pounds russet potatoes, peeled and grated 3 shallots, grated (I find the shallots give a milder flavor than onions)
3 garlic cloves, minced (or grated on a microplaner)
1/4 cup seasoned bread crumbs
1/4 cup grated parmesan, plus 1 tablespoon (you can use any other cheese you please as well...it's quite versatile)
2 tablespoons freshly chopped rosemary
2 tablespoons freshly chopped dill
2 eggs, lightly beaten 2 teaspoons kosher salt 1/4 teaspoon freshly ground black pepper 3 tablespoons olive oil
***the magic ingredient: a sprinkle of parmesan cheese on the top***
Preheat oven to 450 degrees
1. Insert the fine shredder attachment to your food processor and shred the potatoes and shallots.
2. Place mixture into a cheese cloth and ring out all the moisture. Make sure every last bit gets out. Dry potatoes = crispy pancakes.
3. Place the mixture in a bowl, add in 2 eggs, and sprinkle in enough bread crumbs to soak up the remaining moisture.
4. Preheat a large pan (12 inches) with the olive oil in it at medium high.
5. Place the potato mixture into the pan. Make sure you pat it down firmly and squish it down so that all the potato's surface area is covered. After about 5-10 minutes the edges started getting beautiful and brown.
6. Turn off the heat and sprinkle some Parmesan cheese right on top before putting it in the oven. The cheese gives it an even more beautiful crust and adds a little bit of saltiness. Again use what you like, cheddar and Swiss make a great pairing too, but they create a gooier pancake.
7. Place the pan the oven for 20 minutes.
8. Carefully invert the pancake onto a cutting board and cut into squares with serrated knife. You can also cut it like a pizza and present it in slices.
Herbed Greek Yogurt Dip
1/2 cup non-fat Greek yogurt
1 teaspoon lemon zest
1 teaspoon lemon juice
2 teaspoons chopped chives
1 teaspoon chopped rosemary
1. Combine all ingredients in a small bowl and enjoy. If you want to get all fancy, place a dollop on each pancake piece and garnish with chive.
For the step by step tutorial please go to www.girlandthekitchen.com
Mila Furman is a chef, blogger, writer, recipe developer, food coach, new mom, wife and all around busy bee. Born in the former USSR, she grew up in Chicago and quickly developed an affinity for the culinary arts. Her Ashkenazi roots frequently influence her kitchen creations. She graduated from one of the top culinary schools with a degree in culinary arts and a BA in Hospitality and Restaurant management. Having worked all over Chicago in a multitude of kitchens, she boasts a well-rounded recipe repertoire. Read more of her story and keep up with her many shenanigans atwww.girlandthekitchen.com.