Permanent link
11/18/2009
It's that time of the year again! It's time for the malls to roll out the red carpets and cinnamon spice air fragrances, it's time for the trees to be covered in pretty lights, it's time to enjoy your favorite limited edition holiday beverages at Starbucks, and it's time for us Jews to bitch about the miniscule amount of recognition paid to Hanukkah (while secretly enjoying the Christmas lights and music). It's also that time of the year where people begin to stress about all of the gifts that must be purchased… Well, spin the dreidel and call me Hanukkah Harry because as a present to you, I plan on eliminating some of your holiday stress by providing you with eight unique and recession-friendly Hanukkah gift ideas!
For the health nut: This year, buy a bag of personalized granola for the health nut on your shopping list! At Mixmygranola.com, you can create the perfect mix for any "granola breath". MixMyGranola lets you choose from five different flavors of granola, twenty different kinds of dried or dehydrated fruits, seventeen different kinds of nuts and seeds, twenty-four "extras" (such as chocolates and candy), and seventeen enhancers (such as flavors, protein powder, antioxidant powder, and even caffeine). You can add as many ingredient as you'd like to your granola, and MixMyGranola will create your perfect blend. You can name and personalize your granola, making it perfect for gift-giving, and MixMyGranola will ship your granola to the recipient in a personalized tube, complete with nutritional information for your specific blend. The granola starts at $4.99, and the cost goes up for each ingredient that you add. I made my own tube of granola containing 100% organic muesli, banana slices, organic dates, dried blueberries, roasted almonds, and organic acai powder, for $11.44. And it was delicious! Sign up for their email list and receive 10% off your order!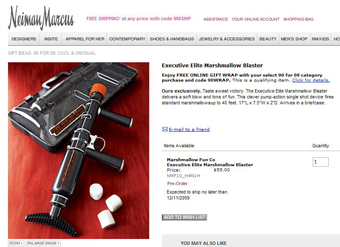 For the person who has everything/kid at heart/ME: Coolest. Gift. Ever. It's the Executive Elite Marshmallow Blaster! Exclusive to Neiman Marcus, the Executive Elite Marshmallow Blaster "delivers a soft blow and tons of fun. This clever pump-action single shot device fires standard marshmallows up to 40 feet." Sounds deliciously dangerous, if you ask me! But then again, who doesn't like to dabble with danger? The Executive Elite Marshmallow Blaster sells for $55.00 at Neiman Marcus. Enter code 90WRAP for free gift wrap, and NMSHIP for free shipping.
For the velour sweat suit inclined friend: Juicy Couture brings something new to the table this holiday season! Treat your Juicy loving friend to something super practical, such as pink furry dog speakers that hook up to her iPod! The Scottie Plush iPod Speakers, made by Juicy Couture, play any princess' favorite music through frighteningly fuzzy Scottie dog speakers. At just $68 for the set of speakers, you'll have your favorite Juicy fanatic jumping for joy! Also at Neiman Marcus, this gift qualifies for free shipping and free wrapping (use same codes as above).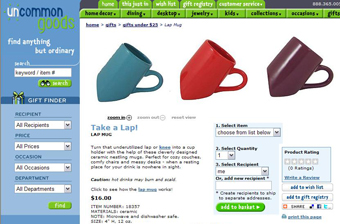 For the friend who's always cold: Everyone knows someone like this! He's the guy with his own heater at his desk, or the girl who wear Uggs in summer (don't even get me started on that one…) Just think of how thoughtful your cold friend will think you are when you buy him/her the LAP MUG! This cleverly designed mug is slanted on both sides to fit perfectly in one's lap on a cold winter day. Costing a mere $16.00, you could even throw in a packet of instant hot chocolate for an added surprise!
For the friend who does not keep kosher: Gratefulpalate has many wonderful offerings for your pork loving pals! Some of my favorites were the Bacon Toilet Paper ($9.95), the BLT Candle Set ($33.95), and the Bacon Air Freshener ($4.95). Your piggy pal with squeal with joy now that he or she can carry the smell of bacon wherever they go!
For the pet lover: We all know how difficult it can be to manage our schedules, especially at this time of the year… throw someone else (or an animal) into the mix and it's easy to imagine how hectic life becomes! Problem solved: Fido's Files Pet Organizer! Now your pet loving friend can keep track of his or her pet's very important schedule, doctor's appointments, shots, and play dates! Fido's Files Pet Organizer sells for $20.00.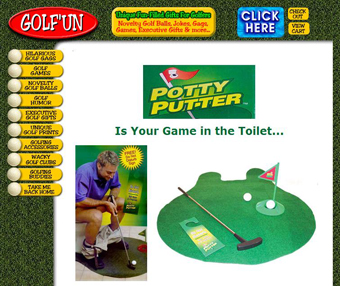 For the multi-tasker: Finally, the perfect gift for the friend who needs to be doing two things at once: The Potty Putter! "The Potty Putter golf game allows the avid golfer to practice his putting while in the restroom. The Potty Putter includes a 36"x 30" putting green made from mini-golf course carpeting, a plastic cup and a flag, a special mini-putter and two practice golf balls." This clever gift also includes a "Do Not Disturb sign for uninterrupted practice". The Potty Putter sells for just $22.95.
Gift for a "White Elephant"/Secret Santa: One word. SMENCILS! These ridiculously fun pencils come in flavors such as watermelon, cherry, grape, chocolate, and many other delicious flavors! Each Smencil comes in its own tube, and is made of recycled newspaper. Buy a 10 pack of Smencils at Target for one very lucky Secret Santa, or split the pack between several friends so you can share the joy of Smencils with everyone! A 10 pack of Smencils sells for $11.99.
I HO-HO-Hope this gift guide comes in handy as you search for gifts for your loved ones this holiday season!