Permanent link
11/12/2010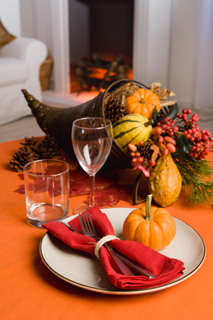 As the weather outside changes from warm and sunny to brisk and cool, autumn also ushers in a feeling of warmth and coziness. Now, while some people cringe at the feeling of that cold Chicago wind whipping at you from all sides, I look forward to that feeling. The colder it is, the happier I seem to be. Whether it's super strong winds or endless snowstorms, I become absolutely enraptured with the terrestrial orchestra that is autumn and winter weather. The changing of the colors of the leaves are awe-inspiring and show that even in the cold and barren weather there are some things that remain and even become more beautiful and breathtaking than before. That is why I look forward to the fall season each and every year.
As we near Thanksgiving, I can't help but think about all of the wonderful things that come with it: turkey and stuffing, hot apple cider, and family. Now, while this is not a Jewish holiday, I think there are still several themes to take away from this holiday of thanks and of giving. For me, Thanksgiving reinforces the everlasting mitzvah of helping those in need, of giving thanks for all the things I take for granted and hold dear, and of reflecting on a year of great successes as well as areas for improvement in my life.
This year I have so much to be thankful for. I am especially blessed to celebrate this national turkey day with both my family in Chicago and my girlfriend's in Naples, Florida. My accomplishments and successes in recent months are due in large part to the support, encouragement and love from my family and from my girlfriend. I was blessed with a caring, loving and supporting family. I am also very lucky to have someone so special in my life right now that cares about me and my happiness, that exposes my flaws and shortcomings out of love and care, and that stands by me no matter what I choose to do or be. Without her, achieving all these things would have appeared to be out of reach. So to her I say thank you, from the bottom of my heart.
But the blessings and good news does not stop there! After working in the restaurant business for the past four years, I discovered that my true passion lies in the education field and not in making cocktails for bar and restaurant-goers. Earlier this month, I was ecstatic to find out that I was accepted into a highly accredited graduate school program in pursuance of an elementary education certification. Now, more than ever before, I can begin the journey to realizing my true dream of teaching young children—Jewish, of course—as well as serve my community by becoming a mentor and a positive role model.
How did I know that teaching was going to be it for me? Funny you should ask! Just a couple weeks ago I was offered (and I accepted) a position replacing an outgoing religious school teacher at a Conservative synagogue teaching 4th graders. I can't begin to tell you how honored and humbled I felt when I was approached by the religious school principal as a potential teacher and was told that I was not only qualified but extremely capable. Once the initial shock subsided, I realized that this was something that I have wanted for a long time and could not contain my excitement. The turning point for me was when I learned that the children wanted me to be their teacher, too! They all voted on the different potential teachers and I came up as the unanimous favorite! I don't want to sound egotistical or self-centered here, it's just such a wonderful and engulfing feeling to know that you are wanted and can seize the opportunity to change people's lives for the better and make a difference. I'll never forget that feeling, and I remind myself of it each time I step into that classroom and see those wide eyes and smiles staring back at me.
So, as we all sit down to our Thanksgiving tables and enjoy the wonderfully prepared food and the great company, let's all remember that just because we ask for forgiveness on the High Holidays doesn't necessarily mean that we forget how to be thankful for what we do have come November. We all have hardships in our lives, but we also have such wonderful blessings to both cherish and create. Let's all take the opportunity to be thankful for everything that we hold dear, to be genuine and good to yourself and others, to appreciate our lives and look forward to enriching it that much more.
L'Chaim!