Permanent link
The Bulls are back, but more importantly – so is Derrick Rose.
10/29/2013
It's my favorite time of year – the start of the NBA season. And it could not come at a better time. With the Bears stumbling into their bye week, Chicago is receiving the ultimate gift in the return of Derrick Rose, who comes back from the torn ACL he suffered in the 2012 playoffs that kept him out all of last season. I had no interest in joining the debates about whether or not Rose should have returned last season, and I just enjoyed the ride watching the undermanned Bulls surprise everyone and make an incredibly gutsy run into the playoffs.
But now Rose is back and I have been eager to watch every minute of every pre-season action to see what kind of shape he is in. Bulls fans: get ready for more player-by-player previews and predictions about the Bulls than you can handle.
First – some observations on the pre-season. Derrick Rose was bringing 110 percent in games that are normally reserved for players to just get their legs under them. But Rose came in with a huge chip on his shoulder and a lot to prove – and he more than did that. He looked incredible, and as much as people were saying he was playing all out in those meaningless games, I disagree. I still think we have yet to see the full extent of the improvement in Rose's game.
Injuries on the rest of the roster have me troubled a bit going into the season, specifically regarding Joakim Noah and Kirk Hinrich. Both played major roles in the Bulls' success last season and both will be keys to their success this year. Noah was shut down after only playing one pre-season game with a sore groin and Hinrich has been dealing with the aftermath of a concussion that has turned into shoulder pain.
The Bulls' depth has taken a bit of a hit this year in my opinion, and without those two players, chances of getting past Miami and Indiana decrease significantly. Carlos Boozer looks worse than ever – and I'm not even a Boozer hater – but he hasn't looked like an NBA starter so far this pre-season. And if they can stay healthy, I think the Bulls have the most dangerous defensive 2-3 in the league in Deng and Butler; they are going to take the bulk of the responsibility handling the opposing team's best players.
There are a lot of new faces on the bench and a superstar returning to form – let's go player by player and see what we hope to see from each going into the season, which tips off tonight against – you guessed it – the Miami Heat.
THE BENCH
Mike Dunleavy
The Bulls' big off-season acquisition. Not exactly front page news but I think this was a solid pick-up. Since losing Kyle Korver two years ago, the Bulls have not had that go-to spot-up three point shooter, and now they should have that in Dunleavy. He's 6-9, he can handle the ball and with his size he can shoot over about anyone else at his position. In the pre-season he has looked like he fits really well on this team and with Derrick back, the Bulls need to have reliable perimeter scorers for him to pass out to when he drives the lane and collapses the D. He can play a few different positions and allow the Bulls flexibility in their rotation. Rose will continue to attract attention and draw double teams and if Dunleavy can be accurate, this will be one of the Bulls' most dangerous weapons.
Taj Gibson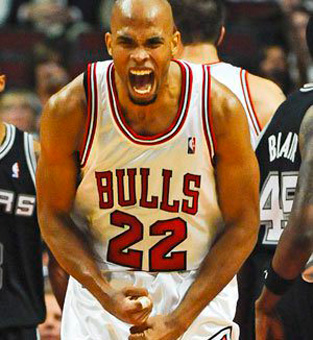 The most improved player for the Bulls this pre-season. Taj took a step back last year after being one of the Bulls' most reliable players off the bench, but he looked good in the pre-season. He put on some muscle and should provide the Bulls some nice flexibility if he can play the 5 in some rotations. He's a great defender and shot-blocker and appears to have found his outside shot again. I still want to see him develop a better offensive post game, especially because the Bulls don't have a player who can demand much attention in the paint on the offensive end, but if he can do that it will open things up for the perimeter players around him.
Kirk Hinrich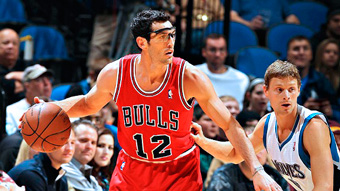 The big question facing Hinrich is can he stay on the court? Because if he can, this is a great back-up who can play both guard positions. He can handle the ball and run the offense and score when called upon, but pairing him with Rose at times will allow Derrick to move off the ball, something he has not been able to do as this is the first time the Bulls have really had a true point guard to back him up. But Hinrich has not proven he can play a full season. They are going to need to find a balance between limiting his minutes, keeping him healthy and being a guy who can let Rose and Butler rest during stretches.
Mike James - Good vet to have on the bench, but if we see much of him on the court, chances are we're in big, big trouble.
Nazr Mohammed - For all of the bench players the Bulls let go in the offseason, this was actually the player I was most excited they retained. Last year Nazr didn't play nearly enough in the early part of the season before Joakim started dealing with foot problems. And I think part of what led to Noah getting hurt was that he was playing too many minutes that Nazr could have been taking. Nazr is a solid veteran backup and can give the Bulls some solid minutes off the bench in order to help keep Jo fresh and healthy. He knows the team well, the system well, can play defense and is reliable on offense. If Coach Thibs is smart, we'll see plenty of Big Naz early this year.
Erik Murphy - The rookie likely saw more minutes this pre-season than he will all year assuming Noah, Boozer and Gibson stay healthy. He is definitely green, and will likely spend most of the year on the bench outside of a possible appearance during a blow-out. He looks like an overweight Fred Hoiberg, and the Bulls are hoping he shoots like one too. But he is not someone the Bulls expect to get much from in the short term – he actually strikes me as a Troy Murphy-type: 6 feet 10 inches but more of a threat from behind the three-point line than he is in the paint. The Bulls see him as a guy who could spread the floor at the 4 spot, but, likely won't have many opportunities to do so this season. Still seems soft for the NBA game.
Tony Snell - The Bulls' other rookie may have a slightly better chance of cracking the rotation, but this is another long term project. Snell is extremely athletic and projects to be a good outside shooter, but the Bulls are stacked at the 2 and 3 positions and this appears to be a development year for him. But this pick along with Murphy shows the Bulls' commitment to surrounding their core with great outside shooters to help support Rose's drive and kick game – but he could also be the second coming of Eddie Robinson … yikes.
Marquis Teague - The standout of the Bulls' summer league, Teague showed improvement in his overall maturity and ability to handle the ball and run an offense. He appears to have worked on his outside shot, but that is still far from a reliable weapon. But he is extremely fast and clearly a good student of coach Tom Thibodeau's system. With Hinrich's inability to stay healthy for an entire season, Teague could get some quality minutes as the backup point guard.
THE STARTERS
Carlos Boozer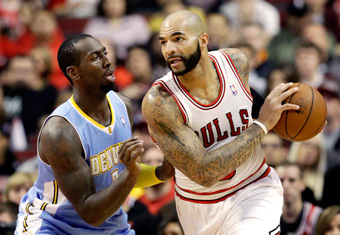 The worst thing I saw this pre-season was the play of Carlos Boozer. More than ever before, he is so mentally absent on defense. And for him that is saying a lot. Boozer has the big contract, but he is the weak link in an otherwise defensively strong starting lineup. I think the Bulls will have trouble sending Boozer to the bench given his paycheck, but, I think this has to be the year that Taj Gibson becomes a starter. Now that Taj is a more reliable scorer, he solidifies what could be the most formidable starting defense in the NBA. The Bulls will be really, really difficult to score on without that big hole down low. That, and the microphones don't pick up Boozer as clearly when he's yelling "go get it, Jo" from the bench.
Jimmy Butler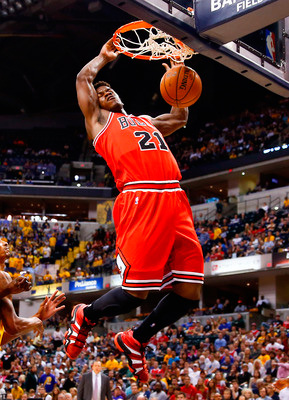 Jimmy Buckets is primed for a break-out year. He has spent the offseason working on his offensive game, which already took a step forward last season. He is one of the best wing defenders in the game and he could get better. And now with Derrick Rose running alongside him, opportunities to score should be much easier to come by for Butler. He showed in the preseason that he has worked on his outside shot, and if he can continue to develop his ability to create his own shot, he could finally be the long sought after Pippen to Rose's Jordan. And if the Bulls want to take the next step toward a championship, they will need Butler to be the answer at shooting guard they have long struggled to find.
Luol Deng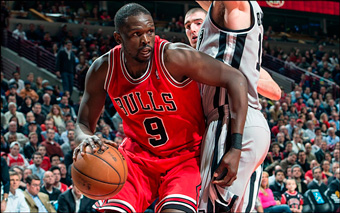 An important season for Deng for many reasons. Coming to the last year of his contract, Deng has been the glue of this Bulls team. He has played through numerous injuries, he has been the leader of the team on and off the court, and he has been the lock-down defender to always take on the opposing team's best player. He has continued to develop his skills on offense, adding a reliable three point shot to his cut and slash game. But is Deng the long term answer? And will the Bulls be willing to pay what Deng will be asking for in the offseason? He will also be the subject of many trade rumors as we get closer to the deadline, and probably the most likely Bull to be shipped out given his contract situation and value as a defender. I will be sad to see Deng go, but he is their best chance to get a true low post scorer to replace Boozer.
Joakim Noah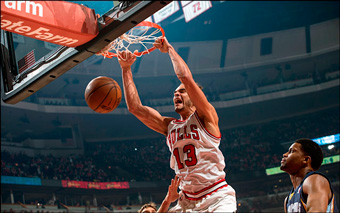 The personification of the Bulls heart-on-their-sleeves grit. And after suffering last year from a nasty bout with plantar fasciitis, Noah came to camp in amazing shape only to injure his groin and appear in just one pre-season game. Noah was shut down and is doubtful to play in the season opener. It goes practically without saying that the Bulls will not win the East without a healthy Noah, and already dealing with an injury before the season starts raises a lot of warning flags for me as a Bulls fan. Maybe he'll come back and everything will be fine, but, after last season's ongoing injury issues the Bulls need to be a lot more cautious with Noah this year.
Derrick Rose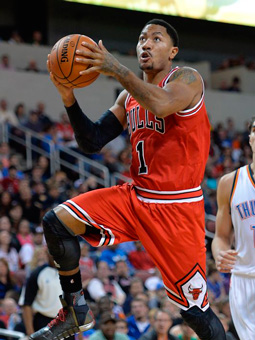 Finally. He's back. And like I mentioned before, he looks better than ever, which is scary. He looks stronger, he still attacks the rim without abandon, and he has clearly worked on his outside shot. If Rose can add a consistent three-point shot to his already dominant game, this will be another MVP season for the Chicago native. I don't want to get into his conditioning, should they rest him or not this season, etc. etc., but the biggest test will be late in the playoffs when Rose is double-teamed: will his supporting cast prove threatening enough to make opposing teams regret leaving them open to double Rose?
In terms of what else to watch for this season: do the Bulls make a trade before the deadline or do they stand pat? Will the starting lineup stay healthy all year? Can Rose actually return to MVP status? Will Thibs learn how to take his starters out of the game with four minutes left when the Bulls are up by 20?
My Prediction: If Noah, Butler, Deng and Rose stay healthy, this will be the year the Bulls was beat Miami and return to the NBA Finals.
Eric Burgher is the founder of the blog Sweet Home Sports.