Permanent link
10/28/2013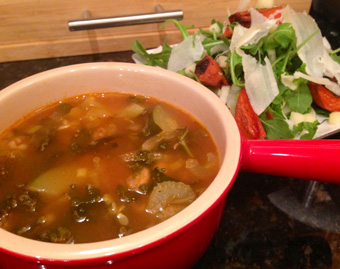 Upon meeting someone new, when they find out I am a chef, four out of five times I am asked what I like to call the "question trifecta."
"Where do you work?" 
"What do you like to cook?"
"What is your favorite food?"
My answer to the last one gets them every time. People expect me to give some grand answer such as roasted bone marrow and foie gras truffle terrine with sous vide rabbit. And don't forget the Osetra Caviar with vodka crème fraiche! FALSE, sorry to disappoint, but the answer is soup. Yes, soup! Soup of almost any kind.
Think about it. Soup is the perfect meal. It is the ultimate comfort food and can be made in big batches with anything you have around. Hearty soups — hot and full of deep flavors and textures — are what I crave. Eat it alone and it's a great lunch or pair it with a delicious salad and there you have dinner. Soup should be extremely healthy both in fat content but also clean and not full of additives. We all have to fight the urge to pick up a can of soup from the supermarket shelf. They are full of sodium and preservatives. Homemade soups taste better, are cheaper, and are better for you. About 30 min of prep time is well worth it. One large pot of soup can be made in a very short period of time and then frozen into individual portions waiting for you at a moment's notice — an insta-meal.
Most recently, I made a soup inspired by a dinner with my sister and brother in-law. It was the first really cold day of the fall season and we wanted a hearty but healthy dinner. I made a kale and wheat berry soup with a roasted carrot and apple salad. While in Israel this past February, I picked up a bottle of silan honey (date honey), which went great with the salad. As a substitute, regular honey may be used, but I have spotted silan at grocery stores that specialize in Middle Eastern products.
Soup
1 bunch leeks (chopped)
1 bunch kale (chopped)
3 celery stalks (chopped)
2 cloves garlic (minced)
1 small yellow onion (chopped)
1 T dried basil
12 oz tomato paste
1/2 cup dried wheat berries
2 32-oz boxes Swanson Free-Range Certified Organic Chicken Broth, 99 Percent Fat Free
1 T olive oil
1 12-oz can organic low sodium cannellini beans
Kosher salt to taste
In 5-quart stock pot heat oil. Sweat leeks, garlic, and onion until translucent. Add in tomato paste stirring constantly so that sugars caramelize but do not burn about 3 minutes. Add to pot all other ingredients reserving the beans. Bring soup to a boil and let simmer for 2 hours. During the last 15 minutes of cooking add beans to pot.
Salad
2 large carrots (roasted on 375 for 20 min with 1 T olive oil, 1t silan honey, salt and pepper to taste)
1 honey crisp apple skin on (chopped)
1 small fennel bulb
Roasted Shallot Vinaigrette
8 oz roasted shallots
2 oz dijon mustard
3 oz honey
24 oz grape seed oil
2 oz red wine vinegar
Kosher salt to taste
Place all dressing ingredients in a blender and slowly drizzle in oil until completely emulsified.
Assemble salad and toss with desired amount of dressing right before serving. Should have extra dressing for use later.