Permanent link
10/22/2013
Last year, honestly, we struggled to find Jewish stories in the NBA as Omri Casspi declined and Jordan Farmar left for Turkey. Not this year! With both players back, one literally and the other mentally, it's time to look at the top 10 stories going into this (Jewish) NBA season:
10. Raptor Drake
The rapper Drake has become the newest ambassador of the Toronto Raptors. Will this bring Mo' Money or Mo' Problems?
9. Two Former Israel League Players with a Shot
Two former Israel league players have new homes and could be crucial to championships. Roger Mason Jr. finds himself in Miami, where he hopes to solidify a confusing bench for the Heat. Meanwhile, Alan Anderson is in Brooklyn where he gives the Nets a solid threat off the bench at both guard slots. Either one could be wearing a ring at the end of the season.
8. Which Owner Gets the Ring?
This year there are several Jewish owners in the mix for a NBA Championship. Jerry Reinsdorf (Bulls) Micky Arison (Heat), Bruce Ratner (Nets), Leslie Alexander (Rockets), and Donald Sterling (Clippers). Will one of these men be getting a new ring soon?
7. Bye-Bye Stern 
Commissioner David Stern is on the way out. Besides turning the NBA into a cash cow, he developed both the NDBL and WNBA during his tenure and brought the NBA to Canada. His basketball legacy will forever to be great. What is next for Stern?
6. Shtark Tank
Mark Cuban ...what will he do next? He has had trouble finding the star to replace Dirk, but is trying. We can all expect something from Cuban this year, the question is what?
5. Frank Back with Nets
Lawrence Frank is back on the Nets' bench, although with head coach Jason Kidd ahead of him. Kidd will look to Frank for guidance, but it's a perfect opportunity for Frank if Kidd falters (and yes we assume Kidd knows that). Frank was very successful at the beginning of his head coaching career in New Jersey. He will be the mastermind behind their defensive schemes.
4. Hello Silver
On February 1, 2014 Adam Silver will take over as NBA commissioner, a job that has been held by David Stern since 1984. Silver has his work cut out for him, as Stern took a lot of negative heat even though the NBA grew tremendously during his tenure. What does Silver's regime have in store? We will soon find out.
3. Farmar Where He Belongs 
Jordan Farmar is back and back where he belongs: in a Los Angeles Lakers jersey (I am really happy I bought that jersey two years ago). He was solid in Turkey, but now, in a familiar place and healthy, Farmar finds himself ready to contribute. The Lakers will be without Kobe Bryant for a while and Dwight Howard is gone, but Farmar's main role is to relieve Steve Nash and help keep the Lakers in the thick of things.
2. Casspi Fully Back 
Omri Casspi has been at the bottom of the barrel over the last few seasons, both in a Kings and Cavs jersey. This year he joins the Houston Rockets and if preseason is any indication, Casspi fits right in. He has thus far had an outpour of scoring and his length, defense, and outside shooting will play perfectly with the drive and dish of James Harden and post-attention-double-teams of Dwight Howard. Casspi could cash in big time.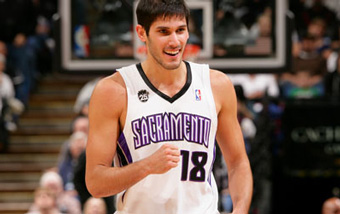 Omri Casspi
1. Welcome Gal Mekel
Gal Mekel is this year's number one story. Last year's Israeli standout for Maccabi Haifa is now in the NBA and trying to make the transition smoothly. He is the new Jew on the block and fans everywhere are just waiting to see how he develops. He is not a foreigner of the USA, however, as he played his college ball at Wichita State. Will Mekel make the Mavs? Will he play an important role? Will he develop into a star? We will be watching.