Permanent link
01/05/2010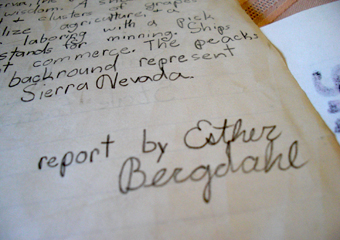 One of my unearthed writing samples
The week that ended in Christmas was going to be productive, if not entirely jolly. My parents no longer live year round in the house I grew up in, which is an old American four-square in Athens, Ohio. They had been bugging me for the better part of a year to clean out all the boxes piled high with my childhood, so I could haul what I liked to their new place in Columbus, with its many unused walk-in closets. Weekend visits are never enough time to get anything done, much less dive into twenty-some years of artifacts and memories, so I was really pleased with myself when I was able to take a week off and go be responsible for once.
I flew in Sunday morning, got a ride to Athens Monday morning and got in exactly one day of work at the house, in which time I managed to discover every piece of paper I'd ever written on between 1994 and 2002. That night I met up with a friend, and we went out to a beloved Chinese restaurant. We shared two dishes, and I took the leftovers home. The next day, my sesame chicken announced it had gone to the dark side. Let's just say the whole thing was highly undignified.
Actually, it was pretty scary. We had almost nothing in our house, not even saltines. I was too weak to go anywhere, the whole town was on Christmas vacation and my parents were 80 miles away. A glimpse of myself in a mirror showed a refugee from a bad horror flick (my credit would be "Animated Corpse #3"). I'm not used to feeling that vulnerable: living in Chicago has always made me want to prove I can do everything myself. The only option seemed to be waiting it out. Like a genius, I tried to pass the time with episodes of House, MD. Nothing like a medical dramedy to keep you from getting paranoid.
I wasn't alone, though. That's the thing. I got over my aversion to bothering people at home and called a family friend, who showed up on my porch half an hour later with Gatorade, soup, bread for toast, jam, saltines and Sleepytime tea. He ordered me to call him regularly with status updates, even at odd hours. He both stayed in regular contact with my parents and ran interference, so they wouldn't call me when I was trying to sleep. He continued to check in days later, just to make sure I was feeling better, and was ready to drive me the two hours back to my parents' place himself. I wanted electrolytes: I got an on-call super-nurse.
People talk about how movies or books or true stories reaffirm their faith in humanity, even after a year as sometimes dispiriting as this one has been. For me, it was a rogue box of leftovers. Expect the unexpected, I guess.
My mom says the same thing every time she gives a gift: "Use it in good health." I could say the same thing about 2010. Keep your Gatorade handy, and have a happy, healthy new year.