Permanent link
All Posts
07/12/2011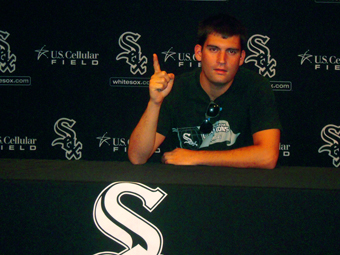 How'd you find your last apartment? Craigslist? Driving up and down streets looking for rental signs? Or maybe you want to one of the many rental companies popping up around the city that specialize in finding people apartments? If so, you might have worked with Kevin Friduss. Kevin, a DU graduate, is a real estate consultant.
Away from work, Kevin, a self-proclaimed, "extreme outdoor enthusiast" can be found at the beach in the summer and on a mountain in the winter. A nationally ranked Triathlete and huge Chicago sports fan, Kevin also has a passion for writing (he just might be the next Oy! blogger) and planning events.
So whether you want to travel the world in a day, enjoy a good grape stomping or need help finding your perfect home, Kevin Friduss is a Jew You Should Know!
1. What is your favorite blog or website?
After attending college at the University of Denver, I became obsessed with college hockey. My favorite blog is letsgodu.blogspot.com, because it is everything DU sports. If I had to choose the website I use most, it would be Weather.com.
2. If time and money were limitless, where would you travel to?
I would start the day by taking a private jet to the big island of Hawaii where I would have an early golf game at one of the islands most expensive courses. Then I would get on a supersonic jet and fly to New Zealand for some adrenalin-pumping and heart-stopping extreme sports that they have to offer. For lunch, I would board a passing cruise ship for a massive buffet of lobster, shrimp and crab. Because I would be consuming so many calories, I would swim a couple miles back to shore and hopefully be greeted with a solid hour of video games in a private movie theater all to myself with my closest friends. After that, we would fly first-class to Disney World for a night of fun at Epcot and finish off at Pleasure Island in Downtown Disney.
3. If a movie was played about your life, who would play you?
Kevin Costner
4. If you could have a meal with any two people, dead or alive, famous or not, who would it be?
Michael Jackson. He had a profound effect on my life. I would also invite Lucille Ball and get in a grape stomping contest with her.
5. What is your idea of the perfect day?
I would start with an early swim in Lake Michigan, then a run over to the Green City Market in Lincoln Park for some brioche bread and crepes. A picnic in the park would be nice, and then a walk on the lakefront. To top it off, a sushi dinner at Toro, and then a movie.
6. What do you love about what you do?
I get to talk to cool people all day while looking at apartments.
7. What job would you have had if not the one you have now?
I have always wanted to be an event planner for major concerts and/or sporting events.
8. What is your favorite Jewish thing to do in Chicago?
I volunteer for the Great Midwest Region of BBYO. I love attending events with my chapter based out of Northbrook!
If you're new to Chicago or just looking for a new apartment, you can reach Kevin at KevinFriduss@gmail.com and he'll help you find your next place!