Permanent link
All Posts
Ensemble Español Spanish Dance Theatre celebrates its 35th anniversary with special performances 
07/05/2011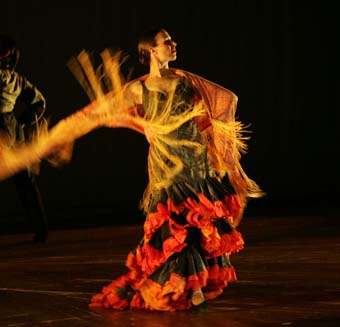 Photo credit: Joe Davis 
The Ensemble Español Spanish Dance Theatre (EESDT) recently celebrated its 35th Anniversary during the ten-day American Spanish Dance and Music Festival. The anniversary celebration concluded with three dramatic shows on June 24, 25, and 26 at the North Shore Center for the Performing Arts in Skokie.
Now based at Northeastern Illinois University, the EESDT was founded in 1976 by Dame Libby Komaiko, who is the Ensemble's Artistic Director. In 1983, His Majesty Don Juan Carlos I, King of Spain, presented Dame Libby with the highest honor the country bestows on a foreign national, the "Lazo de Dama" de la Orden de Isabel la Catolica (Ribbon of the Dame) to recognize her accomplishments in advancing the artistic, cultural, and educational values of the Spanish tradition through the arts in the United States.
Dame Libby is also, Jewish. This is actually not surprising, as Flamenco—which is commonly known for its Spanish roots—has long been a fusion of cultural influences. There is a strong Jewish imprint in Flamenco-style dance, as well as Indian, Greek, Roman and Persian influences.
I recently had the opportunity to take in a performance of the EESDT anniversary show. Comprised of fourteen fabulous Flamenco inspired dance performances, the show ranged from pieces with the entire cast to duet dances and solos. Watching the dancers perform, was like watching a vibrant painting unfold before me with invigorating movement and music that enlivened my senses.
After the performance, I spoke with Sara Samuels, another Jewish dancer with EESDT and a native Chicagoan.
Sarah began dancing at the early age of 6 with Lilette Rohe of the Lilette Rohe School of Ballet in Evanston. After high school, Sara decided to travel to Spain to study and fell in love with Spanish culture. Upon returning to the United States, she learned about the EESDT and knew from that moment that she wanted to pursue her dancing career there. Sara began studying under Dame Libby in 1991 and became a Full Company Dancer in 1996. She is now a Principal Dancer and recently was awarded the position of Associate Artistic Director of the Ensemble Español Spanish Dance Youth Company. With EESDT, she annually performs across the United States and internationally. She also teaches a variety of classes and workshops on a regular basis.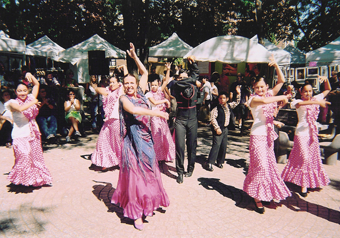 When asked about the effect her Jewish faith has had on her dance, Sara noted that since there is so much feeling and so many emotions you can go through in Flamenco to express yourself, "any experience you have growing up is going to influence" your dance. Although she does not credit her Jewish background for impacting her as a dancer overall, she acknowledged that she is reminded of her Jewish culture in some of the music she hears while she dances, particularly High Holiday music.
President Barack Obama wrote a letter to the EESDT congratulating it for celebrating its 35th Anniversary. In the letter he stated that dance can, "build bridges and enrich lives … bringing communities together." Watching EESDT perform, I saw firsthand how culturally infused and emotionally charged Flamenco can be, as an audience of all ages and backgrounds took in the performance. I encourage others to see it for themselves.
Here is the schedule for upcoming Ensemble Español Spanish Dance Theater performances:
- Ensemble Español returns to the Harris Theater with Global Rhythms to perform Bolero Saturday, Nov. 26
- Ensemble Español will be featured in Hispanic Heritage concerts at Northeastern Illinois University, Oct. 11 – 14
- Family Holiday Concerts at Northeastern Dec. 13 – 15  
For more information about Ensemble Español Spanish Dance Theatre and to purchase tickets for any of their upcoming performances, check out their website at www.ensembleespanol.org.