Permanent link
All Posts
Entertainers to retell the timeless Passover story—Windy City-style 
03/15/2011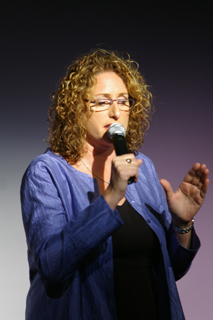 Comedian Judy Gold will perform at the Chicago seder.
Growing up in Milwaukee, Michael Dorf fondly recalls Passover seders with his family. His father would lead, adding supplemental readings with writings by Dr. Martin Luther King Jr. and texts on black slavery, applying the lessons of freedom from Egypt to relevant current humanitarian issues.
Many years later, Dorf—a successful concert promoter living in Manhattan—created a Passover tradition of his own called Downtown Seder, at the time held at one of his music venues, the Knitting Factory.
Downtown Seder, which Dorf launched more than a decade ago, brings together some 20 artists, musicians, comedians, and political figures to present the classic Passover story to an audience. Performers, seated with guests throughout the room, expound on different sections of the haggadah.
"Matisyahu has sung Chad Gadya (a playful Passover song about a goat), Dr. Ruth has talked about the Hillel sandwich (made of matzah and bitter herbs), and Lou Reed has been the wise child. It's an all-star event," Dorf said.
This spring, for the first time, Dorf will transport Downtown Seder to Chicago for a Windy City-style retelling of the Passover story. The seder, to be held on Wednesday, April 13, at 8 p.m. at the Chicago Cultural Center's Sidney R. Yates Gallery, will feature a mix of Chicago talent and imports from other cities.
"In the classic opening line of the haggadah, it says you should tell the story of leaving Egypt in a language you understand so you can really understand the meaning behind the story," Dorf said. "For many, like me, the arts—whether it's music or comedy or even a political form—is a language that we understand."
Fresh from his victory, Chicago Mayor-elect Rahm Emanuel is scheduled to appear at the seder and read a portion of the Haggadah.
Among the entertainers slated to appear at the Chicago seder are Israeli singer/songwriter David Broza, who will perform a set with flamenco guitarist Javier Rubial following the seder meal; New York comedian/writer Judy Gold; and Anshe Emet Synagogue's Cantor Alberto Mizrahi.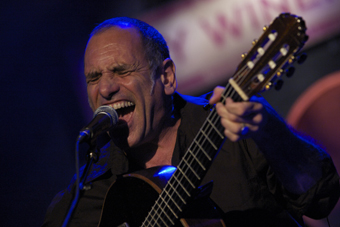 Israeli singer/songwriter David Broza will perform a set with flamenco guitarist Javier Rubial following the seder.
Also expected to perform are the Maxwell Street Klezmer Band, Chicken Fat Klezmer Orchestra, Joshua Nelson & Kosher Gospel Singers, and Stereo Sinai; comedians Good for the Jews, plus Chicago comedian Aaron Freeman and Second City performer Susan Messing. Illinois Holocaust Museum Director Richard S. Hirschhaut also plans to attend, while Minnesota Sen. Al Franken and comedian Lewis Black are expected to call in via video.
Laura Frankel, executive chef of Spertus Kosher Catering (featuring cuisine by Wolfgang Puck), will cater the kosher seder, certified by the Chicago Rabbinical Council.
Dorf is also the founder of City Winery Chicago, the first offshoot of his City Winery in Manhattan, planning to open its doors in the Chicago Loop this fall. The full winery plans to include two wine bars, a restaurant, and a performance and event space. The seder will feature kosher wine, supervised by the Orthodox Union, from the new winery. The wine will be opened and poured by CRC mashgiachs (kashrut supervisors). This is a rare exception that will allow City Winery Chicago to display their new wine.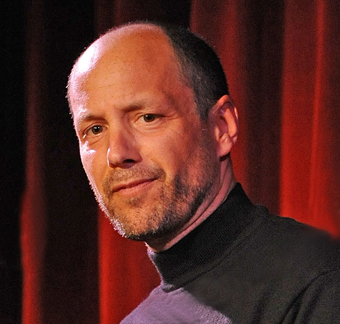 New York concert promoter Michael Dorf transports Downtown Seder to Chicago this spring.
Gold, who is working on her upcoming one-woman show in Manhattan called It's Jewdy's Show—My Life as a Sitcom, has appeared at Downtown Seder in years past. "We [Jews] read the haggadah every year. It's our tradition, something you can expect," she said. "For artists whose lives are completely unpredictable, to retell a story that's been told for thousands of years in our own way is amazing."
Gold's role at the seder is to sing Dayenu— "it would have been enough for us." "Of course I do Dayenu because I can incorporate my mother into it," said Gold, who also wrote the one-woman show and book of the same name called 25 Questions for a Jewish Mother. "Needless to say, I have a Jewish mother and the phrase "it would have been sufficient" has never come out of her mouth."
Net proceeds from the Downtown Seder will be divided between JUF's beneficiary, The Ark and the Greater Chicago Food Depository. Only 400 tickets for the Downtown Seder are available, priced at $118 and $500, with tables of eight available for $1800 and $3600. To purchase a Seder ticket or for more information, visit  www.citywinery.com/seder .