Permanent link
All Posts
The Virtues and Pitfalls of One Jew's Favorite Pastime
06/10/2008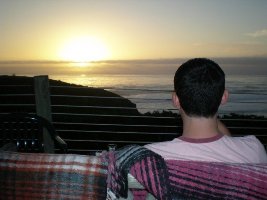 Andy, enjoying some geography
A very wise Miss Teen USA contestant once tried to explain why so few American students are able to locate states and/or countries on a map. Although I give her points for trying ("such as with the Iraq"), she wasn't really able to illuminate the issue terribly clearly… But still, the initial question resonated with me.
This blatant skill deficit in geography isn't simply limited to America's youth and beauty queens. I will freely admit that my barber recently had to explain to me exactly where Bulgaria is (apparently, it's in the Balkans), and, being an East-Coast boy at heart, it is often difficult to identify which square is Nebraska and which is Kansas.
However, my lack of knowledge of world geography is offset by my incredible talent in another subject: Jewish Geography.
Given the trajectory that my life has taken--from growing up outside Washington, D.C., in the synagogue-soaked suburb of Potomac, MD, to attending school in Philadelphia at an institution often referred to as "Jew-Penn," to putting in my compulsory two years living in Manhattan and finally moving to Chicago in search of change—I have been expertly schooled in the subject of Jewish Geography.
What's interesting about Jewish Geography, as opposed to "traditional geography" (you know, with the maps and the longitudes and all that), is that it isn't really a subject, as much as it is a game. We don't discuss Jewish Geography, we play it to make friends in a new city, or to establish credibility among strangers, and more importantly, to connect ourselves to the community.
As I have honed my skills and technique over the years in various settings, I've been able to formulate a sort of theoretical rule book/advice primer for players of all levels:
1.    Guessing what fraternity or sorority a fellow Jew was in doesn't count. There are too few nationally Jewish greek organizations on college campuses, a fact which inherently makes the choice easier. So, zero points for that.
2.    If you can tell an anecdote about the mutual friend you and a fellow Jew just discovered you share, this is more impressive than just knowing a name. Nowadays, one can easily name-drop simply by perusing other peoples' Facebook pages. Or so I've been told.
3.    If you know someone from somewhere other than high school, college, summer camp, or an Israel program (i.e., Birthright, study abroad, your tour of duty in the IDF when you were "finding yourself"), you get bonus points. For example, if you can use a version of the quote, "Of course I know Rebecca Schlotzky- her father circumcised me!" well, that's just the kind of memory that will really help you build that connection with your new Jewish friend.
4.    Don't overplay. I can't state this enough. Ask your new Jewish friend if he or she knows Brian Goldstein. Or, ask if he or she went to Camp Chi. Or ask whether by saying "I'm from Detroit," he or she means Bloomfield Hills or West Bloomfield. Just don't ask all three in a row. There is such a thing as too much Jewish Geography. Dayenu.
All of these rules and regulations may seem stressful, but let's not overlook the benefits of the game. I would be lying if I told you that a successful Jewish Geography session had never helped me secure a job interview, get a date or find myself suddenly invited to a hot social event. What it is at its core, however, is simply a conversation starter
Thus, as I change jobs, meet new people and become generally more entrenched in this city's Jewish scene, I will undoubtedly continue to improve my game. I may even work on refining my rules at some point—just as Major League Baseball is considering instant replay, so must Jewish Geography adapt to the times. Social networking websites like Facebook have made the game almost too easy. Back in my day, you really had to know a Jew- you couldn't just complacently be content knowing he or she is in the Chicago network, is a fan of Berry Chill, and attended "Sarah Schwartz is Turning 27!!"
But I may just have to accept the current state of Jewish Geography as is, and continue to enjoy it as an icebreaker, an interesting way to kill a couple of minutes at a party, and a wonderful example of just how connected we really are as a people.
Besides, it's far more exciting to discover that the cute stranger at the YLD happy hour once ate at your favorite hometown deli than it is to be able to point out the square that represents Nebraska on a map.