Permanent link
All Posts
05/13/2008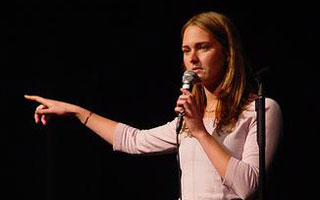 Jena, morbidly quirky in pink
On a typical weekend, almost-famous Chicago Jewish comedian Jena Friedman races by bike from gig to gig, performing standup all over the city.
Playing three shows in two days is typical for Friedman, a quarter-lifer, who lives in Lakeview. But recently, the comic experienced a weekend that she'll never forget. In May, she opened three shows for Chicago native and manic comic genius Robin Williams, who made surprise appearances at comedy shows at Lakeshore Theater and Town Hall Pub, to the excitement of three unsuspecting crowds.
At the end of the weekend, Williams appeared at "Entertaining Julia: Comedy, Music, and Fun," a variety show hosted by Friedman every Sunday night at Town Hall Pub, a hole-in-the-wall neighborhood bar in Boystwon where everybody knows your name. Her show offers comedians and musicians a chance to showcase their talents and test out new material, all the while trying to entertain Friedman's friend/bartender Julia, who runs the pub. "It was a magical night," says Friedman. "I love the fact that people who have been doing this for so long—like Williams—can stop in and have a place that takes them back to where they started."
Friedman, who works as a copywriter, just started performing standup two years ago, and it's a path she never planned to pursue. In fact, she stumbled into comedy back in 2000 while studying anthropology at Northwestern University, writing her 50-page senior thesis—an undertaking not usually known for its laughs.
In researching her thesis on female comedians in Chicago's improv scene which--eventually morphed into a paper on minority men and women in improv—she turned to Improv Olympics for help. The improvisational comedy theater recommended that she, herself, take classes to get a feel for the art form. So she signed up and spent a year living and breathing comedy, working behind-the-scenes, meeting people, learning improv and performing.
After graduating from her comic schooling—which included training at The Second City and Annoyance Theatre in Chicago—Friedman was hooked and has been cultivating her dark routine ever since. In addition to standup, in the summer of 2007 she wrote, directed and produced "The Refugee Girls Revue," a parody on American Girl dolls as refugees.
A critic from ComedyNet said the following of Friedman's act: "If an Edward Gorey line-drawing came to life, donned blue jeans and performed stand-up comedy, it might resemble the eerily dry and morbidly quirky Jena Friedman."
Though she always felt well adjusted growing up in New Jersey—"I was the captain of the tennis team"—Friedman had a dark side even then. "I was very into weird, dark cult stuff," she recalls. She loved artist/writer Gorey's morbid sketches and early on she'd read about vampire bats in the Encyclopedia Britannica. The first adult chapter book she read was the biography of Vernon Wayne Howell, also known as David Koresh, the leader of the Branch Davidian religious sect.
In addition to her quirky taste, she had a strong Jewish upbringing, raised in a Conservative Jewish home, celebrating her bat mitzvah and attending Hebrew school through the 10th grade. Though she still embraces a strong Jewish identity, she says she feels a little disconnected from her Judaism right now, a disconnect she feels is "age-appropriate."
Friedman is a Jewish, female comedian, yet her material tends to skip the parts about being Jewish and female. Every so often, she'll pepper her act with Jewish references like a joke on "Chanukkah carols," but usually she veers away from Jewish jokes because she feels so many talented Jewish comedians who came before her have already done the material. "There's such a cool lineage of Jewish comics," she says, "so that character is so trodden on."
And she doesn't dwell on girl jokes either. Friedman is warm and dons a disarming smile. Yet her jokes don't match her outward, feminine appearance, and she rarely discusses her dating life or other typical female staples.
A recent 7-minute set for Friedman ran the gamut of her "cringe-inducing,"—as her jokes have been called—morbid ponderings on date rapists, the Streetwise sellers, provocative photos of Disney teen pop star Miley Cyrus ("Chill-lax, Disney; I heart Annie Leibovitz" says Friedman) and the contrasts between black and white Chicago neighborhoods.
Though Friedman pushes the envelope in her comedy—which has been compared to fellow New Jersey Jewish comic Sarah Silverman—Friedman says she isn't trying to offend people. Rather, from time to time, she uses her anthropological background to comment through her jokes on the social ills in society, such as racism. "I will do my jokes one night in a predominantly black room and people will be laughing before I even get to the punch line," said Friedman. "You can't pretend that we don't have racism built into our society. If people think [my jokes] are racist, then they just don't get it."
Friedman plans to keep honing her routine. Who knows? Maybe some day, like Robin Williams she'll be the surprise comedian at the end of the night and make a young comedian's weekend.
No matter what her future in the spotlight holds, she recognizes that her material will transform through the years. "I have no idea how my stuff will evolve," she said. "The voice I have now might not be the voice I have in five years. So anything that's been captured on YouTube can totally be used as blackmail."