Permanent link
All Posts
Three friends create children's book based on new White House pooch 
05/05/2009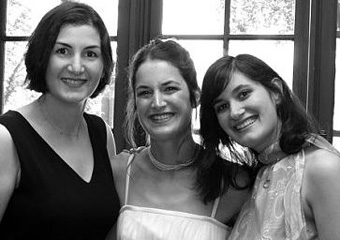 From left: Lehner, Svetcov, and Bazer, creators of the new children's book, 'Now Hiring: White House Dog'

The moment President Obama clinched the election, he made that famous pledge to his two daughters—as well as to billions around the world—to get a puppy for his family's new home.

Everyone, especially Malia and Sasha, anticipated the puppy's arrival for months—and finally, this spring, the newest member of the White House, Bo, joined the first family.

The promise of the new dog sparked an idea in San Francisco Jewish literary agent and Northwestern alum Danielle Svetcov. "When Obama was elected and the puppy-adoption drama began, I thought that this was a drama begging for a picture book adaptation." She called up her two Chicago pals, fellow Jewish Northwestern University alums—Gina Bazer and Renanah Lehner—and invited them to collaborate on a children's book about the White House dog search.

Six months later, the dream of the election—and the book—is a reality. The new children's book Now Hiring: White House Dog (Walker Books for Young Readers, a division of Bloomsbury Publishing USA; $16.99), written by Bazer and Lehner and illustrated by Andrew Day, is loosely based on the Obama family, classified by Lehner as "historical fiction" for kids. In the story, two young sisters living in the White House audition pooches for the role of top dog. The sisters are inundated with applications for the job, from prancing poodles to shaggy dogs and racing greyhounds. The tryouts coincide with an elegant White House dinner and antics ensue. Told with humor and rhyme, the story emphasizes the importance of substance over style.

The idea for the book resonated with the three friends as mothers to young children, ranging in age from 10 months to three and a half. They thought the puppy search offered a way to introduce the presidency and the new first family to their children without getting too political. "It's a great way to discuss politics with your children," says Lehner, a Chicago clinical psychologist. "This is the White House, this is where President Obama lives, and he has two little girls just like the two little girls in the book."

They tested the books out on their own children. Lehner's three and a half-year-old-daughter, Hannah, couldn't get enough. She wanted it read to her at every meal and "on the potty" too. But Saul, Bazer's son of the same age, isn't quite as keen yet on the book. 'Mommy, I don't like books, remember?' he would tell her.

Overall, despite Saul's protests, children in any home, White House or not, can relate to the excitement of getting a dog. "There's something so quintessential about a father saying we're going to move, but we're going to get a dog. Kids don't really care about politics, but the idea that the dog is coming—children can really get behind that platform," says Lehner.

In tackling a topic as timely as the dog search, Bazer, Lehner, and Svetcov had no time to waste. "There's a big market for books spun out of newspaper headlines, but you have to write them very quickly to capitalize," says Svetcov. If they were to release the book in time to coincide with the arrival of the real White House dog, they needed to finish the book in record time. Illustrator, Day, had only one month to illustrate the book, rather than the many months it typically takes to illustrate a project. Luckily, thought the women, much of the work fell over the Christmas holiday—which was no big deal considering they're Jewish. "We had nothing else going on in our lives," jokes Bazer, of Oak Park, who is also an editor for Chicago Home & Garden magazine. They spent many nights on conference calls with one another tinkering with the manuscript, while their three patient husbands took care of their small children.

Back when they themselves were kids, Bazer and Lehner, both Minneapolis natives, attended Hebrew school together. Now, decades later, collaborating on a children's book has made life come full circle for them. "We would never have imagined when we were kids that we would some day write a children's book together about a presidential family," says Bazer. "It's kind of odd—you never can imagine what's going to happen."

The book reminds the writers of the power of children's literature. "Just as you remember really good teachers in your life, you remember really good books," says Bazer. "There's something really exciting about trying to capture a child's imagination. If you can do that, you feel that you've done something great."

"Now Hiring: White House Dog" will be part of a dog-themed children's reading on Wed., May 13, at 10:30 am at 57th Street Books in Hyde Park, where President Obama and his family frequent when they are in Chicago. The event is for children of all ages. For more information, call the bookstore at (773) 684-1300.