Permanent link
All Posts
06/10/2014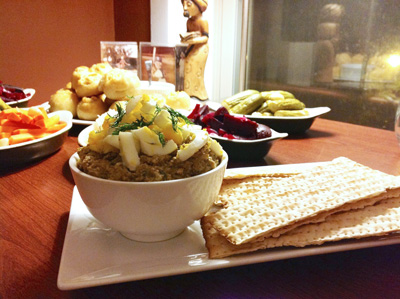 Elegance is all in the head. "Elevated" food is just simple food that is made really well and stylishly plated. So when I host a supper club, most of what I serve is really just comfort food that I put a lot of thought into and serve in a beautiful way. When I know that all the flavors of my classic, rustic, not-at-all-fussy Jewish mock chopped liver (pictured above) will play well on my vegetarian charcuterie board, I sell it as "Green Pea & Walnut Pâté" (pictured below) and suddenly Bubbie food is Saturday night fare. It's not a trick. It's just re-branding.  
Whatever you want to call it, this spread is absolutely delicious, easy to prepare, can be kept in the refrigerator for over a week, and dressed up or dressed down as you see fit. Try spreading it on a sandwich instead of mayo or mustard. Serve it alongside crackers and grapes for a cocktail hour nosh. Spoon it into a fancy terrine mold and put it on a charcuterie board. Pâté or Mockchop, whatever you do, don't apologize for it. It's not pretty until you tell people it is.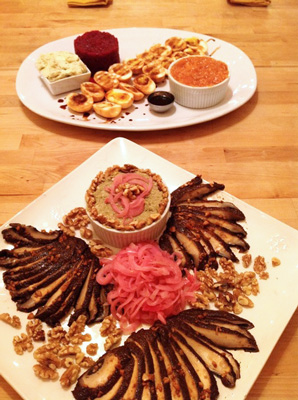 Ingredients
2 large yellow onions
oil for frying
Cognac, brandy, or some other brown liquor (this is entirely optional) 
2 cans of green peas, drained (don't even think about using fresh or frozen)
4 hard boiled eggs, peeled 
1 bunch of fresh dill
a few handfuls of walnuts
salt & pepper
garnish (optional): diced raw onion, chopped hardboiled egg, toasted walnut halves, fresh dill  
Coarsely chop the onions and throw them into a large skillet with enough oil to coat the bottom. Cook the onions on medium-low heat and stir them occasionally until they get very soft and start to brown. 
When the onions are done cooking, pour in a few glugs of the liquor, and scrape the bottom of the pan until all the delicious oniony bits come up. Cook everything for another minute until the astringent alcohol taste cooks off. Turn off the heat and set aside.
Put the peas, the eggs, half of the dill, and the walnuts into the bowl of a food processor* and pulse until it all comes together. Add the onions and pulse again, scraping down the sides of the bowl. Add a generous pinch of salt and black pepper and pulse again. This mixture doesn't need to be totally smooth (unless you want it that way), but it should be pretty homogenously incorporated. TASTE IT. Add more salt, pepper, and dill until you are happy with the way it tastes.
Enjoy.
*Don't have a food processor? No worries! Just chop everything as finely as you can get it and mash it with a fork.