Permanent link
All Posts
05/09/2014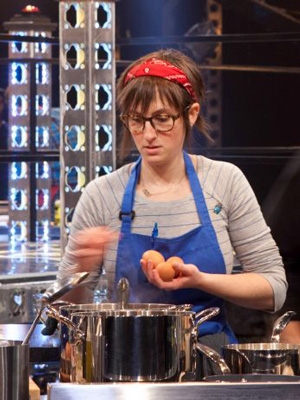 Stephanie gets started on her shakshuka, a Middle Eastern dish of eggs poached in spicy tomato sauce. Photo credit: Food Network
Four episodes in and Stephanie Goldfarb is still going strong on "America's Best Cook," the new Food Network reality cooking competition that pits the country's best home chefs against each other with the help of Iron Chef mentors.
Just to remind you all, Goldfarb, 29, who lives in Edgewater and works as the senior associate of teen initiatives at the Jewish United Fund/Jewish Federation of Metropolitan Chicago, is one of the contestants hoping to win it all, and she's agreed to check in with Oy!Chicago after each show airs to share her thoughts and behind-the-scenes knowledge. 
After a trip to the pressure cooker in the second episode, her profiteroles wowed Chef Ron Ben-Israel in the third episode's challenge when the contestants were asked to prepare dessert. And last week, despite some drama in the kitchen between her and mentor Chef Michael Symon about how to best prepare her dish, she impressed this week's guest judge, Chef Geoffrey Zakarian, in the brunch challenge with her shakshuka and was safe yet again.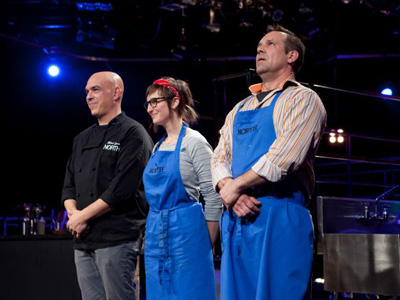 Geoffrey gives Stephanie a high compliment: "These are my flavors," he tells her. "This is Middle Eastern to me, and I'm Middle Eastern." Photo credit: Food Network
We can't wait to see what she cooks up next week!
1. Congrats on avoiding the pressure cooker two weeks in a row! Was it a relief or did you miss the extra time in the kitchen with Michael?
Thanks! Yeah, I was ASTONISHED that I wasn't sent to the pressure cooker. I would have absolutely loved to spend some more one-on-one time with Chef Symon, but nothing compares with the thrill of being safe for another week. All I really cared about was staying alive so I could have more opportunities to learn from my mentor.
2. Watching it back, how do you feel about the whole shakshuka shake up?
I mean, I'm slightly mortified after watching it! Which is not at all different from how I felt when it was all going down during filming. I am, by nature, extremely sensitive and really concerned with pleasing people. Especially people who I admire and am learning from! What can I say? I thrive off positive affirmation. So when I opened the oven to see raw egg whites sadly staring back at me, I lost it. I've made this dish perfectly hundreds of times before, and I almost ruined it on national television! All I could think of was a bunch of Jews in a room saying, "that Goldfarb ruined our food. She killed shakshuka!" Thank God Michael Symon snapped me out of it. He broke a 15-year streak of not yelling in a kitchen to do it. I'm going to go ahead and take that as an accomplishment on my part.
3. When presenting your dish, you said shakshuka reminded you of your first trip to Israel—tell us about that. 
Ah, Israel. I went on Birthright and stayed on for a month to travel and volunteer in the IDF. I ate shakshuka for the first time while I was there and completely fell in love with it. The bread, the sauce, the runny egg yolk, the Mediterranean sea reflected in my sunglasses as I ate it. Shakshuka has made a regular appearance in my kitchen since then. My non-Jewish friends and dinner guests are forever in my debt. 
4. In the end Chef Geoffrey Zakarian who as you said "has eaten shakshuka a million times before" loved your dish and last week Chef Ron Ben-Israel called your profiteroles "brilliant." What is it like having all of these amazing and accomplished chefs taste your food?
So back to that positive affirmation thing… I'll be running off those fumes for the rest of my life! The next time someone criticizes some food I serve them, I'll just tell them to take it up with Zakarian.