Permanent link
All Posts
03/07/2014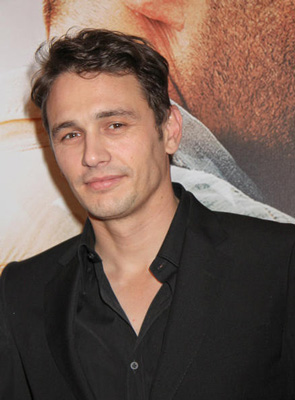 James Franco went back to school recently, a place he seems quite comfortable these days.
Northwestern University's A&O Productions and NU Hillel brought Franco to speak on Saturday night, March 1, at the university's Pick-Staiger Concert Hall.
Jeffrey Sconce, Northwestern Professor of Radio Television Video and Film, moderated a discussion with the actor in front of an audience that sold out 90 minutes after the star's appearance was announced just two days before the event.
Franco, who is Jewish on his mother's side, has been spending a lot of time in Chicago this winter rehearsing for Northwestern professor and Steppenwolf Theatre ensemble member Anna D. Shapiro's Broadway production of "Of Mice and Men," which hits the New York stage in April.
Franco has enjoyed a wide-ranging film career, from blockbusters to indie films. He starred in movies like the Spiderman trilogy, Milk, Pineapple Express, Spring Breakers, This is the End, and 127 Hours, for which he won an Oscar nomination for his portrayal of Aron Ralston, the real-life mountain climber who amputated his own arm. On the small screen, Franco played a lead role on the short-lived, cult TV show Freaks and Geeks, as well as on the soap opera General Hospital.
He's something of a renaissance man—actor, director, author, painter, teacher, and student. In fact, he seems to be a perpetual student these days.
After dropping out of UCLA the first time around to pursue acting, the Palo Alto native returned to the university as an adult eight years ago, in the middle of his red hot film career. An English major, Franco was granted permission to take as many as 62 course credits per quarter compared with the normal limit of 19. He later earned his MFA from Columbia University and is a Ph.D. candidate in English at Yale University.
"The university was the place I thrived and being there, I was among other people who were passionate about what I was passionate," Franco told the Northwestern students.
Friends say he always has his nose in a book. Even on the movie set, when he's not shooting scenes, you can find him reading Ulysses in the corner of the room, as friend and colleague, filmmaker Judd Apatow, has put it.
Franco been known to throw himself into his roles method acting-style. He told the crowd that when he filmed the television biopic on James Dean, he barely spoke to anyone for months. He even told his girlfriend at the time that he could only talk to her for an hour a week.
When asked his biggest piece of advice for aspiring filmmakers, Franco told the students that technology has made everyone their own one-man/woman film crew. "If you want to go get into film or TV, there is no reason you shouldn't be out there making your own things [films], while pursuing other things," he said.
At the end of the talk, a brazen student in the crowd asked Franco if he would join him for a "selfie," but Franco told him he'd do him one better: The actor pulled out his own phone and posed with the room full of students—himself included.