Permanent link
All Posts
03/04/2014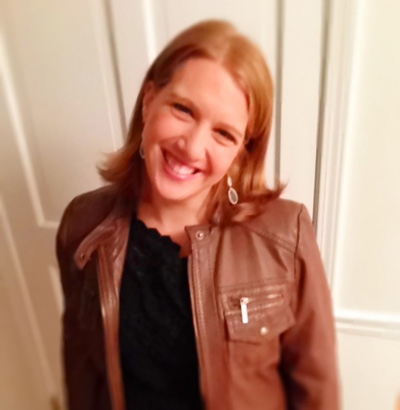 For Chicago teacher and mother of two Kim (Prywes) Bloomberg, making jewelry isn't merely a passion or hobby, but a part of continuing her family's legacy.
To Kim's grandmother, who sparked her interest in trinkets and treasures, jewelry was more valuable than money. In her mind, it could not so easily be taken away. As a Holocaust survivor, she had good reason to feel this way. Her family hid all its valuable jewelry in the baseboards and chandeliers of their apartment in Poland at the onset of the war. After they survived Auschwitz, Kim's grandfather, who stayed alive blending in and working on a Christian family's farm, helped them retrieve the items. He held the apartment's post-war tenants at gunpoint (after they refused them entry, of course) while the women collected their things. Kim's grandparents were married soon after and eventually used some of the jewelry to flea Poland and secure passage to America. Once there, the jewelry helped them come up with cash to rent an apartment in the Bronx.
Now, Bloomberg makes her own jewelry through Kim Bloomberg Designs, and her style emphasizes timelessness – jewelry that can be passed through the generations.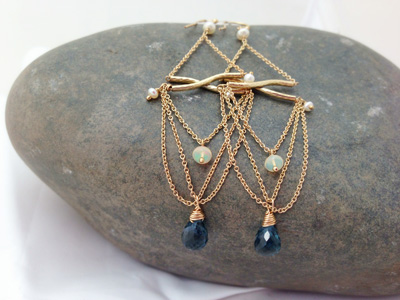 A New York native, Bloomberg attended the University of Illinois where she studied art, specifically glassblowing. However, she changed directions a couple times, pursuing advertising in Chicago after graduation (where she met her husband) and having the epiphany to become a teacher. Her creative energy and love of jewelry and art, however, followed her, including big moves to Atlanta and then back to New York before deciding to raise her family in Chicago. She teaches art enrichments at schools in Deerfield and Highland Park and classes at the Glencoe Public Library.
Whether you love jewelry or Jewry, both, or appreciate a fascinating story, Kim Bloomberg is a Jew You Should Know.
1. How did you first discover your passion for art and jewelry?
I've been passionate about art for as long as I can remember. My grandmother used to spend hours showing me her jewelry collection and I loved trying it on. My father (her son) is also a jewelry lover and always bought my mom one-of-a-kind pieces to celebrate milestones. As a child, being creative was something for which I received encouragement and recognition. My father always prioritized taking art classes, attending ceramics and sculpture classes weekly at night after work. Sometimes he would bring me along and let me play with clay and make sculptures. Now he brings my 7-year-old son to the same classes. When I was 11, I began making worry doll barrettes for a local boutique. The owner sold out of every barrette I brought him and continuously placed orders until they went out of style. It ignited an entrepreneurial spirit in me, which continued until I officially went into business in 2001.
2. Describe the concept behind your jewelry designs. What has influenced your style and approach?
Each piece is artfully balanced using the highest quality stones and craftsmanship. Quality is very important to me; I hand-pick each and every gemstone and only use the finest materials. All of my pieces are inspired by nature, yet they all have a timeless, feminine style. My collection is always evolving, yet it is important to me to keep my style consistent. I attempt to create jewelry that can be passed on from generation to generation.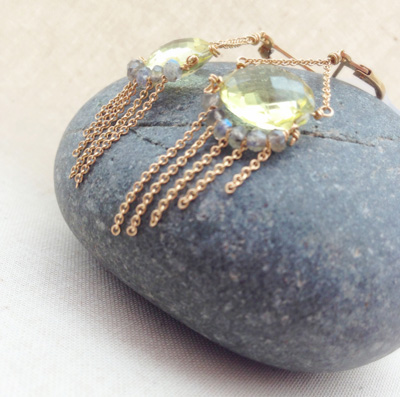 3. Why did you switch from pursuing art and advertising to becoming a teacher?
Well, I loved the energy and the excitement of advertising. Socially, it was a great thing for me to be doing right after college. I would sometimes work overnight shifts on big accounts and work on new business pitches. It was fun to be a part of a team. But I wasn't passionate about it. One night I came home from work and the news of Columbine was all over the TV. I stood glued to the news throughout the night and the next morning I decided I needed to pursue a teaching degree. I felt like it would be a perfect way to blend my creativity and my desire to work in a social environment. I make it my point to reach out to those students who try to remain invisible.
4. How has inheriting your family story shaped you in general and as a Jewish woman?
My family story probably has the biggest influence on my life as a Jewish woman. I always felt that whatever I was going through in my life couldn't have been as bad as what my family went through during World War II. I internalized it a lot as a kid and still think about it so much today. I recognize my grandparents' and parents' struggles as a sacrifice they made to give me the things they didn't have. I have learned that Jewish traditions are to be treasured. From generation to generation is a very meaningful Jewish phrase for me, to remember our history and teach it to my children.
5. If you had to design any kind of Judaica, what would you make?
I guess it would have to be heirloom quality jewelry for milestones and celebrations. I love the idea of designing a tiny mezuzah pendant that opens up with a viewing area to see and read the scroll. I love tiny, miniature treasures like that.
6. What do you love most about combining art and teaching?
I feel like I get to have the best of both worlds. I love the solitude of making my jewelry and draw a lot of energy from that creative time. I am also a very social person and I love seeing kids and adults tapping into their creative spirit.
7. In an alternate universe where you couldn't teach or make jewelry, what would you do?
I would definitely be a rock star. Unfortunately, I can't carry a tune and don't know how to play any instruments. According to my husband, I am tone deaf.
8. What's your favorite Jewish thing to do (or how do you Jew?) in Chicago?
Well, I am a native New Yorker so I am still discovering what the Second City has to offer. I'd like to say that eating bagels is what I do, but unfortunately, I have yet to find a bagel that matches the ones I find on the East Coast. I know I will get a lot of flak for this response, but hey, we all know it's the truth. So, the best Jewish thing I do is to continue carrying on the traditions of my past by hosting holidays, teaching my children customs and eating Shabbat dinners together with my family.