Permanent link
All Posts
Zelda's Sweet Shoppe in Skokie offers kosher treats with gourmet quality
02/17/2009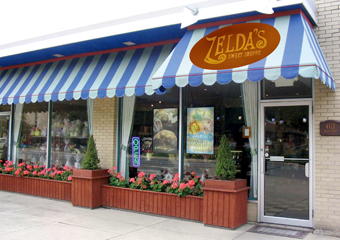 Zelda's Sweet Shoppe at 4113 Main St. in Skokie

Five and a half years ago, Linda Zelda Neiman was a stay-at-home mom, doing lots of volunteer work and baking and cooking up a storm in her Lincolnwood kitchen. When she felt ready to go back to work, she opted not to go back to her old job in computer science and instead to follow her passion for sweets, opening Zelda's Sweet Shoppe in Skokie.

The store, named for Neiman's middle name, aims "to convey something a little old-fashioned but modern," using quality ingredients to give customers that gourmet feel.

"[We sell] things you might expect your grandmother to make, but with a modern feel," Neiman said.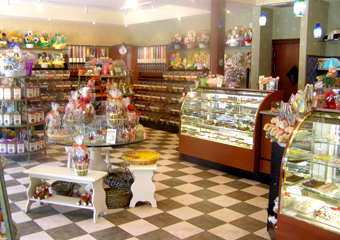 A glance inside Zelda's Sweet Shoppe, full of tasty chocolates, cookies and other baked goods – and they're all kosher!

Many of the recipes, like Zelda's decadent Southern Pecan Pie, came straight out of Neiman's kitchen, while others have been developed over the years with her staff. Along with the pecan pie, Neiman's favorite items are her own brand of decorated Cookie Cuties ™ – they always bring a smile to her face.

In addition to offering hand-fashioned sweets, cookies and other baked goods, everything Zelda's offers is certified kosher under the supervision of the Chicago Rabbinical Council (CRC).

For Neiman, who grew up in West Rogers Park, attended Ida Crown Jewish Academy and keeps kosher herself, keeping her products kosher was important, but equally important was to have chocolates  and baked goods that would be as beautiful and tasty as their non-kosher counterparts.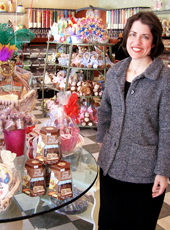 Linda Zelda Neiman

"I felt that there wasn't anything comparable and it's really a shame, because it gives kosher a bad name," she said. "The idea behind the store is to bring that gourmet product under the kosher wing. We want everything to be as beautiful as Harry & David and Godiva and taste as sweet as Leonard's Bakery, but still have that CRC stamp."

And judging by the many honors Zelda's was awarded at the end of 2008, Neiman has been successful in her quest to deliver both the kosher and gourmet.

In November, Zelda's captured four awards, including the top honor at Kosherfest 2008, the world's largest international kosher foods trade show and exhibition with over 300 exhibitors from 14 countries. This year's event, held Nov 11 and 12 in Secaucus, N.J., featured over 6,000 attendees.

Zelda's, a newcomer to Kosherfest, was awarded "Best In Show" for its Southern Pecan Pie. The pie also won the "Best Dessert" category. Also awarded were Zelda's Classic Caramel Corn and Chocolate Almond Toffee Caramel Corn for "Best Snack Food" and Zelda's Barks, Brittles and Toffee for "Best Packaging/Design."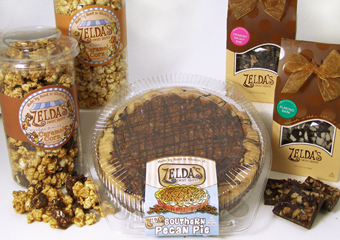 A sampling of Zelda's award-winning treats

Since Kosherfest, Neiman said they have had requests from nearly 20 locations on the East Coast wanting to sell their products.

"It's very exciting," she said. "It was a big boost to get that recognition at Kosherfest."

Then, in December, Zelda's was awarded another top honor at the AIDS Foundation of Chicago's "World of Chocolate" event at the Hilton Chicago. Zelda's caramelized banana chocolate took the "Hot Chocolate Award," which goes out to the "hottest," tastiest treat, a major accomplishment when competing against non-kosher products.

Amid all this success, in the past six months, Zelda's opened a second location for production, down the street from its original retail and production kitchen at 4113 Main St. in Skokie. This year, for the first time ever, they will be able to have a kosher-for-Passover bakery open in their second location. Passover and Purim are the two busiest times of the year, Neiman said. Chicagoans can also find Zelda's displays at JUF's Walk With Israel in May and the Taste of Kosher Chicago.

In the past five and a half years, Zelda's has come a long way from just the glimmer of an idea and a delicious dessert repertoire in Neiman's kitchen. Today, products made at Zelda's Sweet Shoppe in Skokie are available at food stores throughout Chicago, including Jewel, Sunset Foods, Garden Fresh and Potash Brothers, and at many locations throughout the East Coast.

But as far and wide as her products may travel, Neiman says she is most proud to know that every package and product says and is "made in Skokie."

So what's next for Zelda's?

"Looking to Zelda's future, what we're really looking to do is expand on what we've started and spread to the West Coast."

Learn more about Zelda's Sweet Shoppe at  www.zeldas.net .