Permanent link
All Posts
02/10/2009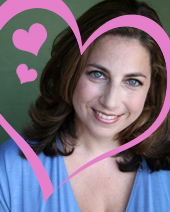 Stacey shares her love-hate relationship with Valentine's Day

We don't know anything about St. Valentine whose feast day is February 14 other than the fact that he was buried on February 14 at the Via Flaminia north of Rome. How this martyred saint (who might actually be the amalgamation of several martyred guys named Valentine) became the representation of romantic love for most of the Western world is a mystery to me. But because it is effectively a Gentile construct (and they celebrate the June birth of the most famous Member of the Tribe on December 25), we don't need to ponder the logic overmuch, especially as it is now as secular a day as Thanksgiving.

And a day rife with pressures and pitfalls.

I am a perfect Gemini in many ways, and on no day (other than my birthday) is this more apparent than Valentine's Day.

Half of me dreads it from the moment the clock strikes January 31, like the tickle in your throat that you know is the harbinger of a truly appalling and lingering head cold. That is the half that is currently single, will receive Valentines only from my parents and grandmother, invites only from other single girls, and will likely spend that most romantic evening with her favorite cadre of back-up boys…Ben, Jerry, and the men of Law and Order.

The other half loves it. That is the half that is a truly hopeful romantic, writes awesome love letters (when she has someone worthy to write them to), is a fan of big gestures and happy endings and extravagant floral arrangements and unexpected gifts and sappy movies and candlelit dinners and breakfast in bed. I even once did a Valentine's Day segment on the  Rachael Ray Show .

I am therefore equally good and bad when it comes to Valentine's Day. When I have an object of affection to spend the day with, I am clever and demonstrative and celebratory and fun and unique and very, VERY romantic. When I don't, I'm the littlest bit snarky and petulant and not unlikely to be found pouting and baking, usually at the same time.

So I get it when I hear people complain that they hate the expectation of romance, being told by the card companies that they have to do something for their sweetie, or that they are lesser-than if they are between sweeties at the moment. But I also get it when I hear people say that there is nothing wrong with being encouraged to be romantic, or to let the pressure of the day push you to make a gesture towards that someone you've been maybe dancing around but haven't gotten the courage to ask out yet.

After the overarching umbrella of romance, the thing most associated with Valentine's Day is food. Champagne and shiny red boxes of chocolates. Dinners at fancy restaurants or lovingly prepared at home. All the cooking magazines feature cozy menus designed for two, and the inevitable heart-shaped desserts. And, of course, for us unattached  people, Valentines Day is a freebie day where diets go out the window and comfort food isn't just allowed, it is a moral imperative. So I thought, for this pre-Valentine's Nosh, I would be true to my Gemini nature and offer something for both ends of the spectrum…

FOR THE UNATTACHED:

First, spend whatever money you would have spent on a gift/card/dinner for a sweetie and spend it on yourself. Have a spa treatment. Buy a new outfit or a fab pair of shoes. Pick one of the things off your Amazon wish list and order that sucker up for yourself! (Or pick one of the things of MY Amazon wish list and send it to me…)

Then figure out the kind of evening you want to have. Take out? Order whatever you love and put it on your best dishes and light a candle. Want to cook for yourself? Try my favorite indulgent dinner for one…

CELERY APPLE SALAD
One celery heart with leaves, sliced on bias ¼ inch thick
One granny smith apple, cored, sliced into ¼ inch thick half moons
1 oz shaved parmagiano reggiano
Juice of half a lemon
2 T extra virgin olive oil
Salt and pepper to taste

Toss all ingredients together and alter to taste…if you like more lemon, add more juice, too tart? Add more oil.

RISOTTO A LA STACEY
2 c Caranoli or Arborio rice
10 c chicken stock
2 shallots, chopped
2 cooked chicken breasts, shredded (feel free to use a rotisserie chicken here)
4 artichoke bottoms (preferably fresh) cooked and diced
2 T butter
1 T olive oil
½ c dry white wine or champagne
1 pinch saffron threads
¼ c grated parmagiano reggiano
2 T chopped flat leaf parsley
Zest of one lemon
Salt and pepper to taste

Melt 1 T butter in pan with olive oil. Add shallots and cook till translucent. Add rice and stir until each grain is coated. Add wine and saffron threads and stir till wine is totally absorbed. Add chicken stock one ladle at a time until absorbed, and then add next ladle. Stir continuously. When it begins to take longer for stock to be absorbed, taste rice. You are looking for al dente, not mushy or gummy. When you are getting close to al dente, add the chicken and artichokes to heat through, along with the lemon zest, salt and pepper. When the rice is perfectly cooked, stir in the remaining 1 T butter, the cheese, and the parsley and do a final taste for seasonings. (the leftovers make a killer breakfast, form into patties, lightly dust in flour, and fry till crisp in butter and serve with your eggs.)

For dessert…a pint of ice cream is never a bad idea (although on a day like this, I'd pick up a flavor or two from Caffe Gelato on Division), nor is a package of Mallomars. If you are really feeling indulgent, go online to my gang at www.ricetoriches.com and have them FedEx you your favorite flavor of rice pudding (I like the Category Five Caramel and the Chocolate Hazelnut Bear Hug).

Watch a funny movie or catch up on your Tivo, take a bath, read a book (preferably one of mine, thank you) and remember that tomorrow is February 15 and all the romanticpalooza will be relegated to the 50% off table.

FOR THE COUPLED:

Congrats. I mean that almost without bitterness. I hope you both devote some time on this day to remind each other why you are together, and to make some effort to be romantic, if for no other reason than you are able! And if you are staying home, you might want to try this simple dinner to cook and eat with your sweetie.

HEARTS SALAD
1 pkg. hearts of romaine lettuce
1 pkg. hearts of celery, or the center of two heads of celery, with the leaves
1 can chopped hearts of palm, drained
2 hearts of large steamed artichokes sliced (or 1can quartered artichoke hearts, drained)
3 T white balsamic vinegar
8 T lemon flavored extra virgin olive oil
salt and pepper to taste

Chop the celery and tear the lettuce into bite sized pieces, and mix with the drained hearts of palm and artichokes. Mix the rest of the ingredients into a quick and easy salad dressing, and toss all together. You can garnish with parmesan curls if you like.

DIJON CHICKEN
2 T butter, softened
1 T Dijon mustard
¼ T salt
¼ t pepper
2 chicken breasts, boneless, skin on
¼ c bread crumbs
¼ c grated pecorino Romano (can substitute grated parmesan)
Olive oil

Mix mustard and butter and coat chicken. Mix bread crumbs and cheese, and roll chicken in coating until completely covered. Put on a lightly greased baking sheet, and sprinkle with olive oil just before cooking. Cook 15 minutes at 375 if thin, 18 minutes if thick.

CREAMY LEMON PASTA
1 lb pasta, preferably linguine or fettucine
2 egg yolks
1 lemon, juice and zest
½ c grated parmesan
2/3 c heavy cream
4 T butter
2 T parsley, chopped (or chives)
salt and pepper to taste

Whisk egg yolks until creamy and slightly lightened in color. Stir in cheese, lemon juice, lemon zest and cream. Cook pasta al dente. Drain pasta and return to pot, off heat. Add butter to pasta and stir until melted and coating all the pasta. Add the sauce and mix well. Taste for salt and pepper. You may add some of the cooking water or more cream if it needs it. Add parsley just before serving, with extra grated cheese on the side. (Yes, this is much more than you will need as a side dish for two people, but you won't be upset at midnight when you can reheat the leftovers and eat them in bed in one bowl with two forks. I'm not saying, I'm just saying…)

DECADENT DARK CHOCOLATE CUPCAKES WITH VANILLA FROSTING

CUPCAKES
8 T unsalted butter, cubed
2 oz. high quality bittersweet chocolate, (Valrhona, or Callebaut) chopped
½ C Dutch-processed cocoa powder
¾ C all-purpose flour
½ t baking soda
¾ t baking powder
2 large eggs
¾ C sugar
1 t vanilla extract
½ t salt
½ c sour cream

FROSTING
10 T unsalted butter, softened
½ vanilla bean, halved lengthwise
1 ¼ C confectioners sugar, sifted
Pinch salt
½ t vanilla extract
1 T heavy cream

Adjust oven rack to lower-middle position; heat oven to 350 degrees. Line standard-sized muffin pan with baking-cup liners. Combine butter, chocolate, and cocoa in medium heatproof bowl. Set bowl over saucepan containing barely simmering water; heat mixture until butter and chocolate are melted and whisk until smooth and combined. Set aside to cool until just warm to the touch. Whisk flour, baking soda, and baking powder in small bowl to combine. Whisk eggs in second medium bowl to combine; add sugar, vanilla, and salt and whisk until fully incorporated. Add cooled chocolate mixture and whisk until combined. Sift about one-third of flour mixture over chocolate mixture and whisk until combined; whisk in sour cream until combined, then sift remaining flour mixture over and whisk until batter is homogenous and thick. Divide batter evenly among muffin pan cups. Bake until skewer inserted into center of cupcakes comes out clean, 18 to 20 minutes.

Cool cupcakes in muffin pan on wire rack until cool enough to handle, about 15 minutes. Carefully lift each cupcake from muffin pan and set on wire rack. Cool to room temperature before icing, about 30 minutes.

In standing mixer fitted with whisk attachment, beat butter at medium-high speed until smooth, about 20 seconds. Using paring knife, scrape seeds from vanilla bean into butter and beat mixture at medium-high speed to combine, about 15 seconds. Add confectioners' sugar and salt; beat at medium-low speed until most of the sugar is moistened, about 45 seconds. Scrape down bowl and beat at medium speed until mixture is fully combined, about 15 seconds; scrape bowl, add vanilla and heavy cream, and beat at medium speed until incorporated, about 10 seconds, then increase speed to medium-high and beat until light and fluffy, about 4 minutes, scraping down bowl once or twice. (To frost: Mound about 2 tablespoons icing on center of each cupcake. Using small icing spatula or butter knife, spread icing to edge of cupcake, leaving slight mound in center.)

If you need my recommendations of how else to spend your time, you have no imagination.

FOR EVERYONE:

You need a decent cocktail for Valentines Day, and bubbly is always in order. Here is a recipe I developed for a contest for the Mionetto Prosecco company, which everyone I've ever made it for seems to think is pretty delish. It's a happy drink if you're imbibing alone, and not overly drunk-making if you're not. And which is even better, the contest is still ongoing and you can vote for me if you like the drink!

1 oz prosecco or champagne (I use Mionetto Brut, because that is the one from the contest)
1 oz premium vodka
1 oz Elderflower Liqueur (St. Germain is my fave, and is available at Sam's)
½ oz fresh lemon juice
½ oz pineapple juice

OPTIONAL
For rim of glass:
1 T lemon juice
1 T sugar in the raw
1 t grains of paradise, ground  (Whole Foods in the spice section)

For Float:
1 T Prosecco or Champagne (Mionetto Brut again…)

PREPARATION:
Fill shaker with ice, and shake all ingredients well.
Dip rim of martini glass in lemon juice and then in the combined sugar and ground grains of paradise.
Strain cocktail into glass and float 1 T Mionetto Brut on the top for extra fizz.

If you love it…do click here, scroll down to the 6th drink The MIONETINI and vote for me! Send the link to all your friends! The top three vote-getters get a trip for two to NYC and the chance to win $5000. Think of this as your little Valentine to me : )

However you choose to mark the day (or not), I hope it is a good one.

Yours in good taste,
Stacey
www.staceyballis.com

NOSH of the Week: Stay away from those heart-shaped boxes of waxy chocolates. Head over to www.franschocolates.com and order up some of the chocolate filled and dipped figs. Trust me. Luxurious enough to give to a lover, but non-frilly enough to give to a friend.

NOSH Food Reads of the week:

If you're in love,  Like Water for Chocolate  by Laura Esquival.

If you're not, try any of the Diane Mott Davidson Culinary Mystery Series.