Permanent link
All Posts
My friend Elliot and the 11 other cellists in his band agree with me.
02/03/2009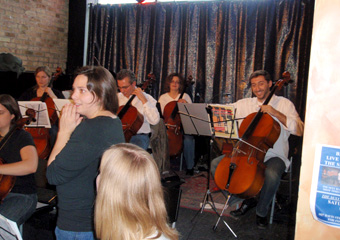 Elliot gets ready for another concert with the Oakley Street Cello Ensemble

I literally fell off my chair one day while playing duets with my friend and fellow cellist, Elliot Mandel. The floor was slippery; my chair slid back, my bum hit the floor all in a split second. But I saved my cello – held high above my head – my instincts kicked in and I saved my baby. Elliot was very gracious about it, laughing along with me while I giggled hysterically on the floor. But this story isn't about my life long love affair with my cello (though it kind of is), this is about Elliot, his cello and the Oakley Street Cello Ensemble – a group I recently heard for the second time at Bill's Blues Bar in Evanston.

Growing up in Glen Ellyn, Elliot was introduced to the cello in second grade, though he says, "It was never something I intended on doing." A string teacher came to his school and didn't see his hand raised for the violin. By the time she noticed him, she was on to the cello. Being the laid back guy that he is, he said, "Okay, I'll try it."

Since that fateful day, Elliot has carted his cello to the Suzuki Institute in Stevens Point, WI, to college at Bradley University, on orchestra tours to Colorado Springs, Ireland, England and Denmark, to the Old Town School of Folk Music every Monday and to Oakley rehearsals every Wednesday night. One Oakley member graciously moves all of her living room furniture each week to make room for rehearsals because they take up so much space.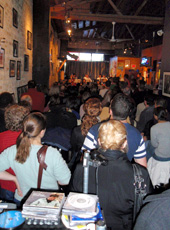 The packed crowd at Bill's Blues Bar – the Oakleys are a hit

The Oakley Street Cello Ensemble is a group of 12 cellists – I think that is enough to constitute a cello choir – who play a range of music from classical to pop, folk songs to Apocalyptica. The varied selection is something you're not going to get in most chamber groups, and that's part of the reason Elliot joined up last year.

There is an understanding, or a culture among cellists that Elliot and I both agree on but cannot completely define. It is sort of a collaborative, nonjudgmental, noncompetitive culture. Not that cellists don't fight for first chair, it's just not in the same to-the-death way as say, violinists. For example, I never once saw a cellist sneaking up to practice rooms listening to other cellists and then making snide remarks about their playing. Plus, we cellists understand what it takes to lug a heavy instrument across Europe or on the el.

This feeling of camaraderie can be found among the Oakleys, whose players have assorted degrees of experience. Without the goal of being professional musicians, the group is made up of players of different ages, backgrounds and musical tastes – basically, these are people that work well together and have a lot of fun. While Elliot's favorite piece from the Evanston concert was the second movement of Beethoven's Symphony No. 7 (I couldn't agree more), someone else's was probably "Here Comes the Sun," the Beatles classic by George Harrison.

This culture was central to Elliot's experience playing music at Bradley. Majoring in English, he didn't want to commit to a career in something he found so enjoyable: "That track becomes your life. I don't have that competitive thing in me." Elliot's professional, English major self now works as a Program Coordinator at the American Library Association.

While in school and playing with the Bradley Chamber Orchestra, Elliot got to play some of his favorite composers – Bach, Beethoven, and Shostakovich – and travel to Europe, playing concerts in Cathedrals that were built at the time some of the music they performed was being written. This rich sense of history brings deeper meaning to the music. "I find a certain spiritualism in music which in some ways might be considered a religious experience – both things are hard to define concretely," Elliot says.

Music also fosters community, whether it is part of a religious or spiritual experience, a group of cellists forming the Oakleys, or attending a concert at Orchestra Hall or Phyllis' Musical Inn. Another "C" word to add to the cello culture definition that I can't quite put my finger on.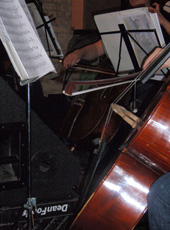 Cello close-up at the Oakley concert

While all this kumbaya crap is mostly true, it is by no means the complete picture. Cellists can also be snarky and sarcastic. Elliot told me about a master class he attended once where the instructor coined the term "cello chauvinism," defining that as "the supreme belief that cellos are superior to all other instruments." I can't say I disagree with that. The resonant sound of the cello is closest to the timbre of the human voice. It can work its way into your heart, thoroughly seeping under your skin.

In keeping with the collaborative culture of cellists (or in my own personal quest for solidarity), I asked Elliot if he had ever fallen off his chair while playing his cello.
His straight-faced response: "No, but I knew a girl who did once."
I got a little excited: "Someone other than me?"
Then him: "No."

The Oakley Street Cello Ensemble is now selecting pieces for their next concert. Stay tuned to the events page for details.