Permanent link
All Posts
Standing on her own, with the violin as her voice
01/17/2012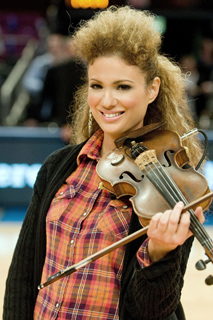 Miri Ben-Ari is an Israeli Grammy award-winning violinist who has created her own unique sound by a combining classical with jazz, R&B, and hip hop. Ben-Ari has sold millions of records by collaborating with other world renowned artists such as Jennifer Lopez, Kanye West, Jay Z, Wyclef Jean, Alicia Keys, Wynton Marsalis, Britney Spears, Maroon 5, Donna Summer, and John Legend.
The musician will perform on Thursday, Feb. 9 at Lincoln Hall in Chicago at an event sponsored by the Anti-Defamation League (ADL), Israel Sport Center for the Disabled, and Friends of Magen David Adom. Recently, I did a phone interview for Oy!Chicago with Ben-Ari to discuss the evolution of her work as a musician and a performer, as well as her social activism endeavors.
Oy!Chicago: Please describe your upbringing in Israel and your musical training. 
Miri Ben-Ari: I grew up in Israel and lived there until I completed the army. I started playing violin at an early age and was a part of a gifted group of students that were taught by the legendary Isaac Stern. Throughout my childhood I grew up playing classical music, chamber music, and very early on started winning awards to pay for my classical education. At the age of 16, I traveled to the United States for the first time and immediately fell in love with the American culture and especially with Jazz music. I knew that if I studied jazz I would be able to eventually improvise, compose, and produce my own music. It was the originality that attracted me to this genre of music. After the army I moved to the United States where I studied for two semesters at the New School, and continued my musical learning by performing regularly with great musicians.
Is there a particular artist that you have worked with that you believe significantly shaped you as a musician?
It is hard for me to choose one artist that has significantly shaped my work… all of the artists that I worked with are talented, hard-working, and unique. Of all the collaborations that I have been involved in, my most recent work "Sympathy of Brotherhood" highlights the words of the late Dr. Martin Luther King Jr. I chose to highlight this particular speech because it was an historic moment not only for America, but for the world.
If I had to choose one person that impacted my art…it would be Kanye West. I was connected to Kanye very early on—at the start of his career. It was a great experience to watch him turn into the artist that he is today. 
How did you start making connections with such talented and successful artists? 
I started doing a few TV shows [and] concerts, and the public very quickly became interested…One show led to another and pretty soon I was working with everyone.
What has been the highlight of your musical career? Is this where you want to be musically? Could you have gotten to this point without the help of your collaborators? 
My experience made me the artist that I am today. After collaborating with so many artists, my music is now able to stand on its own. I feel that the world has become much more receptive to real art and organic music.
From the Apollo stage to being invited to the White House by First Lady, Michelle Obama, to playing concerts with Jay Z and Kanye West. All of these events and collaborations have shaped me as an artist.
Are you content with where you are and what more do you want to achieve musically? 
This is the music that I always dreamed of creating. Part of being an artist is to never stop progressing. There is always something to learn, always skills to develop—this is the journey. As far as my five-year plan, you can say anything, but the question is are you actually going to do it? I am always chasing my dreams. 
Can you tell us about Gedenk, the non-for-profit organization you founded? Why is the organization's mission if particular importance to you?  
A few years ago I created Gedenk which means 'remember' in Yiddish. Gedenk is a humanitarian movement dedicated to teaching and raising youth awareness about the Holocaust as well as anti-Semitism, racism, and its negative consequences on the world today. I created the organization with two of my best friends. As a third generation of Holocaust survivors, I am emotionally attached and committed to ensuring that this story be told. The organization uses the power of celebrity to help raise awareness about Holocaust education and unconventional campaigns to pique the public's interest.
Are you excited about your upcoming performance in Chicago? 
Yes, very much so! I feel very passionate about the work that your [Chicago Jewish] organizations are doing—and it is a privilege to be able to support your efforts locally.
Miri Ben-Ari will be performing on Thursday, Feb. 9 at Lincoln Hall in Chicago. For tickets, visit www.fiscd.org.