Permanent link
All Posts
11/01/2011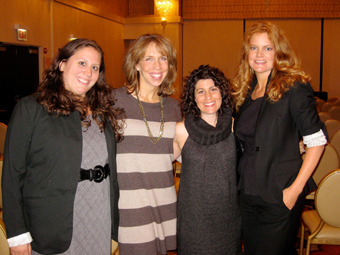 On a chilly October night, 100 women from JUF's Young Women's City Council (YWC) got the inside scoop from four women who are living their dream: working for Oprah Winfrey.
On Oct. 18 at the Hotel Palomar Chicago, YWC offered the opportunity to spend an evening with four producers—Lindsay Feitlinger, senior producer for The Rosie Show, Cindy Mori, vice president of booking and talent relations for Harpo Studios, Dana Brooks Reinglass, co-executive producer at Harpo Studios and executive producer  of Oprah's Lifeclass,  and Jill Van Lokeren, executive vice president and executive producer of development broadcast and cable for Harpo Studios— who were all part of the historic 25th season of The Oprah Winfrey Show.
Julie Novack, YWC chair, moderated the discussion, asking the panelists what it was like to work at their dream jobs, to work with Oprah, to go from behind the scenes to in front of the cameras, which celebs are the toughest and more.  
So how did these four women end up working at their dream job?
Brooks Reinglass shared the story of her first interview—all she ever wanted to do was work for Oprah, and she was so emotional over the opportunity to get her dream job that she cried during her interview. Convinced she'd blown her chance, she sent an onion along with a thank you note explaining that she had found it in her pocket and that this was responsible for her emotional outburst. Soon after, she got a call back—and the rest is history.
"Anything can happen—you can turn anything around," Brooks Reinglass said. "I wouldn't suggest you send produce whenever you mess up, but it's up to you. Just think about it and you can make it work."
Feitlinger, who was always "obsessed with the Oprah show," says there's no one like Oprah.  "All the things that she does—it's amazing how she [has so much] energy and she wants to change the world," she said. "I don't know anybody quite like her in the world that wants to do so much."
Oprah's "a-ha moment" happened in 1988, after she had skinheads on the show as guests. "I think she just believed 'I'll give them a platform and then this will maybe spark a change,' really hopeful wide-eyed and it ended up being a big disaster," Van Lokeren said. "She walked away from that and said 'I swear I will never give a platform to evil on this show ever again and I want to use this for good.'"
The producers also shared stories about the perks of working for Oprah—family vacations, the celebrities, and doing what they love—and some of the tribulations—the long, hard work days, time away from their families, and the pressure to always been on top of their game.
One major change for them was during the show's final season, which finished up in May, when the cameras were turned, and viewers were invited to look behind-the-scenes at the making of the show's final season on OWN. The panelists, especially Van Lokeren, found themselves getting recognized on the streets. The 25th season culminated with a huge event which featured 35 A-List celebrities, 13,000 at the United Center and a surprised and tearful Oprah.
For Mori, the moment it all became real to her was when the "Morehouse Men," the 415 young men who received The Oprah Winfrey Scholarship at Morehouse College, came out onto the stage while Tony winner Kristin Chenoweth sang "For Good" from Wicked. "It was the moment that it hit me that there is no other phenomenon like this and I am witnessing it and I have been a part of it," Mori said. "For me, that segment really epitomized what The Oprah Show accomplished in the past 25 years. And that was all I needed to see. I had my moment, I cried tears of sadness and tears of joy at the same time." 
The four women have now moved on to the next chapter of their work with Oprah through new projects on the Oprah Winfrey Network (OWN), including The Rosie Show.  
For more information about JUF's Young Women's City Council visit www.juf.org/women.