Permanent link
All Posts
10/28/2008
Ristorante Prosecco
710 N. Wells
Chicago
312-951-9500
www.ristoranteprosecco.com

Rating: Three and a half stars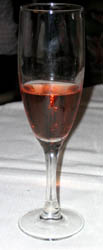 Prosecco, where food and service are as sparkling as the champagne

I am unabashed in my love of sparkling wines.  And while I have a particular affinity both for the true French champagnes, and for the sparklers made in the Méthode Champenoise from other regions of the world, I don't turn down a good cava from Spain or a prosecco from Italy.  For the sake of ease, despite the twitch it is likely to produce in any serious oenophiles who may be reading this, it's really all champagne to me, and I tend to refer to it as such.  I don't need an occasion to drink champagne, any random day will do. Sparkling is the first section I go to in any wine list, and frankly, having decent bubbles by an affordable glass price will endear a restaurant to me faster than almost anything else.  I'm blessed with a circle of friends who also enjoy life a little 'frissante', and, while we always start the evening with champagne, we often stick with it, letting the magic twinkle take us all the way from salad to entrée to dessert with neither shame nor apology.

It's a long love affair for me, and the person most to blame isn't that famous monk who exclaimed he was drinking stars when he accidentally invented my go-to beverage.  It's my dad, with some help from WGN television.

One Sunday when I was maybe eight or nine, my dad and I were watching television together.  I know it outs me as old when I say that this was a time well before cable, and with only about twelve stations to choose from, Sundays without football were all about old movies.  Flipping through the stations we landed upon the Sunday Afternoon Movie on WGN, which also tended to run the Late Morning Movie, the Early Afternoon Movie, the Mid-Twilight Movie, the Sort-Of-Early Evening Movie, not to mention the Late, Late-Late, and Really-Freaking-Late-Why-Don't-You-Go-Bed-Already Movie.  A classic black-and white comedy of manners from the forties, full of happy wealthy people who seem never to go to work and are always planning some big party.  This is how I know it was just me and dad, since my sister has never been able to abide anything in black and white, and was probably off somewhere with my mom, who will never choose the couch if she can be actually doing something.

I wish I could remember the exact film, but ultimately it is irrelevant.  What I do remember is this:  A gentleman stops by the house of the family at the center of the film, uninvited and unexpected, in the middle of the afternoon.  They greet him warmly and ask if he would like a drink.  He says, and this is very clear in my mind "Well, thanks. Don't mind if I do.  I'll have a champagne."

And the uniformed maid goes to fetch it for him.

Just like that.

Not on New Year's Eve, no one's birthday cake in sight.  Just as if he were asking for a glass of water or a Coke.  "I'll have a champagne."

It was the coolest thing I had ever seen, and I made a mental promise to myself right then and there that when I was a grown-up, there would always be champagne in my house and anyone could ask for it on any day and at any time.

Fast forward to now, and I am, despite some of my occasional behavior, a grown-up, and in my house, there is always champagne.  I always keep a couple of half-bottles, since I live alone and should not be consuming whole bottles on my own, but nor should I be thwarted in my desire for a glass when I feel like one.  I keep usually two full bottles cold, one "everyday" champagne (Gruet, a lovely wine from Albuquerque of all places, and utterly delicious), and one of "special occasion" champagne, in case someone calls with excellent news (Nicholas Feuillette, Perrier-Jouet, or Taltarni, a great pink from Australia).  And at least four bottles unchilled, in case a party breaks out.  You never know.  For really special stuff you'll find me looking for Veuve Cliquot's La Grande Dame, preferably pink, and if someone of means is buying, it's all Krug all the time.

But I also often stock up on prosecco, the famed sparkler of Italy, which can be a very reasonably-priced alternative to champagnes, and is delightful in its own right.  It also comes in half-bottles which, unlike champagne, are priced at literally half of the full size, which is great for a single girl on a budget.  For big parties, I often buy prosecco by the case.  So it should be no surprise to anyone that when Chicago got it's very own proseccheria, and I heard that the food was worth checking out, I got myself a reservation.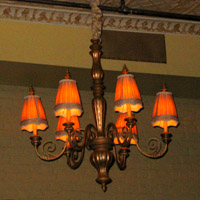 Prosecco offers a warm, comfortable environment

Ristorante Prosecco is a warm and comfortable room, decorated in muted Venetian tones, with tall ceilings and a generous comfortable bar.  I meet Rachel, my intrepid dining companion, also a major bubbly consumer, and we indulge in a glass of the house specialty before being led to a simple table off to the side.  It becomes clear that this is classic white-tablecloth Italian food, the menu is obviously seasonal, and seems to represent Italy as a whole, with dishes from many different regions.  We receive immediately two small tastes of a rose prosecco , brought to us by the sommelier Christian, who will be guiding our wine choices for the evening.  I resist the desire to tell him to only bring bubbles, and focus instead on the menu.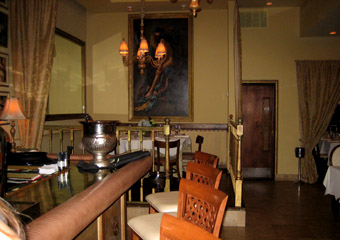 Pick your bubbly at the Prosecco bar

We sip our prosecco and have some bread with agrodolce, a sweet and sour Italian condiment, a compote concocted of eggplant, tomato, raisins, and pine nuts cooked with vinegar and sugar.  I start with the biggest diver sea scallop I have ever seen, with braised fennel and lemon in a mild broth that cries out to be sopped up with the crusty bread.  The scallop is impeccably fresh, caramelized well on the outside and tender within, and as sweet as any I have ever tasted.  Rachel opts for the soup of the day, a chilled puree of avocado with a red-pepper swirl, and confesses the urge to pick the bowl up and drink with abandon.  Christian paired this course with a 2006 "Rosenere" Sangiovese Di Romagna Superiore by La Palazza from Emilia Romagna.  He explains that the grape is the same sangiovese as in Tuscany and particularly as in Chianti, but when grown over the border in Emilia Romagna, it tends to take on a smoother, more velvety texture.  When he leaves, I explain to Rachel that I have no idea what any of that means, except that it is a really lovely glass of wine, and that I'm suddenly not sad at the lack of bubbles.  She agrees heartily, as our empty plates are whisked away and a barrage of pastas descend.  I may have over-ordered, but it is an Italian restaurant, and how could I effectively make recommendations to you, my faithful readers, if I didn't taste a whole bunch of them, hmmm?

Okay, we ordered four pastas and a risotto for two people.

And we were glad that we did.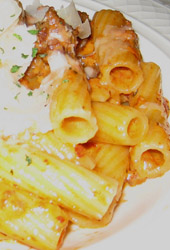 The Rigatoni Norcina

The Rigatoni Norcina, a fairly straightforward presentation of a light tomato cream sauce with pancetta and mild sausage, was very tasty, if not exactly unusual.  The Orrechiette Tartufate, on the other hand, was not just delicious, but unique…the ear-shaped pasta with wild mushrooms, artichoke hearts, sun-dried tomatoes and black truffle cream sauce with white truffle oil and shaved Grana Padano, in a word, trufflicious.  The Gnocchi Gorgonzola were slightly gummy, the spinach in the dumplings serving to do little more than color the dough, and the gorgonzola sauce seemed slightly overwrought.  But the Risotto of the day, served with a short-rib ragu, was rich without being heavy, the rice perfectly al dente and creamy, and the ragu was vibrant and earthy, the meat perfectly tender.  But the surprise of the evening was the Fontina-Stuffed Gnocchi, in a tomato vodka sauce with prosciutto.  These puffs of lightness literally melted on the tongue, with the creamy cheese oozing out and blending with the simple tart sauce in a truly perfect mouthful.  I've never had gnocchi like them, and frankly would not have believed such airiness was possible in a potato-based dumpling without tasting for myself.  Rachel rolled her eyes back in her head and proclaimed them "clouds of total yumminess." She was absolutely correct.  Christian paired this feast with a 2004 Masciarelli, Montepulciano from Abruzzo.  This is a grape from central Italy that tends to be medium-bodied with some nice red fruit and a distinctive almost meaty nose.  It held up well to all but the gorgonzola gnocchi, which we found pretty impressive, especially with all the different flavors we had going on.

Despite our pasta bacchanal, we gamely ordered entrees, a mere two this time, for the sake of propriety.  Rachel had the Spigola Agrodolce, a Mediterranean striped bass in a different version of the condiment I mentioned earlier, this one with sweet peppers, Sicilian cherry tomatoes, olives, capers, and golden raisins, which was fine, the fish light and well-cooked, but slightly over-sauced for such a mild flaky fish.  I had the Saltimbocca di Vitello, a traditional preparation of veal scallops with prosciutto and fresh mozzarella in a tomato brandy sage sauce, which was excellent, the meat perfectly cooked and the flavors well-balanced, but sadly paired with lackluster mashed potatoes and sautéed spinach that suffered from too much garlic.  Christian brought us a 2004 Vivalda "L'Clumbe" Barbera from Piemonte, which is now officially my favorite Barbera, nice and chewy with hints of both currants and chocolate, very drinkable.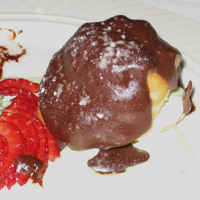 Profiteroles, a refreshing bit of sweet after a decadent meal

For dessert we stuck with tradition, a basic tiramisu and profiteroles, both lovely and not cloying and somehow refreshing bits of sweet after a decadent meal.  And Christian didn't let us down, bringing us back to bubbles with a really special dessert wine, "Amis" Brachetto d'Asti by Villa Giada from Piemonte. It's a dolce frizzante rosso (sweet fizzy red!) made from a relatively rare grape called brachetto, very light, but seriously aromatic and totally tingly on the tongue.  (say that ten times fast if you can!)

Overall, excellent food, thoughtfully prepared, and some really wonderful wines.  The service was exceptional, and even better, despite the room being quite full, Rachel and I never had much sense of the other diners…a rarity these days, when a full house often means an oppressively loud dining experience.

Granted, I was pre-disposed to like Prosecco.  After all, any place as devoted to fizzy lifting drinks as I am is to be commended and celebrated.  It was wonderful to find the food and service as sparkly as the wine.

Yours in good taste,
Stacey
www.staceyballis.com

NOSH of the week:  Well, considering the theme this week, it seemed time for a cocktail. And while I'm usually a champagne purist, and don't like to add things to it, every now and again it is possible to make something so inherently perfect even more sublime.  My favorite trick for sparkling wines of all kinds is to put a finger of Pineau des Charantes in the bottom of the flute.  Pineau is a light cognac from France that has a lot of apple scent to it, and is traditionally served chilled or over ice.  I love it at the end of a summer day in the same way I like a warm cognac at the end of a winter's day. Great on its own, but truly special in your effervescents.  Just that inch or so takes any sparkling wine and puts a velvet smoking jacket on it…taking all the acid finish away and making for a very smooth and different drinking experience.  You can get a good bottle for about $20 at Sam's, just keep it in the fridge and I bet you'll fall in love with it.  Want something a little fancier and slightly less subtle?  Give your bubbles the same treatment with a bit of St.Germain elderflower liqueur, also available at Sam's for around $28, a glorious not-overly sweet floral quaff that I can't recommend highly enough.  Plus the bottle is gorgeous.

NOSH Food Read of the Week:  Heat  by Bill Buford