Permanent link
All Posts
10/28/2008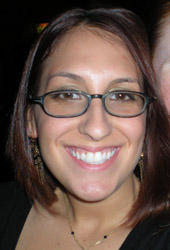 Rachel, "doing Jewish" in Chicago

A New York native, Rachel Haskell moved to Chicago after spending four years as a Badger at the University of Wisconsin-Madison. After a few months interning with Senator Russ Feingold and a summer in Israel, she began working as a professional Jew for B'nai B'rith International (BBI) as the Midwest Program Coordinator. Through her position, she brings programming from each of the four Centers of B'nai B'rith International (Center for Human Rights and Public Policy, Center for Senior Services, Center for Community Action and Center for Jewish Culture) to the Midwest Region. Look out for their next program, "Drink to your Health," a panel discussion on affordable access to healthcare.

So whether you love New York, hate needles or wish you could pause time, Rachel Haskell is a Jew You Should Know!

1. What did you want to be when you grew up?
Well in my 1st grade yearbook I said I wanted to be a heart surgeon…ironic seeing as I hate blood, needles and basically anything to do with the medical field.

2. What do you love about what you do today?
I love working for an organization with such a rich and expansive history. BBI is celebrating its 165th anniversary this year and its reach extends to more then 50 countries. Since the beginning, B'nai B'rith has always been concerned with meeting the needs of the community both globally and locally. We focus on the issues of importance right now; such as Darfur, energy independence and affordable healthcare. It doesn't hurt getting off for the Jewish Holidays either!

3. What are you reading?
The Zookeepers Wife  by Diane Ackerman; it is about the zookeepers of the Warsaw Zoo during the Holocaust and how they were able to save over 300 Jews from the Nazis. I chose it for this month's read for a book club I am in with some friends…very typical for me to pick a book relating to something Jewish.

4. What is your favorite place to eat in Chicago?
Uncommon Ground! I love the eclectic choices they have as well as the comfortable coffee house setting! I have NEVER been disappointed when I go there.

5. If money and logistics played no part, what would you invent?
I am sure there are a lot of better things I could do with my invention, but right now what I really want is something that will pause time. If you could just stop time every once in a while it would be great…like when you're about to miss the train, or when you just need a break at work. Or maybe I would invent something that makes sure I had a never ending cup of hot coffee without having to do anything, which would be nice also!

6. Would you rather have the ability to fly or to be invisible?
Fly! I love to travel and the ability to fly would make it a lot cheaper and more convenient.

7. If I scrolled through your iPod what guilty pleasure would I find?
Billy Joel! It is basically a requirement to be a Billy Joel fan when growing up on Long Island.

8. What's your favorite Jewish thing to do in Chicago? In other words, how do you Jew?
Well, since I work as a Jewish professional during the day and then spend plenty of my free time volunteering with a Jewish Youth group (BBYO) it is pretty fair to say that much of my life is spent doing Jewish things in Chicago. I guess sometimes it is just the small things like eating pita and hummus for dinner or going to a Shabbat dinner with friends.