Permanent link
All Posts
A conversation with Brandeis Professor Jonathan D. Sarna
10/28/2008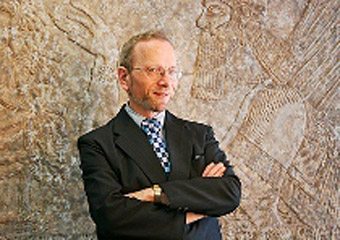 Brandeis University Prof. Jonathan D. Sarna sheds some light on the upcoming election

Whether you're discussing politics on line at Starbucks or surfing headlines online at your desk, you're sure to encounter the names Barack Obama, John McCain, Joe Biden, and Sarah Palin hundreds of times between now and next Tuesday. But understanding the presidential election in a Jewish context is harder to come by and not something that you can learn about from the mainstream media. In a phone interview in September, Oy!'s Cindy Sher talked to Brandeis University Professor Dr. Jonathan D. Sarna—one of the country's prominent historians on American Judaism—examines the upcoming election through a Jewish lens. Among the issues he sheds light on are how many Jews typically vote in presidential elections, the selection of Sarah Palin as a running mate, the recent havoc on Wall Street, whether the Jewish vote could help decide the outcome of the election, and why this election is different from all other elections for the Jewish people.

Oy!Chicago: Could the Jewish vote have an impact in this election?
Dr. Jonathan D. Sarna: Every vote has an influence in a close election and because Jews happen to live in states that are clearly crucial to both candidates—so-called swing states like Ohio, Pennsylvania, Michigan, and Florida—their votes are very important. Everybody knows that the difference of a few votes in Florida determined the election in 2000 and that could happen again...Jews are concentrated within the United States, more than any other groups. Twenty metropolitan areas make up 85 percent of the [American Jewish population]. The largest four Jewish communities, in California, New York, New Jersey, and Florida, have 128 electoral votes and you only need 270 [to win].

How does this election matter differently to American Jews than in the past?
We'll only know that in retrospect. What does make this an unusual election is that the Democratic candidate is largely unknown to the Jewish community. It's relatively rare that that happens. Obviously it was true of Jimmy Carter when he became the Democratic candidate. But more frequently, everybody is voting in an election where you have a longer record. This election is unusual, relatively so, because you don't have an incumbent running on the record nor do we have a vice president running on the president's record. Only in retrospect will we find out whether it's a defining election, as some believe, that will bring wholesale change to Washington.

I've read that approximately 75 percent of Jews have voted in recent elections, compared with only about half of the general population. Why do Jews vote in such great numbers?
In a good election, you can certainly reach those numbers. In a presidential election, there was even one estimate of 80 percent. Certainly, Jews are considered significant because they turn out in large numbers. Many Jews have stories—including in my own family—of going out and voting. They see voting as a duty, an obligation. You would go to considerable trouble, in the snow or rain, to vote. That is the kind of Jewish value that is passed down from parents to children. I know Jews who come to resemble their neighbors who don't take voting quite as seriously, but there are still residual memories of how a parent or grandparent did everything possible to get to the voting booth, and believed that nothing was more important and American than exercising the right to vote.

Is the number of Jews who vote dropping, and how does the number of Jewish voters compare with other ethnic groups?
I have read that there's been a slight drop in Jews who have been going out to vote. Younger Jews are not as likely to vote as their predecessors, but compared to African Americans and Hispanics, Jews have voted off the charts. When one looks across American ethnic and religious groups, Jews participate at a much higher level, and Jews have donated at a high level. One of the questions in this election is whether things will change: Whether African Americans will turn out in high numbers and whether Mr. Obama's new mode of funding will mean that traditional Jewish donations are less important. All remains to be seen.

Are Jews becoming more politically conservative or is that a misperception? Who are the conservative pockets of the Jewish community?
Traditionally, in elections, Jews have voted around three-quarters for the Democratic Party, but the Republicans are correct in sensing somewhere around 20 percent of the Jewish vote can move either way. There are [a few] groups of Jews who have become clearly more conservative—Orthodox Jews who tend to vote the way Evangelicals vote, sometimes for the same reasons—and their numbers are growing. Russian Jews are the most conservative subgroup within the Jewish community. They had their fill of liberalism and Communism back home and they often like tough-minded conservatives. Some people argue that young Jewish males, especially those who have done well in the economy, are more likely to vote conservative. We've also seen a shift of some Jews to the Sun Belt, places like Atlanta, where they are exposed to more conservative views and some would argue that that, too, has pushed some Jews into more conservative politics.

How has the recent turmoil on Wall Street affected the Jewish vote one way or another?
Historically, economic turmoil leads people to vote for the party out of power. In other words, economic turmoil is advantageous to the Democrats. By contrast, a major terrorist incident would tend to lead people to vote for the party in power. We don't want to switch generals in the midst of war. A major terrorist incident would benefit the Republicans, but all of the economic horrors of the moment definitely benefit the Democrats.

To what extent are Jews one-issue voters?
It depends which Jews you are talking about. Clearly, for example, Reform Jews are the most liberal Democratic group of the major Jewish movements within the Jewish community. Social issues, generally, are enormously important to them including church-state issues, the Supreme Court, and so on. Israel is on the list, but is not top of the list. For some Orthodox voters, and for Jews who have close relatives in Israel, Israel may well be for those Jews what abortion is for the religious Catholics—a kind of litmus test.

Would Obama and McCain be equally 'good' for Israel?
The support for Israel in the United States has much less to do with Jews than most people imagine. It has a great deal to do with overall American support for Israel, which goes back to before the state was born. It especially has to do with Evangelical support for Israel. The Evangelicals are many times larger than the Jews and many Evangelicals believe not just that Israel is central to the Second Coming as they understand it, but that Israel's presence in disputed areas is likewise essential to the fulfillment of their Dispensationalist view of the world, although that would be less important to Mr. Obama than Mr. McCain.

How has McCain's selection of Sarah Palin as his running mate changed the landscape of the election for the Jewish people?
Sarah Palin represents elements of the Republican Party that Jews are least sympathetic with—a strict sense of populism, guns, hunting, and small towns. These are not symbols that Jews resonate with nor are they sympathetic to her political views. When it comes to foreign policy, she has no record at all. She's hardly been out of the country. Whereas a McCain/Lieberman ticket might have brought in Jewish voters, and might have led Jews, say in Florida, to think harder about the Republican ticket, [some Republicans] have been forthright about expressing doubts about Sarah Palin. That echoes Jewish thinking, although that doesn't mean she is anti-Jewish. There were some forces in Alaska that said nice things about her, but there is not much of a record. My sense is that she was brought in so that a different part of the Republic Party would vote for this ticket—a part that Jews have not traditionally had much sympathy with.

What have recent polls indicated in terms of whom Jews will vote for in this election?
The last poll that I saw was prior to the conventions. The bad news for Obama was that he was at 60 percent of the Jewish vote. Historically, Democrats who can't crack about 75 percent of the Jewish vote don't win. No Democrat has been elected since 1928—in 80 years—who has failed to win 75 percent of the Jewish vote. Democrats who have not achieved 75 percent of the Jewish vote are Adlai Stevenson, George McGovern, Walter Mondale, Michael Dukakis, and Jimmy Carter (in the 1980 campaign for his second term), and not one of them won.

Every single Democratic presidential candidate since 1928 with one exception has received more than 60 percent of the Jewish vote. The one exception was Jimmy Carter in 1980, but he didn't win. The fact that Obama was down at 60 percent was very bad for him. There is a lot of time before the election and I tend to think that number may change. When Jews are uncertain about whom to vote for, their reflexes tend to lead them toward the Democratic Party. Considering the current financial situation as well as great dissatisfaction with Washington, the default for Jews and a lot of other people will be to vote against the party in power.

At the end of the day, the majority of American Jews this November will almost unquestionably vote for the Democratic ticket as they always have done. The question is how large that majority will be and the answer to that question may, if the election is close, decide the presidential election. That's why every vote is important.

Dr. Jonathan D. Sarna is the Joseph H. and Belle R. Braun Professor of American Jewish History in the department of Near Eastern and Judaic Studies at Brandeis University and the director of the Hornstein Program in Jewish Professional Leadership. He is the author of a new book entitled A Time to Every Purpose: Letters to a Young Jew , (Basic Books), in which he reflects on identity, family, and the American Jewish experience.