Permanent link
09/09/2015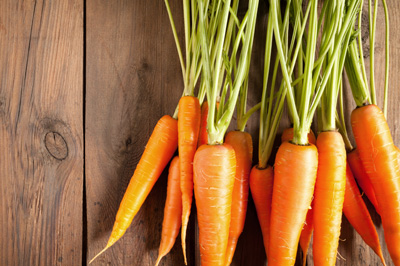 Short days and crisp nights herald the holiday season. I am always excited this time of year. The lighter fare of the summer is over and I crave heartier flavors.
I find that many home cooks struggle with writing their holiday menus. Actually, what I hear over and over again is that they have the "mains" covered but struggle with the sides. I get it. You love Bubbe's brisket/chicken etc. -- but I am not your Bubbe and while my brisket recipe is solid, delicious, and amazing, it is not part of your tradition. But, perhaps you can be tempted by my unique side dishes and bonus dessert?
No problem. I got you covered! My action plan starts with multi-purpose root vegetables. This year I am going wild in the kitchen with carrots.
Carrots are versatile, healthy, and not just for salads. I recommend you purchase the best, locally grown carrots you can find. Since we are elevating the common carrot to recipes in uncommon ways, I recommend you seek out the heirloom purple and yellow carrots. They are delicious and gorgeous.
Food fact: Before the 17th century, all carrots were purple. The purple carrots actually have an added bonus of container anthocyanin, a powerful health boosting flavonoid.
New Year holiday bonus: The Yiddish word "meren" means both carrots and to increase. Carrots symbolize our hope that our merits increase. So, eat up!
I have utilized simple ingredients and many of the ingredients are used several times throughout the recipes. That means less schlepping and more enjoying.
For your holiday pleasure, here are some delicious side dishes to go with Bubbe's favorite brisket, chicken, fish, and any holiday recipe. Shanah Tovah U'Metuka!
Chilled Carrot Soup
Serves 4
3 medium carrots
2 ½ cups fresh carrot juice (either home juiced or purchased)
1 teaspoon honey
¼ teaspoon curry powder
½ teaspoon freshly grated ginger
½ cup coconut milk
Kosher salt and freshly cracked pepper
Suggested garnishes: carrot ribbons, fresh herbs, candied ginger, diced beets
Carrot Puree with Spiced Pumpkin Seed Brittle
2 cups small diced carrots
2 cups small peeled and diced butternut squash
1 cup peeled and diced Yukon Gold potatoes
3 cups chicken stock or water
2 teaspoons kosher salt
1 teaspoon freshly cracked pepper
For the brittle
1 teaspoon vegetable oil, plus additional for coating
4 ounces shelled pumpkin seeds (these are the green ones also called "pepitas")
¼ teaspoon cayenne pepper
¼ teaspoon ground cinnamon
½ teaspoon kosher salt
12 ounces granulated sugar
6 ounces water
1. Place the oil and seeds into a 10-inch sauté pan and set over medium-high heat. Toast the seeds while constantly moving the pan. You will smell their aroma and hear some of them begin to crackle when they are toasted, 4 to 5 minutes. Transfer the seeds to a small mixing bowl, add the cayenne, cinnamon, and salt and stir to combine.
2. Place a large heavy gauge saucepan over high heat. Add the sugar and water to the saucepan, and cook over high heat, stirring occasionally with a wooden spoon, until it comes to a boil. Stop stirring, cover, and cook for 3 minutes. Uncover, reduce heat to medium, and cook until the sugar is a light amber color, approximately 25 minutes.
3. Remove from the heat and stir in the pumpkin seed mixture. This will greatly reduce the temperature of the sugar, so work quickly. Once evenly mixed, pour the mixture onto the prepared half sheet pan. Using an oiled spatula, spread thin. Cool completely, approximately 30 minutes, and then break into pieces. Store in an airtight container for up to 2 weeks.
Savory Roasted Carrots with Apple-Date Chutney
I like to use a mix of colorful carrots for this delicious side. I try to purchase small to medium sized carrots for this dish. I like to leave them whole for a WOW factor when presented on a platter and lavishly dolloped with the chutney.
Serves 6
12 medium carrots, tops cut off
¼ cup best quality extra virgin olive oil
1 teaspoon kosher salt
½ teaspoon freshly cracked black pepper
Preheat oven to 400 degrees.
1. On a parchment lined sheet pan, toss the carrots with the oil, salt, and pepper. Place the carrots in the oven and roast for about 20 minutes until lightly browned and tender.
For the chutney
3 tablespoons extra virgin olive oil
2 shallots, minced
2 cloves garlic, minced
3 apples (I prefer Honey Crisp), cored, but not peeled and cut into medium dice
½ cup sliced pitted dates
2 tablespoons brown sugar
¼ cup red wine vinegar
½ teaspoon cinnamon
½ teaspoon kosher salt
¼ teaspoon freshly cracked black pepper
Garnish: pomegranate arils (seeds)
1. Heat the oil in a medium saucepan over medium heat. Add the shallots and cook until lightly browned. Add the garlic and apples and continue cooking, stirring occasionally until the apples begin to soften, about 5 minutes.
2. Add the remaining ingredients and cook until the dates have softened and plumped and the mixture is holding together.
3. Dollop the chutney on top of the carrots and garnish with pomegranate arils.
Carrot-Coconut Cake
Take a break from the usual honey cake and try this delicious carrot cake... Bubbe would approve!
2 cups all-purpose flour
2 teaspoons baking powder
2 teaspoons baking soda
2 teaspoons ground cinnamon
¾ teaspoon kosher salt
3 cups grated carrots, about 9 carrots (you can grate the carrots in a food processor fitted with a shredding blade)
1 cup coarsely chopped walnuts or pecans (Optional)
1 cup shredded coconut, sweetened or unsweetened
½ cup raisins (I prefer golden)
2 cups granulated sugar
1 cup canola
2 teaspoons vanilla extract
4 large eggs
Preheat the oven to 325 degrees.
1. Grease and flour three 9-inch round, 2-inch deep cake pans, flour the insides and tap out the excess.
2. Whisk together the dry ingredients and set aside. In another bowl, stir together the carrots, chopped nuts, coconut, and raisins.
3. Working in a mixer fitted with the paddle attachment, or in a large bowl with a whisk, beat the sugar, oil and vanilla together until smooth and the sugar is fairly dissolved (you shouldn't hear it rub against the side of the bowl). Add the eggs one at a time and continue to beat until the batter is smooth.
4. Add the dry ingredients and mix only until they are combined. Don't over mix or the cake will be tough.
5. Add the carrot mixture and fold it in gently.
6. Divide the batter among the baking pans and slide the pans into the oven. Bake the cakes for 40 to 50 minutes, rotating the pans top to bottom and front to back at the midway point. The cakes are properly baked when a knife inserted into the centers of the cakes comes out clean; the cakes will just start to come away from the edges.
7. Transfer the pans to cooling racks, cool for 5 minutes, then turn out onto racks to cool to room temperature. (The layers can be wrapped airtight and kept at room temperature overnight or frozen for up to 2 months; thaw before frosting.)
Creamy Coconut Frosting
This frosting is a departure from the usual cream cheese frosting. It is creamy, light, delicious, and pareve! Just whip the ingredients at high speed until light and fluffy.
3 tablespoons coconut oil, softened at room temperature
1 ½ cups sifted powdered sugar
2 tablespoons coconut yogurt
½ teaspoon vanilla extract
⅛ teaspoon sea salt
Laura Frankel is a noted kosher chef and owner of Pickled Tongue Catering and Foods. "Her book Jewish Slow Cooker Recipes: 120 Holiday and Everyday Dishes Made Easy" was recently released in paperback. Check out her website at www.cheflauraskosher.com.