Permanent link
09/11/2012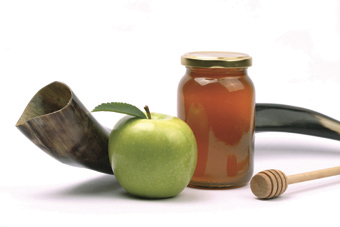 Rosh Hashanah is my favorite holiday for so many reasons. Each year for the holidays families and friends often gather together to share meals.
After the candles are lit and blessing are recited we enjoy a beautiful service called Yehi Ratzon, which means "May it be Your Will." This service is one of the most special parts of the holiday for me. Most of prayers during the holidays take place in the synagogue. This symbolic and fun service takes place in the home, around the table with family and friends.
Foods consumed with the Yehi Ratzons vary depending on the community. Some of the symbolic foods eaten are dates, black-eyed beans, leek, spinach and gourd, all of which are mentioned in the Talmud. Pomegranates are used in many traditions. The use of apples and honey is a late medieval Ashkenazi addition, though it is now almost universally accepted. It is traditional to dip apples or challah in honey to symbolize a sweet new year. As apples can be somewhat sour, they symbolically signify the times that Jewish people had to endure bitterness, and dipping them in honey symbolizes a hope that the bitter will become sweet. Honey also represents Israel, "the land of milk and honey."
Typically, round challah bread is served, to symbolize the cycle of the year. Gefilte fish is commonly served by Ashkenazi Jews on this holiday. On the second night, new fruits are served to warrant inclusion of the shehecheyanu blessing.
During this service you truly are what you eat. The food in combination with the prayer brings all of our senses to our hopes for the New Year and in a sense you are eating your hopes and intentions for the coming year.
Shana tova u'metuka!
Apple dipped in honey
... that you renew us for a good and sweet year!
Gourds (e.g., pumpkin or squash) (Aramaic: kara, meaning 'to proclaim' or 'tear')
... that our merits be proclaimed before You, and our sentences be torn up!
Mini Pumpkin Muffins
2 ¾ cups sugar
4 whole large eggs
2 cups pumpkin puree
2 teaspoons vanilla extract
1 ½ cups all-purpose flour
1 teaspoon ground cinnamon
1 teaspoon baking powder
½ teaspoon fine sea salt
1. Preheat oven to 375 degrees.
2. Spray mini muffin cups with non-stick spray.
3. Whip eggs and sugar together until light, fluffy, and forms a ribbon. Add the pumpkin puree and vanilla and mix to combine.
4. Fold in dry ingredients making sure they are well blended and no lumps of flour remain.
5. Divide the batter between the cups and bake for 8- 10 minutes or until center of cake springs back when pressed.
Black-eyed peas (Aramaic: rubia sounding like yirbu, meaning 'to increase')
... may our merits increase before You!
Serves 6
2 cups dried Black-Eyed peas or canned
For the vinaigrette
¼ cup pomegranate molasses
¼ cup apple cider
2 tablespoons honey
¾ cup best quality extra virgin olive oil
Salt and pepper
For the salad
2 beets, roasted, peeled and diced
2 shallots, minced
3 medium carrots, peeled and diced
½ cup golden raisins
½ cup pomegranate arils (seeds)
1. Sort the Black-Eyed Peas and remove any debris. Soak the peas in cold water in the refrigerator overnight.
2. Drain the water and boil the peas for 1 ½ hours until they are cooked through and have a creamy center. Drain the peas and cool them.
3. Whisk together the vinaigrette and toss the peas and remaining ingredients together in a bowl. Chill before serving.
Leeks (Aramaic: karasai sounding like kares, meaning 'to cut off' or 'destroy')
... may our enemies be destroyed!
Karti (Leek Patties)
3 large leeks, white and light green parts only, diced small
Extra virgin olive oil
3 large eggs
¼ cup bread crumbs
Kosher salt and freshly cracked pepper
1. Sweat the leeks in a small sauté pan, lightly coated with olive oil, over medium-low heat until the leeks are very soft but not browned at all.
2. Transfer the leeks to a mixing bowl and add remaining ingredients. Form the mixture into loose patties.
3. Fry the patties in a sauté pan, lightly coated with olive, over medium heat until they are browned on both sides.
4. Serve at room temperature.
Beets (Aramaic: silka sounding like siluk, meaning 'to remove')
... may our adversaries be removed!
Roasted Beets
1 large red beet
1 large golden beet
Extra virgin olive oil
1. Preheat oven to 350.
2. Wrap the beets in foil and roast in the oven until easily pierced with a knife (about 1 hour). This can be done several days ahead of serving.
3. Drizzle the beets with olive oil and salt and pepper. Serve chilled with chopped mint leaves.
Dates (Aramaic: tamrai sounding like sheyitamu, meaning 'that they be consumed')
... may our enemies be consumed!
We love to eat our dates dipped in a mixture of powdered sugar and cinnamon.
Carrots (Yiddish: mehren meaning 'increase'. Hebrew: gezer, meaning 'decree')
... may our merits increase before You!
... may the evil decree be removed.
1 teaspoon cumin seeds, toasted and crushed
1 tablespoon honey
3 tablespoons fresh lemon juice 
⅓ cup extra virgin olive oil
2 cups shredded carrots
½ cup golden raisins
Whisk together the ingredients for the vinaigrette and toss with the carrots and raisins.
Pomegranates
... that our merits be as numerous as [the seeds of] a pomegranate!
Chef's hint: gather the pomegranate arils (seeds) by putting a cut pomegranate in a bowl of water. Pick the seeds out while in the water and you can avoid pomegranate juice spattering your clothing, cabinets, walls, household pets etc…
Fish and Fish Heads
... that we be fruitful and multiply like fish!
... that we be like a head, and not like a tail!
Fish Tagine
Moroccan spice mix
Two 2-inch cinnamon sticks, broken into pieces
1 tablespoon coriander seeds
1 teaspoon cumin seeds
1 teaspoon chili flakes
½ teaspoon ground turmeric 
½ teaspoon ground ginger 
½ teaspoon anise seeds
Seeds from 1 cardamom pod
Place the cinnamon, coriander, cumin, chili flakes, turmeric, anise, and cardamom seeds in a spice grinder or coffee grinder and process until completely ground. Store in a tightly-covered container, away from light, for up to 3 months.
For the fish
Extra virgin olive oil
1 red onion, diced
1 red pepper, julienne
2 medium carrots, diced
3 cloves garlic, minced
2 tablespoons tomato paste
3 medium fresh-ripe tomatoes with their juices, grated on a box grater
2 tablespoons Moroccan spice mix
¼ cup golden raisins
½ cup water
1 1 ½-pound snapper or striped bass, head on and scaled and dressed

1. Sauté the onion, pepper and carrots, in a large sauté pan, lightly coated with extra virgin olive oil, over medium heat, until the vegetables are soft and lightly caramelized (about 5-7 minutes). Add the garlic and continue cooking, stirring occasionally, for another 2 minutes until the garlic has softened.
2. Add the tomato paste and stir to coat the vegetables. Add the grated tomatoes and their juices, spice mix, raisins and water.
3. Stir to combine. Nestle the fish into the vegetables and sauce. Cover and simmer for 15 minutes until the fish has cooked through.
4. Serve the fish warm on a platter with vegetables and sauce spooned around. Garnish with cilantro leaves and sliced lemons.
Head of a sheep
... that we be leaders (heads) of nations!
Gaze at the sheep's head while reciting the prayer!