Permanent link
09/01/2015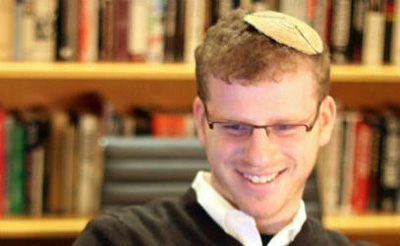 God recently spoke to Rabbi Charlie Schwartz. Which is weird, because he doesn't believe in a God that has a voice.
But the experience was so unexpected, and so meaningful, that he shared an ELI Talk about it and the lessons he walked away with this past June in Chicago. You can see that talk now, here:
I was curious about this educator-technologist, so I reached out for an interview. Turns out he had a lot more wit and wisdom to share -- and he is definitely a Jew You Should Know.
When did you know you wanted to become a rabbi?
I actually shadowed my rabbi when I was in 7th grade as part of a school career project so already then the idea of becoming a rabbi was a strong part of my identity. Although I sometimes shy away from the word, being a rabbi does feel like a "calling" for me.
Name one new technology that excites you and why.
I've become enamored with hackable/programmable micro-computers like Arduino and Raspberry Pi. These super small, cheap computers make it relatively easy to tinker around with hardware and create some compelling interactive projects that wed the digital with the physical. This summer at Genesis (one of the programs I run at Brandeis University) my partner in all things tech-related, Russel Neiss, and I will be running a course teaching high school students to use these micro-computers and giving them the project of using this tech to hack a Jewish ritual. 
You spent time serving in the Israeli Defense Forces. What surprised you about that experience?
Serving in a basic infantry unit from 2003-2005 I was constantly surprised by all the small details of the IDF, like the special way to tie your boots, that headset radios are called Madannot because they look like the mics Madonna used in the 80s, that the camouflage head coverings are named after the headdress of the High Priest (mitznefet), and how much chocolate an average 18-year-old Israeli soldier can consume in one sitting.
You're originally from Portland, so … do you watch Portlandia? Is the dream of the '90s really still alive?!
Most items I own have a bird on them and I only eat meat I'm on a first name basis with so it's less that I watch Portlandia and more that I live it. As for the dream of the '90s, I think the secret to keeping the dream alive is a vibrant urban core, low cost of living, and diverse neighborhoods ... not sure how well Portland fits that dream but Chicago on the other hand …
Through Brandeis you teach teens; what have the teens taught you?
Teens are constantly teaching me new things; a Talmudic text I've never seen, innovations in design and technology, creative ways to look at a problem, but in the most general terms teens are continually teaching me what passion looks like.
I hear you have a sousaphone. Do you play, or is there another story there?
I do play! I grew up playing tuba in symphonic bands and orchestras and as a wedding gift my brothers bought my wife and me our sousaphone (making it our marital sousaphone). It has become kind of a totem for our family appearing in many many pictures. I also play in The Second Line Social Aid and Pleasure Society Brass Band, an activist New Orleans-style street band in Somerville, Mass.
ELI Talks
In your ELI talk, you're not addressing education or technology, but a very personal idea about God. What led you to share that story?
I see technology and to a lesser extent education as tools used to achieve goals. While I love talking about technology and its impact on the field of education, at the end of the day, that's not what drives me as a rabbi, an educator or a Jew. Larger ideas about how we might experience God and our responsibility to the local and global community are at the heart of what I do and teach, so that's what I thought I'd talk about for my ELI Talk.
If your image were used in a meme that went viral, what would the caption be?
"The magic is in the curl."
Miriam Brosseau is the Program Director of ELI Talks.