Permanent link
07/23/2013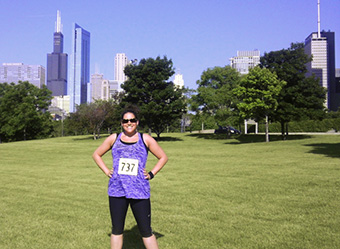 It was on a boat on Lake Michigan at last year's WYLD on the Water party, which celebrated her and the other 35 honorees of Chicago's first ever Jewish 36 Under 36 list, when Roslyn Turner realized it was time to give back in not just her spare time, but her professional time.
Turner was talking with fellow 36er Jonny Imerman, who has made a career of helping cancer patients through Imerman Angels, which gives survivors one-on-one support from those who endured similar experiences, when she felt inspired to do more. This from the person who had already been involved for many years with the Michael Rolfe Pancreatic Cancer Foundation and its Young Professionals Board, helped start the Jewish Education Team Young Professionals group, and has a laundry list of organizations she supports: Alzheimer's Association, Bright Pink, ADL, AIPAC and the Auxiliary Board of Northwestern Memorial Hospital.
Nonetheless, she decided to do something she had been thinking about for months: move on from her marketing position at Affy Tapple, LLC and start applying to graduate school. She will attend Loyola University Chicago in the fall.
"I really felt like going back to get a Masters in Social Work would provide me with the tools to take my desire for just helping people and giving back to do that in so many different fields," Turner said. "I was definitely inspired by being on a boat with so many other people who were recognized for all the great work they did."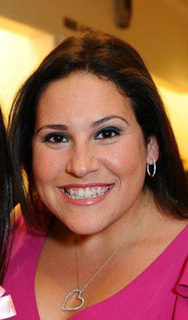 Turner does her own great work on the Rolfe Foundation's Young Professionals Board (YPB). This past year since being named 36 under 36, she planned a big holiday event in November that drew more than 150 people, and in the spring, YPB sold more than 100 March Madness brackets for a fundraiser.
The Rolfe Foundation specifically focuses on early detection for pancreatic cancer, which is known as a "silent killer," and it has been an important part of Turner's life ever since losing both her parents to pancreatic cancer.
"When I came upon the Rolfe Foundation, what I loved was that there was this group of young professionals that were really getting involved," Turner said. "I love being a part of something that I'm with people who understand it and we all get to come together and honor our loved ones who've been affected by doing something to give back."
This Saturday night, July 27, the Rolfe Foundation's YPB is putting on its biggest event yet. Cruisin' for a Cure will take guests on a boat cruise on Lake Michigan that includes live music, a silent auction and raffle, food from Harry Caray's, a VIP cocktail reception and after party, a guest speaker from Johns Hopkins University and, of course, a view of the fireworks over Navy Pier.
Planning for these events and her job have kept her busy, but Turner did take some time this past year to go on a trip that held great significance for her. She participated in this year's March of the Living, an event in which youth from all over the world walk from Auschwitz to Birkenau in a tribute to Holocaust victims and survivors, and then travel to Israel to experience a thriving Jewish community.
"My father was from Poland and was a Holocaust survivor so it was very important for me to travel there and see firsthand what happened," Turner said. "It was such an emotional journey but a trip of a lifetime."
As for her next journey in graduate school, Turner says she is both scared and excited, but says that she knows it will be worth it and she can't wait to see where it will take her.
"I want to take the tragedy in my life and make the best possible scenario out of it," she said, "and in the memory of my parents, doing something that can help someone else so that hopefully they never have to be in this situation."
Turner hopes everyone will come out to Cruisin' for a Cure, and also plans to be at this year's WYLD on Mag Mile party on Aug. 15 to celebrate with the 2013 class of Double Chai in the Chi.