Permanent link
06/23/2015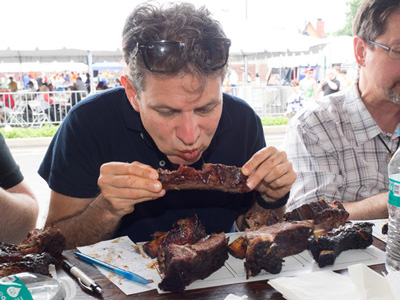 Judges taste the BBQ beef ribs at the Chicago Kosher BBQ Festival and Competition. (Photo by Ralph Schatz)
Things got very steamy at the Second Annual Chicago Kosher BBQ Competition and Festival, held at Anshe Emet Synagogue in Lakeview on Sunday, June 14.
The preparations began the Saturday night before with a thunderstorm and several inches of rain that only the heartiest of barbecue enthusiasts could possible endure. The Chicago Jewish community is made up of tough stuff and these pit masters sloshed through a Chicago summer thunder storm all night long while preparing their kosher delicacies.
Host sponsors for the contest were Milt's Barbecue for the Perplexed, Anshe Emet Synagogue, and the Bernard Zell Anshe Emet Day School; the media sponsor was  JUF News; and the presenting sponsors were The Private Bank, Viva Vantage, and the Jeffrey F. Kahan Memorial Fund.
With 13 teams competing, trophies were awarded in the following categories: Best Brisket, Best Ribs, Best Chicken, Best Beans, Most Original Team Name, Best Booth Decoration, and Grand Champion. RaBBI-Q, under the leadership of Rabbi Mendel Segal, won almost every food category-and was named Grand Champion. "Uncle Mordy, John and the MEATzva Girls" won the award for best brisket. "Burnt Offerings" won awards for best booth décor and most original team name. The Chicago Rabbinical Council supervised the contest.
In addition to the BBQ competition, events included pickle and hot dog-eating contests, and live entertainment featuring the Chicago Boyz Acrobatic Team, a DJ, and Hi-Five Hoops Basketball, and NFL Flag Football clinics. Milt's also served food from its food truck. A $5 donation went to his year's designated charity, Maot Chitim.
As a chef, I was curious about what these meat marathoners brought to the game. A representative from the "Dukes of Chazzer" excitedly told me their secret weapon was one Liam Jankelovics. Indeed, the newly graduated 8th grader looked completely cool and calm while doling out brisket samples. In fact, the entire rain soaked team all looked fresh and eager to send their samples to the judges.
I wanted more. I asked for specifics. Another representative from the Dukes explained that it wasn't just the curry in the sauce that made their BBQ special, it was the TLC! These BBQ teams showed great passion and care in their offerings.
The "Meat is Murder" team told me that nutmeg in their beans was the ace in the hole. They extolled the virtues of less chilies and more herbs in the chicken. Debbie, a spokesperson for the team, echoed the Dukes refrain of "lots of love."
The technique of adding "love" was heard over and over again from the "Caught Smokin" to "Bris-Cut BBQ" teams. I can tell you that, as a chef, I tell my staff that one of the keys to turning a great dish into an amazing dish is putting love into it. I wasn't surprised to hear that the love extended to great sportsmanship and teams covering other teams' backs.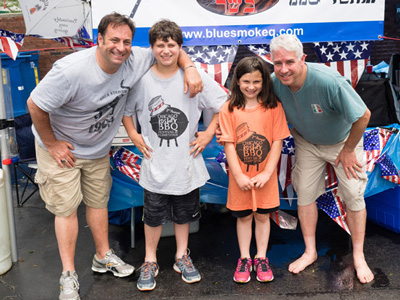 Unfortunately, the team of "Uncle Mordy, John and the MEATzva Girls" had a sudden death in Uncle Mordy's family, and had to fly back to their home in New York before the contest. Other teams including "Rib Roastin' Rabbis" covered the food for Uncle Mordy. Such is the spirit of community at the Kosher BBQ Competition.
I admit I was surprised to hear that several competitors had really put their all into the competition and had been practicing their craft to the point of being on Lipitor! After some thought, I realized that putting your all into great food and loving what you are doing is what it's all about.
The large pool of judges, under the guidance of the representatives from Kansas City Barbecue Society (KCBS), eagerly dove into their boxes of BBQ.
Rabbi Mendel Segal, Executive Director at Kansas City Vaad and BBQ enthusiast, instructed the judges on their criteria. He zealously explained that the Holy Grail of kosher BBQ is brisket. Perfectly cooked brisket should have a melting texture with a drop of pull and, above all, should be moist!
There are often-always-times when we Jews don't agree on things. In the case of BBQ, we all agree on one thing-that we all love to eat. The BBQ competition, as Milt's owner Jeff Aeder explained, is about "welcoming the guest" and "inclusivity." Indeed the dining tent was overflowing with Jews of all denominations and non-Jews alike, all elbow to elbow, enjoying BBQ and the festival.
Laura Frankel is a noted Kosher Chef and owner of Pickled Tongue Catering and Foods. Her book Jewish Slow Cooker Recipes: 120 Holiday and Everyday Dishes Made Easy will be released in paperback on Aug. 11. Check out her website at www.cheflauraskosher.com.