Permanent link
06/15/2010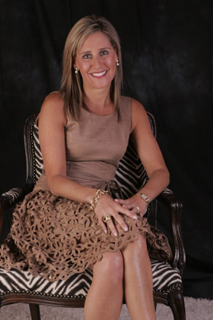 Spanx CEO Laurie Ann Goldman
Oprah swears by her Spanx.
Gwyneth and Tyra love `em too. Madonna wore them on her world tour. And Cynthia Nixon's Miranda even touts them in the new movie  Sex and the City 2 . "I've tricked my body into thinking it's thinner—Spanx," the character proudly tells her girlfriends over brunch.
All these celebrities—and millions of other women too—have Jewish Spanx, Inc. CEO Laurie Ann Goldman to thank. In case you're not in the know, Spanx manufactures footless pantyhose and other body shaping undergarments for women, helping them find solutions to embarrassing fashion faux pas like "VPL" (visible panty line) and "muffin top" (fat spilling over the waistline of skirts and pants). And now, Spanx sells a men's line, undershirts "with benefits," according to Goldman. The men's line is produced in Israel as are some of the other Spanx products. (Who would have thought Spanx could make a nice last-minute Father's Day gift?!)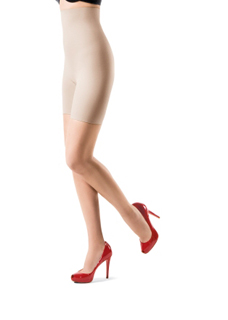 Goldman recently spoke at a JUF Executive and Professional Women's Network luncheon about how she got into the underwear biz.
Before joining the Atlanta-based Spanx eight years ago, Goldman had spent a decade with The Coca-Cola Company as the leader of its worldwide licensing division. While on extended maternity leave, she discovered Spanx through happenstance. Goldman had been invited to a fancy party and called a girlfriend of hers for some last-minute 911 fashion advice on how to hide the extra baby weight. "Spanx just came out with control top fishnets," Goldman's friend told her. "If you're a little fat from the baby, wear any black dress with these and you'll look fabulous."
Goldman raced down to her local department store and discovered they were sold out of the fishnets. "I was aggravated so I asked the store how they were doing on supply side sales management," she said. It turned out she had complained to Spanx founder Sara Blakely's ex-boyfriend, who happened to be the CEO of the company at the time. Impressed by her business acumen, he told Goldman that he "really needed a boss" and, soon, she was hired.
After an unforgiving work schedule at Coca-Cola, Goldman wanted to approach her work/life balance at Spanx differently so that she could spend more time with her husband and three sons, now ages 16, 12, and 10. During her job interview back in 2002, "I talked about all the things that I could do for the business," she said. "But I also talked about carpool schedules and baseball games and how my kids just needed a mom." Her original contract stated that the "employer recognizes the employee has a responsibility to family and community."
For Goldman, the Jewish community has always played a central role in her life. Raised in a strong Jewish New Orleans home, Goldman learned from her parents—both past Campaign chairs at their local federation—about Jewish values like education, family, and compassion. Jewish tenets, says Goldman, come into play every day as the CEO of her company. "The focus on common sense, doing the right thing, and being a good person is at the heart of what Jews do," she said. "That is evident in everything I do work-wise and how we treat our employees, vendors, and customers. It you do the right thing, it will work out."
And today, things seem to be working out for Goldman. She's helped grow Spanx from a startup to a global $350 million company, with 100 employees in 23 countries. Changing a woman's outward appearance transforms how women feel on the inside too, she says. "We have a mission to make people feel better about themselves and their potential. If you solve wardrobe problems for them, then you can change how they feel about themselves and, consequently, what they go out and do," she said. "We talk about things that nobody's ever talked about before and we give people permission to laugh at themselves."