Permanent link
05/22/2012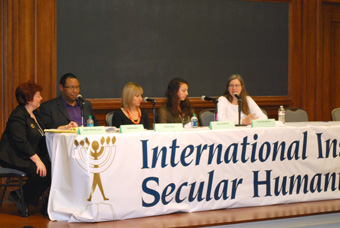 How will the heirs of intermarriage change Judaism?
Can you be "Jewish and" rather than "Jewish or"?
Can the Jewish world handle "half-Jewish?"
Is being "half-Jewish no big deal anymore?
These questions and others were posited by Rabbi Adam Chalom, dean for North America of the International Institute for Secular Humanistic Judaism, during his kick-off presentation at a three-day colloquium titled, "Half-Jewish?—the Heirs of Intermarriage."
The conference—which took place at Northwestern University in April—gathered some 150 participants from around the country to hear presentations, panels, and discussions about the effects of intermarriage on Judaism with the goal of stimulating new approaches for outreach and acceptance of interfaith families and their heirs.
Host organization The International Institute for Secular Humanistic Judaism in collaboration with the Newberger Hillel at the University of Chicago Center and Fiedler Hillel at Northwestern University, brought in a range of speakers including Latina-Jewish artist Maya Escobar, University of Kansas Professor of Sociology, Lynn Davidman, and Rabbi Ari Moffic, director of Interfaith Family/Chicago.
Sessions covered everything from identity formation for children of intermarriage to "half-Jewish" and Israel to the power of "half-Jewish." But the centerpiece of the conference focused on Jewish 20- and 30-somethings and how intermarriage has affected and will affect the next generation.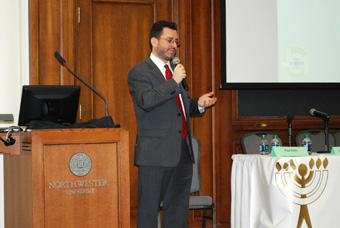 Paul Golin, associate executive director of Jewish Outreach Institute, shared results from a 2011 study of young adults who are the product of intermarriage. He found that 70% of the participants who responded to the survey said that "being Jewish" is "somewhat" or "very" important to them, while 65% of them said that they want to pass on "Jewish ethnic identity to their kids."
Golin's research found a strong correlation between having bar mitzvahs or bat mitzvahs and identifying Jewish. Of the participants in the survey who had bar and bat mitzvahs in some capacity, 90% of them considered themselves to be solely Jewish.  
Yoni Sarason, Midwest Regional Director of Birthright Israel NEXT, works with the 300,000 kids who have returned from birthright trips planning outreach events and opportunities to keep them involved in the Jewish community. He's found that, "trying to do outreach or engagement with [someone with] one Jewish parent is not different than a kid with two," he said. "If there are opportunities built on things people like, they will be attracted to it, no matter if they have one or two Jewish parents."
University of Kansas Professor Lynn Davidman has researched and interviewed countless adults of intermarriage and noted similar results in her presentation. She believes that Judaism is going through a period of popularity where people want to be part of the tribe. "Today Jewish people are seen as successful," she noted. "Jewish for them means being a part of a population that is Nobel Prize winners."
At the end of the colloquium, Chalom surmised that it is clear that there is not only growing acceptance towards intermarrying couples over the last 40 years, but more importantly these intermarried Jews are still holding on to and passing down their Jewish identities.
As a pulpit rabbi he has found, "that many of these [intermarried] couples want us to officiate at intermarriages in order to keep a positive connection…many heirs of intermarriage maintain positive attitudes towards their Jewish identities."
In fact, Chalom sees some positive effects of intermarriage. "Being intermarried can inspire the Jewish partner to consider what it means to them to be Jewish," he said, "[whereas] two Jewish partners might be equally indifferent."
It's imperative the Jewish community understand the power of the personal story, according to Chalom. "There is no one template of interfaith family experience or pattern that is THE future," he said. "There will be conversion, and people raised both, and people raised one culturally, and all kids of varieties."
The Jewish tent, he concluded, needs to be made large enough to embrace everyone.
Other speakers at the colloquium included: Rabbi Sivan Malkin Maas, the first Israeli rabbi ordained by the International Institute for Secular Humanistic Judaism, Sarah Buxbaum, a statistical geneticist and Assistant Research Professor at Jackson State University, Jared Jackson, founder of Jews in ALL Hues, Nica Jacobson, a graduate of the Chicago Interfaith Family School, and Rabbi Miriam Jerris, associate professor of Professional Development at the International Institute for Secular Humanistic Judaism.
For more information on the International Institute for Secular Humanistic Judaism, visit www.iishj.org.