Permanent link
05/02/2011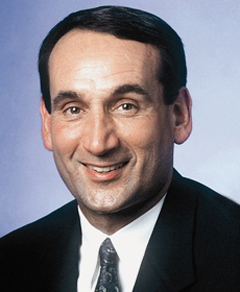 Coach Mike Krzyewski, known by fans as Coach K, is more than a coach—he's basketball legend and a motivator of many. The head coach of Duke University men's basketball team was also the first US National Head Coach in USA basketball history, was named "America's Best Coach" by Time magazine and CNN, and he has several national championships and Olympics medals he's got under his belt—not to mention he's a bestselling author and a native Chicagoan.
Motivated yet? Coach K will talk about what it means to be a team player both on and off the court at the JUF Marketing & Media and Real Estate and Building Trades Divisions Dinner Monday, May 2 at 5 p.m. at the Sheraton Chicago.
Oy!Chicago: What did you think of this year's March Madness and the success of the underdog teams?
Coach K: Well I'm not sure there are underdog teams anymore. I think there are more publicized teams and we're one of them—just because of the reputation and the conference you're in…The three point shot [and the age of the players] has been a great equalizer and it's caused tremendous parity in our sport, which could not have been more evident than in this year's tournament.
How did it feel to get your 900th win?
We've reached 900—and I say we because when a coach does something like that, all his players, and coaches my family—they're part of it… it's a collective honor.
I specifically thought about my mentor and my great friend Coach Knight who leads Division one with 902 (wins) for a coach and his point guard, I was his captain at the US Military academy, to be the first two to reach 900 I'm not sure that would ever happen again.. It's very unique. So I share that time very emotionally and a special moment with coach knight who is a big part of who I've become as a coach.
What would you say is the biggest accomplishment of your basketball career?
I don't want to minimize what has happened at Duke because that's what I do, but the honor of coaching the national team for our country has been the biggest honor… you see our flag being raised and the anthem being played and your hand's on your heart and there's a lump in your throat because you know you've been part of a World Championship or the Olympics—those are incredible moments.
Who do you think is the greatest Jewish basketball player of all time?
That's a difficult question—if you think about it there are many. The most special Jewish player for me is the one who led us to a national championship, Jon Scheyer, who's on my team. He's my favorite Jewish player of all time and one of my favorite young men of all time.
How do strategies on the court translate into strategies for life?
It's better to do something as a team than it is do something as one individual. If you have a group of people who are acting as individuals under the same name you will achieve a certain level of success, maybe. But if you can get everybody on your team to work as one, everybody will prosper, and the team will have the best chance to achieve great success. I tell my guys all the time, two is better than one, if two can act as one.
What was it like growing up on Chicago's north side?
I grew up almost a mile and a half directly north of the United Center –now Ukrainian Village, but it used to be a big Polish community. I love Chicago. I think it's the greatest people city in the world. It embodies all cultures, it puts its arm around every nationality. I'll always be a Chicagoan and pull for our teams—the only thing is Duke isn't in Chicago. But my heart's never left there. 
For more information about the JUF Trades, Industries & Professions Division (TIP) dinner season click here.