Permanent link
05/19/2009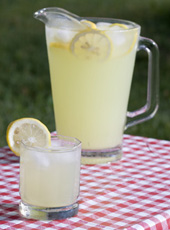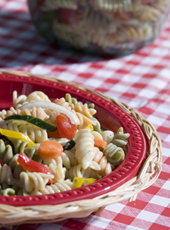 Photo credit Tiffany O'Neill Photography 
Ah, summer.  Finally.  After all the months of winter when you think the sun will never shine again, and the spring, which is mostly cold and rainy, we can settle into summer and all of its promise.  Flip flops and tank tops, hanging at the beach or the pool, all the restaurants putting out tables on the patio, street fairs and festivals.
And barbecues.
Most of us don't technically barbecue, which requires long, slow cooking and smoking of meats, utilizing skills and equipment only the true devotees possess.  What we do at our "barbecue" parties is grill.  I can't barbecue to save my life, but I'm pretty handy at the grill.  And all summer long at the family weekend place, if we're not eating out, dinner is coming off the grill.  Grilled food is the very essence of summer, and while I'm a huge fan of a perfect mahogany-skinned Vienna dog, or a half-pound medium rare Angus burger, eventually you want food that doesn't require a bun.  And if your friends are anything like my friends, you are about to receive scads of invitations to backyard parties where the invite requests you to "bring a dish to share." 
So I thought I'd give you some of my favorite go-to grilling recipes, both for jazzing up a random Tuesday dinner, and for bringing something special to the next potluck. 
It is never a bad idea to surprise yourself or your family, so think outside the box.  Some of my go-to grilling items:
Boneless chicken thighs, with or without skin, are a great and more forgiving alternative to breasts.  The slightly higher natural fat content prevents them from drying out on the grill, and the high heat of the grill helps to render that fat out so that they aren't that much different in calories from breast meat.  Plus the leftovers make the best chicken salad ever.

Skirt steaks and flank steaks are two of my favorite cuts of beef, and much more cost-effective for a party than the usual rib eye or strip steaks.  Both do well in marinades, can be made into creative sandwiches, and are very adaptable to different ethic cuisine—Latin and Asian flavors especially.

Veggies are great on the grill.  I toss them in olive oil with salt and pepper, maybe a squeeze of lemon, sometimes some herbs or spices (fresh thyme is terrific, and dried Herbes de Provence goes with just about everything) and throw them right on the grill.  Everyone does peppers and onions and Portobello mushrooms, but get creative.  Some particular favorites of mine are asparagus, zucchini, carrots (cut into planks), and cauliflower.  And for a real unexpected treat, try a grilled Caesar salad…cut Romaine hearts in half, brush with olive oil and sprinkle with salt and pepper and grill for 1-2 minutes per side.  Do the same with some thin slices of French bread.  Place on a platter, drizzle with your favorite Caesar salad dressing, top with the grilled croutons and shaved Parmesan, and serve with lemon wedges.

Make desserts easy—It's summer.  It's hot.  You don't really want to steam up your kitchen by baking.  And as much as I love pastries, in the summer, what I crave is fruit, and things that are refreshing.  There is no easier dessert than grilled fruit served with ice cream or sorbet.  I do pineapple all the time, but peaches, nectarines, figs and plums are all improved by some time over the coals.  Toss fruit halves or thick slices in a light flavorless oil like canola, and grill a couple of minutes per side.  For a special occasion, after the first turn, sprinkle the tops with brown sugar or sugar in the raw, and some herb or spice (black pepper, grains of paradise, nutmeg, cinnamon, ground coriander, cumin, and thyme are all great with fruit) and then close the lid of the grill for a minute to caramelize.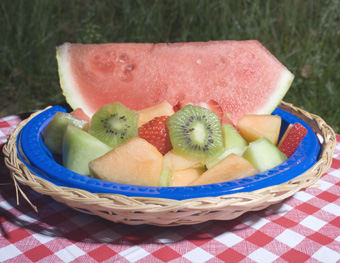 Photo credit Tiffany O'Neill Photography 

Here are some of my favorite recipes; all can be multiplied up easily:
All Purpose Marinade
This stuff works with anything….chicken, pork, lamb, beef, even heartier fish like swordfish or tuna (but be careful with fish, as the acid in the marinade will start to cook it…no more than 15 minutes!).  One of my favorite applications is to use this on a butterflied leg of lamb, it is always an unexpected treat, and absolutely delicious. 
Juice and zest of one lemon
½ c olive oil
2 T Dijon mustard
1 T minced fresh garlic
4 T fresh rosemary leaves
1 T soy sauce
1 T Worcestershire sauce
1 T red wine vinegar
1 t kosher salt
½ t ground black pepper
Mix all ingredients in Ziploc bag, and add meat of your choosing.  Marinate 30 minutes to four hours in refrigerator, depending on thickness of meat.  Bring meat to room temp in marinade before grilling.  (Discard marinade after you remove meat, do not use as basting sauce.) 
Orechiette with Peas and Feta
1 lb orechiette pasta (or other small shape, like ditalini)
8 oz crumbled feta (reduced fat works fine here, but don't use fat free)
8 oz frozen peas, petite or baby if you can find them, thawed
1 c celery, diced about ¼ inch
For dressing:
¼ c red wine vinegar
½ c extra virgin olive oil
2 T dried oregano
1 T salt
½ t ground black pepper
Cook pasta to al dente, and drain, run under cold water till cooled but not cold.  In large bowl, toss pasta with feta, celery and peas, and dressing.  Refrigerate until half hour before you want to serve, this salad is better closer to room temp.  Taste for seasoning before serving.
Serves 6
Cucumber and Rice Salad with Parsley and Lime

2 c cooked long-grain white rice
2 cucumbers, peeled, seeded, and cut into 1/2″ pieces
1 bunch scallions, chopped, including a bit of the green
1/2 c (at least) chopped parsley (mint and dill work well too)
1/4 c olive oil
1/2 c freshly squeezed lime juice
a splash of white wine vinegar
1/3 c plain yogurt, preferably Greek
salt and freshly ground pepper (be generous with the salt)
Prepare and combine all of the ingredients while rice is cooking in large bowl. Add the still-warm rice to the cucumber mix and gently combine. Refrigerate salad until ready to serve. Before serving, taste and adjust the seasoning if necessary. It may need another squeeze of lime after sitting.

Serves 4

Perfect Backyard Potato Salad
3 lbs. Yukon Gold potatoes peeled and cut into large chunks
1 red onion, diced as fine as you can
1/3 c rice wine vinegar
½ c canola oil
Salt and pepper to taste
1 bunch chives, chopped fine
Boil potatoes in salted water till fork tender…do not overcook or they will get waterlogged.  Soak onions in vinegar.  Drain potatoes thoroughly, and pour over vinegar/onion mixture and oil, and mix gently, trying not to break up potatoes.  Let sit at room temperature, tossing occasionally until cooled.  Taste for salt and pepper.  Garnish with chopped chives.  This salad is better if it never gets refrigerated, and there is nothing in it to go bad or get rancid, so it is the perfect thing to bring to an outdoor party where food is likely to sit out. 
Serves 6-8
Greek Burgers with Feta and Tzatziki
For burgers:
3 pounds ground lamb
1 slice white bread, stale
3 T milk
2 medium yellow onions, grated
2 cloves garlic, grated
1 T kosher salt
1 t ground black pepper
2 t cumin
1 T flat leaf parsley, minced fine
1 t dried mint
For tzatziki:
1 c greek yogurt
½ seedless cucumber, grated and squeezed dry in towel to remove excess water
½ small yellow onion, grated
1 t kosher salt
1 clove garlic, grated
1 t lemon juice
1 T olive oil
6 large pita breads for main course or 18 mini pitas for sliders
Olive oil
1 tomato, sliced thin (or cherry tomatoes for sliders)
1 small sweet onion, sliced thin (or shallots for sliders)
Shredded lettuce
Optional:  1 c crumbled feta
Remove crust from bread and soak in milk for 10 minutes.  Mix all ingredients except meat in large bowl until well blended.  Add meat and mix lightly with tips of fingers until onion mixture is full incorporated into the meat, try not to over mix.  Form into 6 equal patties for main course, or 18 sliders for appetizers.  Chill.  Mix all tzatziki ingredients in bowl until well blended.  Chill.
Heat half grill to high, or pile coals on one side.
Lightly oil both sides of patties and sear on both sides over direct heat.  Move to unheated side of grill and close cover.  Finish to medium rare towards medium.  Remove to plate, cover with foil, and let rest 5 minutes. 
Slice a 1 inch strip off one side of each pita bread, for ease of opening.  Brush pita breads with olive oil and grill 1 minute per side until soft.  Carefully open pitas and insert burgers.  Dress with tzatziki, tomato, onion, and shredded lettuce, and feta cheese if desired.
Serves 6 as main course, or 18 for appetizers
NOSH of the week:  If you're hosting a party, remember that in the heat, people need to hydrate, and beer and wine, while delicious, do not take care of this basic need.  Try making large pitchers of flavored waters, they are refreshing and healthy, with just enough flavor to make your guests want to drink them.  In a large pitcher of ice water, put any of the following:  one sliced English cucumber, ½ lb halved strawberries, two small sliced apples.  You can combine any two of these easily.  Let steep for at least two hours to overnight. 
NOSH food read of the week:  A Homemade Life by Molly Wizenberg
This book the best of all possible worlds, a memoir that reads like a wonderful novel, characters you fall in love with and root for, gorgeous descriptions of meals and celebrations, wonderful and cookable recipes, and a sense of possibility and joy that will brighten your day immeasurably.  Be careful, once you start you won't want to put it down…I devoured it in one indulgent, delicious sitting.