Permanent link
05/15/2012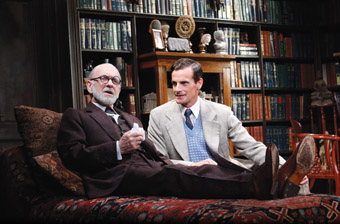 Sigmund Freud and C.S. Lewis probably never met, but what if they had?  With diametrically opposing views on the existence of God, the two intellectual giants would have had a lot to debate. That's the premise of the play Freud's Last Session, making its Midwest premiere at the Mercury Theater in Chicago now through Sunday, June 3.
Written by playwright Mark St. Germain and directed by Tyler Merchant, the play was inspired by the book The Question of God, by Dr. Armand M. Nicholi Jr., a psychology professor at Harvard University, who places the arguments of the two great thinkers side by side. At the end of the book, Nicholi mentions that an unknown Oxford intellectual visited Freud shortly before his death and wonders what if that person would have been Lewis. 
St. Germain picks up where the book left off and poses an imagined meeting between the legendary psychoanalyst Dr. Freud (played by Martin Rayner) and the novelist, poet, and rising academic star Lewis (played by Mark H. Dold) pre-Chronicles of Narnia fame. "To me, that was a play," St. Germain said. "Putting two people with such different opinions who were both convinced they were right just seemed like it would be interesting."
In the 80-minute play—which premiered in the Berkshires and has been playing off Broadway for two years—Freud invites Lewis to his London home on the day that England enters World War II, just a couple weeks before Freud's death. Freud, age 83 at the time of their meeting, is gravely ill with oral cancer and takes his own life before the cancer does. 
Lewis expects the psychiatrist to attack him for satirizing him in his new book, but Freud has a more pressing agenda in mind. During their conversation, the two men debate life's biggest questions, topics like love, family, sex, philosophy, music, war, but mostly they clash over God. Lewis, a Christian who transformed from an atheist into a believer, argues for the existence of God, while Freud, a man of science, is an ardent Jewish atheist. Taught as a boy about religion by his Roman Catholic nanny and his Orthodox Jewish father, he asks Lewis why did he "abandon truth and embrace a hideous lie?"
The show explores life's heaviest topics in a poignant, yet humorous way. While the men disagree on almost everything, they convey a respect and affection for one another. "What's amazing about this script is you encounter someone in life who is completely different than you, you spend time with that person, and you discover how similar you are as opposed to how dissimilar you are," Dold said. "You think these two men will not get along, but the door shuts and 80 minutes later, you see a friendship, a connection…They're never going to agree but you see a compassion for each other."
No one knows who's right when it comes to questioning the existence of God, but as Freud tells Lewis in a light-hearted moment in the play, "One of us is a fool." 
'Freud's Last Session' plays at the Mercury Theater now through June 3. For information and tickets, visit www.FreudsLastSession.com  or call the Mercury Theater at (773) 325-1700 or visit www.mercurytheaterchicago.com.