Permanent link
05/11/2010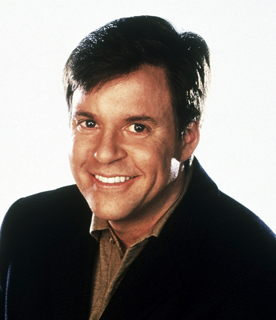 Whether your sport is baseball or football, or you just love to watch the Olympics, it's likely Bob Costas has graced your TV screen. The Emmy award-winning journalist, national sportscaster, Olympic commentator and author has covered every major sport since his broadcast career began in 1973. Since then, Costas has covered six League Championship Series, five World Series, and four Super Bowls for NBC Sports, along with the past four Summer Olympics and three Winter Games, including the 2010 Vancouver Winter Games. He has been with NBC sports since 1979, and has also hosted HBO sports and entertainment programs since 2001.
You can catch Costas Monday, May 17 at the Hyatt Regency Chicago for JUF's Trades, Industries & Professions Division (TIP) dinner for Financial Services, Marketing and Media and Real Estate and Building divisions. Register or get more information.
In a recent phone interview with Oy!Chicago's Stefanie Pervos, Costas talks Olympics, the current state of sports journalism, what makes Chicago a great sports city and to answer the age old question—Cubs or White Sox? :
 
Stefanie Pervos: How has sports broadcasting changed over the past 5 or 10 years—how does the web and blogging influence what you do?
Bob Costas: It's a very mixed bag. You still find people very effectively taking a more or less traditional approach, and you find other people who are talented who have a different kind of new age approach to things…It's great that everyone has a voice but not everyone's voice is equally credible, equally responsible. To me, the issue is not the technology itself but how well is it used. If something is poorly written and not credible then it's poorly written and not credible if it was the first thing off Gutenberg's printing press. If it's brilliant and insightful and well written and thoughtful, then I don't care if it's on a blog or the front page of the New York Times—it's still good.
What was your overall reaction to the Vancouver games this winter? What were some of the highlights and low points?
The lowest part for all of us was just before the Olympics began when the Georgian luger, Nodar Kumaritashvili, was killed on a practice run. The high points included Kim Yu-Na's performance—it was more than just a Gold Medal performance, it was magnificent and elegant—and Joannie Rochette of Canada who got the Bronze in skating just a few days after her mother had unexpectedly passed away—she showed great grace and presence. Lindsey Vonn and Julia Mancuso and Bode Miller bouncing back and doing as well as they did were good stories from an American perspective. And Shawn White is very charismatic and continues to draw people to a sport that they might otherwise not know much about or pay much attention to. And absolutely topping all of it was the last event—the Canadians winning the Gold Medal on their home ice against the Americans in overtime. I mean you couldn't script a better scenario than that and it just ended the Olympics on a wonderful note. And I thought that Vancouver did a wonderful job hosting and presenting the Olympics
Chicagoans were definitely split in their opinions about the 2016 Olympic bid. Would you have liked to see the 2016 summer games here in Chicago?
I definitely would have liked to see them in the US. That's a selfish perspective but any US-based Olympics is extremely appealing to American television, and it would have been of great interest to NBC. So, I was somewhat disappointed from that perspective. I understand the pros and cons and there are always going to be reasonable people—they're not anti-sports or anti-Olympics—who say, look it would be great to have an Olympics but let's consider the cost and what are we perhaps shortchanging in order to put resources and attention into this. So there is always going to be responsible opposition to an Olympics in any city and I know that existed in Chicago too.
On the other hand just from the standpoint of how good the bid was, in terms of venues and transportation and all the aspects that would go into making an Olympics a successful presentation for an international audience and all the athletes and visitors, I'm told that the Chicago bid was extremely impressive and it becomes kind of apparent that there was and still is some anti-American sentiment within the IOC because of other issues that don't have much to do with Chicago at all..I was not so much surprised that Chicago didn't win the bid, although I thought they had a good chance to do it, but it was shocking that they went out on the first round.

What makes Chicago a great sports city?
I think what makes Chicago a great sports city is that first of all it has a long history—with the Cubs, the White Sox, the Bears—these are flagship franchises, as are the Blackhawks. The Bulls history is not as long, since they came into existence in the 60s but because of Michael Jordan and those six championships they have that kind of history behind them. And I think it's the passion of neighborhoods— it's a big city but it always has had a great neighborhood feeling to it. It's a great newspaper town. [Chicago has] had colorful broadcasters which is part of it too, bigger than life personalities bringing you the exploits of a team. You've had great successes, like the Bears winning the Superbowl and the Bulls winning all those championships. And then you have all the lovable losers and frustrations—the Cubs, not winning since 1908, and the Blackhawks haven't won since 1960—and their fans remain loyal. And I think great venues have to do with it too, you know you have Soldier Field and Wrigley Field and those places just ooze history. All these places are distinctly Chicago.

I have to ask—Cubs or White Sox?
I think the White Sox might have the better team this year and I am very fond of the people who run the White Sox. I'm also anxious to see how the Ricketts do with the Cubs. The one thing the Cubs have over almost any team in baseball, unless you're talking about the Red Sox, is their venue. There's something about Wrigley Field that is so winning and so charming and so appealing... So with all due respect to the White Sox—you know the White Sox won in 2005, and since it was a year after the Red Sox had won, that broke the longest drought without a World Championship with the exception of the Cubs. And while it was a big deal, for whatever reason it's nowhere near as big of a deal as if the Cubs were to win, not just in Chicago but on a national basis.
Who, in your opinion, is the greatest Jewish athlete of all time?
This is probably generational, but a) because I like baseball and b) because it's my childhood I'm going to go with Sandy Koufax…Although I'm not Jewish I certainly remember when Sandy Koufax wouldn't pitch on Yom Kippur in the World Series and how that filled Jewish fans with pride, especially because he then would come back on two days rest and win anyways, so Koufax was a mensch there's no doubt about that.