Permanent link
Getting to know the man behind Ted Mosby
04/23/2013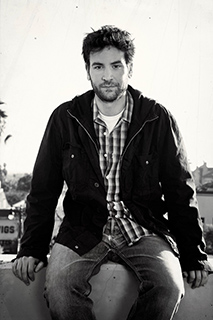 Photo credit: Travis Shinn 
As a devoted "How I Met Your Mother" fan, I was super excited to learn that Josh Radnor would be visiting Chicago in April to speak to Fiedler Hillel at Northwestern University students. Since 2005, Radnor has been most widely known for his role as Ted Mosby on the popular, Emmy-nominated CBS sitcom, which recently announced that its upcoming ninth season will be its last.
Because we know him best as Ted, it's easy to mistake the character for the man. But after talking to him, I discovered that the man behind Ted Mosby is a talented writer and director who feels most alive on a Broadway stage and comes from a strong Jewish background.
Radnor's career goes beyond the sitcom—he has written, directed, and starred in two independent feature films, "happythankyoumoreplease," and "Liberal Arts" both of which premiered at the Sundance Film Festival. And he loves the stage, recently starring in the Broadway production of "The Graduate."
Growing up near Columbus, Ohio (about two hours away from Ted Mosby in Shaker Heights), Radnor and his family were very active in their Conservative synagogue and both he and his two sisters attended Orthodox Hebrew day school. He has visited Israel three times, including a six-week teen tour with Federation when he was 15 and a nine-week solo trip during his time at NYU's Tisch School of the Arts.
With his time as Ted Mosby soon coming to an end—will we ever find out who the mother is?—Radnor plans to return to the Broadway stage in 2014 and is also writing his next movie.
Radnor took some time to speak with Oy!Chicago before his visit to Evanston about playing Ted (who is half Jewish), his newfound writing and directing career, and how his Jewish identity plays into it all:
Oy!Chicago: Can you tell us a little about your Jewish background and how Judaism plays a role in your life today?
Josh Radnor: In between 1st and second year at NYU I got this hankering to go back to Israel so I went for nine weeks by myself. That time in Israel was really powerful for me. It actually threw me into a state of questioning whether I wanted to be an actor or not. And I came out the other end feeling like I really should be an actor and that it was okay to do this. But I was worried I was in this kind of narcissistic loop of maybe perhaps having my attention on the wrong things, but I [made] peace with that.
Judaism today is something I'm constantly wrestling with but I guess that's part of the point of it, I suppose.
How does your Jewish identity influence your acting, writing, directing?
Tony Kushner, the playwright, was asked why he thought so many Jews were attracted to the theater and have played such a role in the American theater at least and he had a really interesting answer. He said the process of studying Talmud and being a Torah scholar is digging beneath the surface of the words and finding out the deeper meaning underneath the surface. And he said that's exactly what playwrights, directors and actors do. You have this text and you read it on the surface and you're also digging beneath it for clues and other meanings. So I think studying Talmud, having a proper Jewish education is actually a very good primer for being a part of the theater. That's always stuck with me and I've always thought that was an interesting parallel.
Are you an actor or more of a director at heart?
I always feel like I'm being asked to choose and I don't know that I can. I feel like if I had to retire from acting today I could look back and feel like I've done some really incredible things that not a lot of people get to do and I feel very satisfied with that. I want to keep doing it. The writing and directing feels more new to me and more exciting I suppose in a bigger way just because it draws on more of me. I always describe acting as playing the violin in the orchestra and directing as conducting the orchestra so you have a fuller sound at your disposal as the director.
I'm a big "How I Met Your Mother" fan. Do you have a favorite episode or moment from the show?
At this point it's so hard, we've done over 180 episodes. A lot of times the fans know the show better than we do in a weird way because we shoot it once and maybe we'll watch it or not watch it and fans watch and rewatch and study and talk about it so they're actually much better scholars of the show than we are.
But I have certain things that stick out. Like I love episodes that fill in the history. I've always loved "Arrivederci, Fiero" where we all say goodbye to Marshall's car…I love the one with the character of Blah Blah where we're explaining how we all met each other. I like the episode where Ted and Victoria meet at the wedding in the first season. And then there are other bits, running bits that really amuse me. I love the intervention banner. Even just little things that writers start throwing in like running gags—little throwaways that reward longtime viewers like Lily shoplifting or something like that.
I know you can't give too much away, but for those of us who've been watching since 2005, will it be worthwhile for fans who've waited so long to see how the story ends?
I would hope so! I think it's always been building to that. I half don't know a lot and also don't want to give anything away, but yeah they're not going to not answer the central question of this show, I'll tell you that.