Permanent link
03/03/2009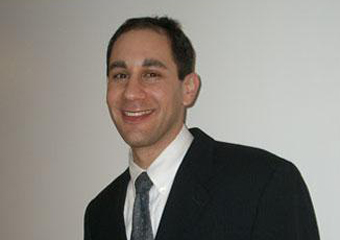 Jeremy Weisz has got your back

Every day, Dr. Jeremy Weisz collects quotes and keeps track of his favorites. The latest one at the bottom of all his emails reads: "Excellence can be attained if you Care more than others think is wise, Risk more than others think is safe, Dream more than others think is practical, and Expect more than others think is possible." (Author Unknown)

A Deerfield native, Jeremy now lives in the city and is having a great year. At his wedding last fall, he and his wife performed a swing dance for their first song—complete with costume changes—then honeymooned in the Dominican Republic. Just last month he moved his chiropractic office to a brand new, custom designed space in Roscoe Village. He's now looking forward to the May re-opening of Mario's Italian Ice near UIC; a place he has raved about for years.

So whether you love Mario's Italian ice, go swing dancing, collect quotes, or need a good chiropractor, Dr. Jeremy Weisz is a Jew you should know!

1. What is your favorite blog or website?
Of course one of my favorite websites is my own: www.drweisz.com. It really gives people a glimpse into what we do and what we are about, especially the "Mission and Values" page where I really took a lot of time to think through what we are all about. We take a lot of pride in it.

The other website I like is JDate as that is where I met my wife so I gotta love it!

2. If time and money were limitless, where would you travel?
I would travel to Italy in the Tuscan region as it is such a relaxing, laid back place. The food is grown fresh, I love Italian food and it is such a joyful and serene place to be.

I would also go to Australia because I have never been there and my wife really wants to go; of course she is the boss. I have heard the weather is nice and the people are friendly.

3. If a movie were made about your life, who would play you?
Probably Ben Afleck, or if it were a comedy, Ben Stiller.

4. If you could have a meal with any two people, living or dead, famous or not, who would they be? Where would you eat or what would you serve?
I would have a meal with Victor Frankel as I love his book,  Man's Search for Meaning  and would love to chat about anything and everything with him. I would also invite Thomas Edison, one of the greatest innovators and inventors ever, as it is amazing what he has done. I would pick his brain about anything and everything. I think I would serve a huge pot of chicken soup, delicious beef brisket, several Italian dishes and lots of desserts to keep us chatting through the night.

5. What's your idea of the perfect day?
Tough question. If it were within the realm of my normal day or a fantasy day? For normal day...have a delicious breakfast with eggs and pancakes with my wife and then go on a long walk and possibly some biking or sports in the middle of the day. Go to a Cubs game with a bunch of friends and family then go out to a nice dinner with everyone and come back to the apartment and just have dessert and wine with my wife and relax by the fireplace.

6. What do you love about what you do?
I work in an amazing environment surrounded by relaxing music, ocean sounds, and friendly faces. We are really privileged to be able to help people everyday. People come in with low back pain, neck pain, headaches and all sorts of aches and pains and we are really able to help people decrease pain which really helps their quality of life. We help people with Chiropractic care for spinal alignment and Massage therapists who help relax tight muscles for patients. It is rewarding to see people come in with a frown and leave with more of a smile on their face.

7. What job would you have had if not the one you have now?
Growing up I always wanted to play baseball for the Cubs ...so I would be the bullpen catcher for the Cubs.

8. What's your favorite Jewish thing to do in Chicago? In other words, how do you Jew?
I love going to the Friday night service before Martin Luther King Day where they have the Gospel Choir come in and perform throughout the entire service. It is an amazing experience; I go every year.