Permanent link
Gritty rock musical presents a cautionary tale 
03/22/2011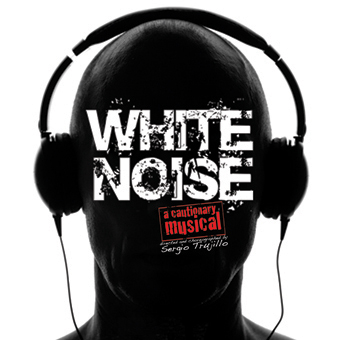 White Noise, the new raw rock musical, isn't Mary Poppins—that's for sure. Don't expect your usual romp at the theater. An original musical, White Noise, opening in Chicago at the Royal George Theatre in April, is gritty and provocative and explores in-your-face issues of bigotry and hatred.
The show, produced by Whoopi Goldberg, is a cautionary tale examining how the public is exploited into buying into messages of hate, bigotry, and racism. The plot follows a powerful producer at a major record label who capitalizes on controversy and media spin to groom two diametrically opposed bands—a neo Nazi rock band and a gangsta rap duo—into well-branded blockbuster stars.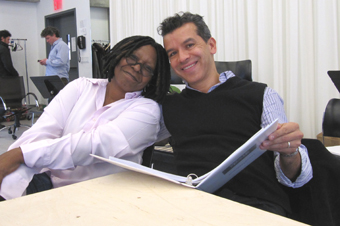 Whoopi Goldberg and Sergio Trujillo during rehearsal.
Photo credit: CROMCO
Set against the backdrop of modern rock, pop, and hip hop music, the show is loosely inspired by the real life Gaede sisters, twin teens who sing about white supremacy and Hitler. White Noise shadows two beautiful (on the exterior) teenage singing sisters, Eden and Eva Siller, who promote messages of white power through coded lyrics and tunes.
The show explores how anything with good packaging can sell, according to Sergio Trujillo, the show's director and choreographer, who has also choreographed such musicals as the 2009 revival of Guys and Dolls, The Addams Family, and Next to Normal. "In the show, the public is buying into these beautiful girls who are absolutely perfect with phenomenal music," he said. "The lyrics are coded so America is really pumping up these girls. We have this celebrity puffing that we do in our society, and the media just manipulates what we want to buy and listen to."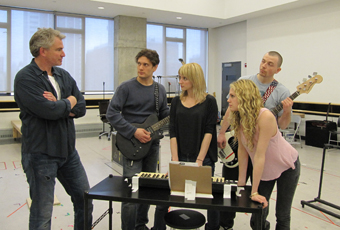 From left: Actor Douglas Sills, Eric Morris, Emily Padgett, Mackenzie Mauzy, and Patrick Murney. Photo credit: CROMCO
Since Jews are targets of hatred, the creators of White Noise hope the Chicago Jewish community will turn out for the show and start a dialogue. Douglas Sills, an actor in the play, and David Alpert, assistant director of the musical, are both Jewish and find the show an important cautionary tale for Jews.
Sills plays the morally corrupt Max, who discovers the neo-Nazi rock band. "The Jewish value system of questioning explored in the show appeals to me," he said. "Listen carefully, listen better, and ask questions. Be aware that just because someone says something in a news magazine doesn't mean it's news. Just because it's music doesn't mean it sends a good message. You have an obligation to sift through messages."
Being Jewish has always been important to Alpert, too, the son of a rabbi. "Growing up in Sunday school, we would watch Schindler's List and learn about the Holocaust. These messages are still out there today. We have to understand where hate comes from and how it's packaged and sold in many different ways."
Inspired by real life, this musical contains language that may not be suitable for those not yet in high school.
White Noise officially opens at the Royal George Theatre on Saturday, April 9, with preview performances running April 1-8. The show is announced to run through June 5. For more information, visit  www.whitenoisebroadway.com . For tickets, call (312) 988-9000, visit whitenoisetickets.com, or visit   www.ticketmaster.com .
White Noise is offering a discounted ticket special exclusively to the JUF/JF community and Oy!Chicago readers. For all Tuesday, Wednesday, Thursday, and Sunday evening performances from April 1 through 28, you can buy tickets at the group ticket rate of $40 (plus fees) as a single ticket buyer. To take advantage of the offer, visit  www.ticketmaster.com and use code "JUFAPR."