Permanent link
02/12/2013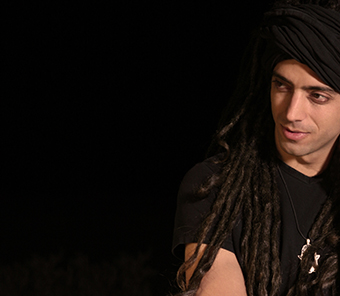 Idan Raichel, Israel's musical superstar of the decade, arrives in Chicago for two performances in February. Since emerging in early 2003, The Idan Raichel Project   has changed perceptions of Israeli music. Fitting for February, love is a motif in Raichel's life and music; the composer/keyboardist's biggest hits are love songs; "Hinech Yafah" (הינך יפה / "Thou art Fair") from Song of Songs, "Boi" (בואי / "Come") and  "Im Telech" (אם תלך / "If you go"). This is rooted in a broader love for all peoples and cultures he encounters.
Raised in a secular family in Kfar Saba, Raichel first witnessed colorful customs from Yemenite families living up the street. After serving as musical director of the Israeli Defense Forces Band, Raichel taught music at school for Ethiopian immigrants. Many young olim sought to leave behind folkways to assimilate into Israeli society, but some passed Raichel recordings of traditional Amharic singers like Aster Awekem. The experience opened his ears to the musical potential of rich ethnic diversity.
Soon thereafter, Raichel began recording in his home studio, inviting numerous musicians to participate, including many Ethiopian Jews, Arabs, Africans, and singers from Yemen and South Africa as well as  Israelis. His debut album, The Idan Raichel Project was released in January 2003 by Helicon Records to critical and commercial success owing to its fusion of traditional Middle Eastern sounds with pulsing contemporary musical forms.
Adding to his appeal are seeming contradictions that defy narrowly categorizing him or his music. He seems to embody a spirit among Israelis of his generation, at once at tension and at home in the Middle East, informed but not constrained by religion and culture. Though Raichel himself is spiritual without being religious, his early lyrical sources were Hebrew Psalms and texts familiar to most Israelis regardless of background. Raichel's primary language is Hebrew, but he includes lyrics in Arabic, Swahili, Zulu, Spanish, Portuguese and notably, Amharic. Raichel likewise defies definition in appearance, sporting dreadlocks bound by a black turban and designer baggy pants. His openness, tolerance and desire for cross-cultural contact seem to reflect a worldly and open Israeli outlook.
Raichel's collaborations exemplify this. A chance meeting with Malian musician Vieux Farka Toure in an airport led to his visiting Raichel in Israel to play and record, resulting in the "Toure-Raichel Collective" and The Tel Aviv Session, a remarkable, critically-hailed collection of original music reflecting various traditional influences that altogether is an unlikely, beautiful fusion. In 2008 Raichel recorded Ben Kirot Beyti (Within these Walls),collaborating with musicians from Latin America. His relationship with the Ethiopian community, however, remains his hallmark. In 2012 Israeli President Shimon Peres asked Raichel to set his own poem "The Eyes of Beta Israel," about Israel's Ethiopian community, to music.
More recently Raichel recorded with Grammy-award winning singer India.Arie, whom he met during her 2008 visit to Israel. They performed at both the 2010 Nobel Peace Prize gala and 2011 Martin Luther King Jr. Memorial dedication, singing "Gift of Acceptance," from a forthcoming joint album, Open Door. The track is posted on KFAR Jewish Arts Center's website at www.kfarcenter.org/video. Hopefully it opens a door to the music of this important Israeli artist and, in the process, your heart.
The Idan Raichel Project performs on Feb. 17 and 18 at the City Winery in Chicago. For more information, visit www.citywinery.com.
Adam Davis is the founder and executive director of KFAR Jewish Arts Center, a leading presenter and advocate of contemporary Jewish arts, music, and culture programs in and around Chicago. For future arts suggestions and feedback, e-mail Adam at adam@kfarcenter.org.