Permanent link
What's a Jew to do in December?
12/10/2013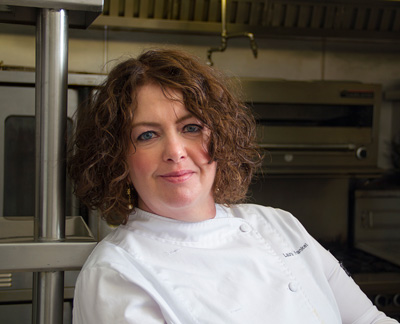 December is usually one of my favorite times of the year. Crisp-blustery air, twinkling lights, and everyone in a good mood. There are parties, excitement, tempting sales at the mall, and an air of anticipation.
This year is different though. With the hybrid holiday of Thanksgivukkah (Chanukah and Thanksgiving) long over in early December and with my favorite frying pan put away, my chanukkiah collection back on the shelf, dreidels spun and now idle, and the gelt now long ago eaten, what's a Jew to do in December?
Sure, we can suck down a couple of kosher candy canes and attend some holiday parties. But our festivities have come and gone. Counting the days until Pesach seems premature—does it come early or late this year?
I am going to get started early on my favorite food season: winter! Moody broody skies, comfy slipper weather, and everyone is actually hungry. I love to hunker down in the kitchen and create long slow-cooked dishes. Soups and stews slow-cooked with huge flavors and loaded with love are what I crave. That's right, loaded with love.
Food that is slow-cooked and made with attention to detail is loaded with love. I reserve my slow-cooked dishes for winter. I am going to make my favorite winter chicken dish. After the latkes and Sufganiyot, I am craving a richly flavored dish, but one that is light and not going to weigh me down.
Chicken with 40 Cloves of Garlic
This simple and light chicken dish will fill your home with heady garlic and aromatic herbs. I am making the dish with chicken, but if you have vegetarians, you can easily substitute vegetables for the chicken.
The original recipe for this dish does not include browning. I think that is an overlooked step. The sauce for this braise is simple and delicious but needs the extra step of browning the chicken to create the deep rich flavor dimension.
I also like to remove the chicken once cooked and continue cooking the garlic until it is very soft and can be whisked into the cooking juices creating a thick, delicious, and earthy sauce.
Serves 6+
10 chicken thighs or combination of legs and thighs
Extra virgin olive oil for browning
Kosher salt
Freshly cracked pepper
40 cloves of garlic (or more), peeled
Bouquet garni (herbs tied together with kitchen twine) of parsley stems, fresh thyme sprigs, 1 bay leaf, several sprigs of fresh tarragon
1 cup chicken stock (homemade preferred)
½ cup dry white wine
Preheat oven to 325°
1. Place a Dutch oven or heavy sauté pan, lightly coated with olive oil, over medium heat.
2. Pat dry the chicken pieces and season with salt and pepper.
3. Brown the chicken pieces, in batches until the skin is crispy and caramelized (about 7 minutes).
4. Add the remaining ingredients to the Dutch oven or casserole. Cover and cook in the preheated oven until the chicken is cooked through about 45 minutes.
5. Transfer the chicken pieces and place the Dutch oven over a low burner and continue cooking until the garlic is very soft and creamy.
6. Whisk the garlic until if falls apart and is incorporated into the braising liquid.
7. Adjust seasoning with salt and pepper. Add the chicken back to the pan and serve over garlicky croutons and
roasted vegetables.
Crispy Herbed Croutons
This simple side dish soaks up all the chicken juices and delicious braising liquid.
Every professional chef will tell you stories of burning croutons. I think I have burned as many croutons as I have successfully made. Somehow it is the simple things that get you. I really don't use timers in a kitchen, except when making croutons!
1 large loaf of whole wheat bread cut into 2-inch croutons, you will need about 1 cup of croutons per person
¼ cup extra virgin olive oil
2 tablespoons chopped flat
leaf parsley
2 tablespoons chopped
fresh thyme
1 tablespoon chopped
fresh rosemary
½ teaspoon kosher salt
½ teaspoon freshly cracked pepper
1. Place all the ingredients into a large bowl. Toss to coat the bread completely with ingredients.
2. Place the bread on a parchment lined baking sheet and bake, turning occasionally, until the bread is lightly browned and crispy (about 15 minutes)
Roasted Vegetables
This winter veggie side is a quick go to side dish. You can add beets, celery root, turnips or any seasonal vegetable to the mix. I like to garnish with freshly chopped parsley.
Serves 6+
2 medium carrots, peeled and cut into 2 inch pieces
2 medium parsnips, peeled and cut into 2 inch pieces
1 medium sweet potato, peeled and cut into 2 inch pieces
2 cups peeled and diced butternut squash
⅓ cup extra virgin olive oil
1 teaspoon kosher salt
½ teaspoon freshly cracked pepper
Preheat oven to 350°
1. Toss the vegetables with olive oil, salt and pepper.
2. Place the vegetables on a parchment lined baking sheet and roast for 35 -45 minutes, stirring occasionally, until lightly browned and tender.
To serve: toss the croutons and vegetables together and place on a platter. Arrange the chicken on top of the vegetables and croutons and spoon the sauce over the chicken. Garnish with chopped parsley.
Chocolate Pound Cake
This is our standard cake at home. I think I can make this in my sleep. The water bakes out the cake leaving a tender and delicate textured crumb. Be sure to use the best cocoa powder you can find. With so few ingredients, it is important to use the best.
1½ cups all purpose flour
½ cocoa powder (I use valrhona cocoa powder)
1 teaspoon baking powder
½ teaspoon sea salt
1½ cups sugar
3 eggs
1¼ cups water
½ cup extra virgin olive oil
1 tablespoon vanilla extract
Preheat oven to 350°
Grease a loaf pan
1. Combine the dry ingredients in a mixing bowl and set aside.
2. Whisk the water, eggs, olive oil, and vanilla together.
3. By hand, mix the wet ingredients into the dry and stir until there no lumps.
4. Pour into prepared pan and bake for 40-50 minutes or until a toothpick, inserted, comes out clean.
5. Cool the cake on a rack for 30 minutes. Dust with powdered sugar.