Permanent link
11/05/2013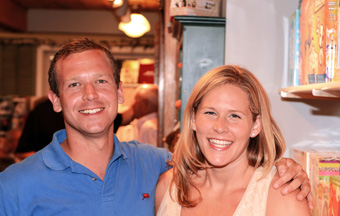 Chicago's food truck scene exploded this summer and adding fuel to that fire was one Fat Shallot.
Hitting the streets of The Big Onion (one of Chicago's nicknames, for those who aren't up on their Windy City trivia) this past May, The Fat Shallot (a play on said nickname) slings gourmet sandwiches that combine the joys of comfort food with inspired ingredients and flavors.
When the City of Chicago finally allowed food truck owners to obtain a cook-on-board license, Sarah Weitz and her husband, Sam Barron, jumped at the chance to start their own business together and The Fat Shallot became the first of such licensed trucks in Chicago. It's been "an amazing six months so far," Weitz said, but their journey began quite some time before.
Sam and Sarah attended Highland Park High School together, but "re-met" while attending culinary school at Kendall College. They then traveled a good chunk of the world together. They lived in Spain while Sam cooked at a three-star Michelin restaurant and then ventured throughout Europe, Southeast Asia and India. They worked on organic farms and sampled street food everywhere they could their hands on it.
From the grilled salami to the grilled cheese (on sourdough with Muenster, spinach and sautéed onions along with a few different varieties of fries, if you haven't scoped out the truck to this point then you're missing out. Follow The Fat Shallot on Facebook and Twitter to keep tabs on its whereabouts; in the meantime, we think Sarah Weitz is definitely A Jew You Should Know.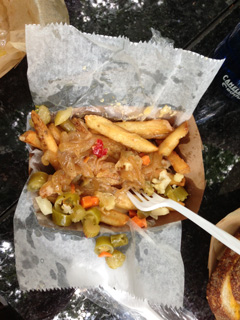 Fat Shallot Fries with caramelized shallots, cheese sauce and giardiniera
1. You put so many tasty and exciting flavors into your sandwiches. What's the culinary concept for your food and what styles from your many travels influenced it? 
Our concept is taking classic sandwiches and adding our own gourmet twist. We try to create sandwiches that you can't get anywhere else. We love to incorporate flavors from our travels in Europe like the romesco sauce we ate in Spain or the pickled vegetables we ate in sandwiches in Vietnam.
2. Why did you go the food truck route and what are the rewards and challenges of the mobile food business in Chicago?
Sam and I got married in June 2012 and Chicago changed the law two months after that food trucks could cook on board. Both of us were in the food industry and decided this would be the perfect time to start a food truck: lower overhead than a restaurant, casual setting, endless creativity and an opportunity to be on the ground floor of such an exciting time in Chicago's food truck scene. We also fell in love with the idea of setting our own schedules, working for ourselves and being together.
3. What's the secret to running a successful business with your significant other?
The secret is that we both love food, cooking, eating and each other.
4. What's your most significant Jewish food memory and do you have a favorite Jewish food you like to make? 
My most significant Jewish food memory would have to be Shabbat dinner at my grandparents' house. For over 50 years my grandmother cooked Friday night dinner for our family. For almost 20 years I went every Friday night. She cooked the same meal every week with various incarnations. We never got bored and I would do anything to have one of her Friday night dinners again.
As far as making my favorite Jewish food, it's a tie between baking challah with my best friend Lisa and making gefilte fish from scratch with my mother in law who still uses her grandmother's recipe from the 20's.
5. If you could set up the truck anywhere in the world outside of Chicago, where would it be and what new sandwich would you make to intrigue the locals? 
Truthfully, I think it would be Japan. It's the next place Sam and I want to travel through together. Maybe a sashimi ramen sandwich with carrot ginger dressing.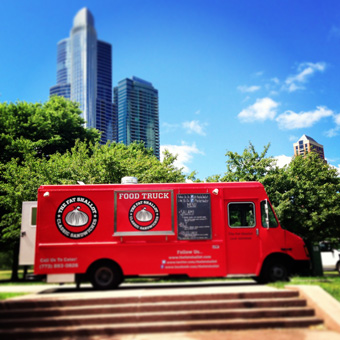 6. What do you love most about what you do?
Part of what makes my job so incredible is being mobile. Every day is an adventure. We jump in the truck and go to a different neighborhood each day. I love feeding and meeting people from all over the city; students, professors, children, doctors, nurses, business men and women. Plus we cater an array of parties and events with the truck. It's very rewarding to help make special events memorable for our customers. We catered our first Bar Mitzvah last week and had a blast.
7. In an alternate universe where you couldn't be in food service, what would you do?
I'd probably be a caregiver because I enjoy helping and working with people. I'm often told I have an old soul so maybe working with the elderly would suit me.
8. What's your favorite Jewish thing to do (or how do you Jew?) in Chicago?
Hands down my favorite thing to do as a Jew in Chicago is to celebrate Shabbat with friends and family.