Permanent link
11/19/2009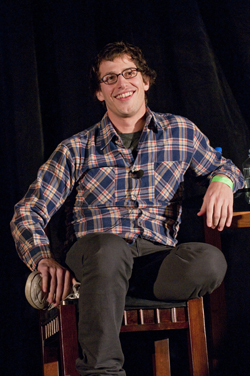 Photo credit: Robert Kusel
From WWF to 'SNL' to YLD
Starting at age 8, Andy Samberg used to sneak out of his bedroom late on Saturday nights to watch WWF wrestling.
But wrestling was only on once a month, so most Saturday nights he would watch "Saturday Night Live" (SNL). "I became obsessed with SNL and fell in love with it," Samberg recalled. "From that point on, I wanted to figure out how to craft my life to lead me to [a career] at SNL."
He and his two friends, who would one day form a comedy troupe, would record episodes of the famous sketch comedy show on VHS—especially the ones starring his idol, Will Ferrell, and watch them again and again. "It was never something that was not part of my life," he said.
Cut to two decades later. Samberg, who is Jewish, has entered his fifth season as a regular cast member on "SNL." The comedian creates and stars in such comic—and often raunchy—music videos as "Lazy Sunday," "I'm on a Boat," "Dick in a Box," and "Motherlover," collaborating with entertainers including Justin Timberlake and Natalie Portman.
Samberg's videos debut as digital shorts on SNL and then rocket their way to YouTube fame. The comedian's videos have earned several Emmy nominations and other awards and broken records on YouTube. He's also starred in several movies, including "Hot Rod" and "I Love You, Man."
As entertaining as Saturday nights are thanks to SNL, the real excitement for many Chicago-area young Jews came on Sunday night, Nov. 15. The JUF's Young Leadership Division's (YLD) Second Annual Big Event featured an evening with Samberg.
'Big(gest) Event' in YLD history
And it really was a "big event." Held at Swissotel Chicago, the event drew more than 1,000 people, making it the single largest YLD event in history. "To get that many people there on a Sunday night just shows the dedication and devotion that the young Jewish community has by giving back," said David Greenbaum, YLD president. The evening included hors d' oeuvres, dessert reception, open bar, after-party, and an exclusive program with Samberg, including some Jewish-themed clips from "Saturday Night Live."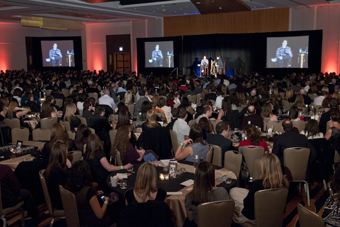 1,000 guests fill the room for YLD's largest event ever
Photo credit: Robert Kusel
YLD's Big Event raised money for the 2010 Jewish United Fund (JUF) Annual Campaign, offering young adults a chance to give back in tough times, as JUF tries to help more people, but with fewer resources. People who have never needed assistance are calling upon JUF for help. "We're mindful of the fact that 38,000 local Jews now rely on us for groceries and meals," said Jonathan Rutman, YLD's Big Event chairman and 2010 YLD Campaign vice president.  "Most of us have never experienced a time or circumstances like these, where we are challenged by both an economic meltdown and a worldwide surge of anti-Semitism and vilification of Israel."
'In your face, ribbon-tying supervisor lady'
Wearing a casual plaid flannel, Vans sneakers, and glasses for the event, Samberg seemed like just a regular, goofy Jewish guy. In an "Inside the Actor's Studio"-style format, local syndicated columnist and talk show host Mark Bazer interviewed Samberg in front of the crowd. As Samberg began by telling the audience that he grew up in a "hippy" and "melting pot" place called Berkeley, Calif., a young woman in the audience screamed out her love for his hometown. "Thanks, Mom," he joked. "She goes everywhere with me."
Samberg, an NYU film school grad, grew up with two other funny guys, Akiva Schaffer and Jorma Taccone, who formed the comedy troupe "Lonely Island," named for the apartment building they used to live in. Earlier this year, they released their album "Incredibad," the first full length album to reach the number one spot on iTunes.
Back when they were struggling to make it on the comedy circuit, they would shoot low-budget comedy videos "eating canned chili and drinking 40s." To make ends meet, they'd take temp jobs together. "We got fired mainly for tardiness," he admitted to the crowd tentatively.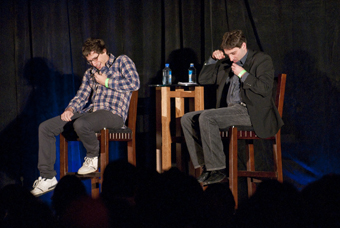 Andy and Mark joking around
Photo credit: Robert Kusel
"Once we got a call at 6 in the morning asking if we wanted to tie ribbons on Christmas Cards…to give it some three-dimensional flair," Samberg said in a mocking tone. On the job, the three buddies sat tying ribbons and chatting. After failing to separate them, their supervisor fired them for talking too much. All these years later, Samberg's having the last laugh. "In your face, ribbon-tying supervisor lady," Samberg joked with the crowd. "She's here [at Big Event] for sure…way in the back."
Switching gears, Bazer and Samberg discussed the comedian's Jewish identity. He said his parents raised him with a strong cultural Jewish identity, but, at first, not a particularly religious one. One day his sister, in the fifth grade at the time, came home from her Jewish day school and said, "We're way more Jewish than you guys are telling us." From that point on, Samberg and his family ate Shabbat dinner and observed the Jewish holidays.
He talked about the role his Jewish identity plays in his comedy. "My comedy is not Jewish," he said. "I'm a comedian because I'm Jewish. That's like every fifth Jew is a comedian, right? And every other four have a pretty good sense of humor."
He says he grew up on a diet of Mel Brooks and Woody Allen Jewish humor, but that today's young comedians must mix it up. "For some reason, this generation of comedians, [no matter] what their ethnicity, can't base their whole act on one thing, because to me that feels a bit limited. A lot of comedians are like, 'So, I'm single…' and that's their whole act," he said.
After the interview, the spirited crowd asked Samberg questions, many of which focused on whether the star is dating anyone. "On behalf of all the women and some of the men, do you have a girlfriend?" one young woman asked. Samberg responded, "Do you want me to take my shirt off?" "Are you on JDate?" asked another female fan in the crowd. "I'm not on JDate, but that doesn't mean there aren't a lot of nice people on JDate," Samberg replied. A man in the audience got a big laugh with his question, "What was your bar mitzvah theme?"
When asked whether Samberg finds the constant YouTube parodies of his videos flattering, he said he absolutely does. "When I see a group of 10-year-old girls doing 'Lazy Sunday' in their small rural town and they're clearly having fun, that's inspiring," he said. "It reminds me of what 'Saturday Night Live' meant to me as a kid."