Permanent link
11/12/2013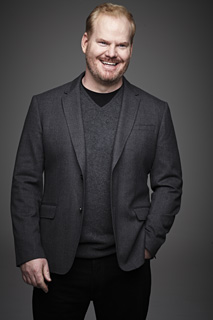 Photo credit: Gabrielle Revere
When comedian Jim Gaffigan and his wife, Jeannie Noth Gaffigan, had their first baby, they received the usual flood of congratulations from friends and family. For their second, third, and fourth children, people still seemed relatively happy for them. By the time Jeannie gave birth to their fifth kid, "it held the ceremony of renewing an annual health club membership," Gaffigan writes in his new book.
Gaffigan—who will co-headline YLD's Big Event Fundraiser on Nov. 16 alongside fellow comic star Amy Schumer—recently published the New York Times bestseller Dad is Fat, (Crown Archetype)—a title based on the first words Gaffigan's son ever wrote down. The book shares observational humor on being the father of five kids, ranging from age 8 down to newborn. Oh, and all seven Gaffigans live in a two-bedroom New York City apartment, "roughly the size of an airplane bathroom," as he puts it.
Born in Elgin, Ill., and raised in Chesterton, Ind., Gaffigan was familiar with large family size growing up with five sisters and brothers. But as the baby of the family, what he wasn't used to was being around children younger than him—until he spawned his own. "The closest I ever came to a little kid," he writes, "was when I watched The Cosby Show and Raven-Symone came to live with the Huxtables for a few seasons."
Oy!Chicago recently caught up with Gaffigan over the phone to talk about fatherhood, comedy, Twitter, and chicken rings.
Oy!Chicago: Why did you write the book?
Jim Gaffigan: Being an observational comedian, I write about what I know. When I started standup, I didn't even have a girlfriend. I would see comedians go on stage and talk about their wife, husband, or kids. And I told myself I wasn't going to do that. Flash forward to having these kids. I started writing some of it in my act, but I didn't want my act to just turn into the "dad act" because I was the 23 year old who would hear people talk about their wife and kids. I remember thinking I can't get a date—I don't know what they're talking about…The book came out of the desire [for Jeannie and me] to capture some of the chaos of our lives. Kids are pretty amazing. I was a pretty unlikely believer in the whole kid thing. It was a pretty big revelation that this is the most important thing I'll do in my life.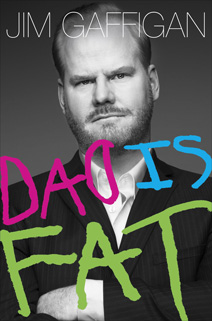 Your book reads like a love note to your wife, Jeannie, who is also your business partner, the co-writer of the book, and your muse. How do you put your love for her into words?
I am very lucky in this realm…I'm married to this wonder woman. You get a lot out of a partner in life who is going to make you a better person.
Do you feel a kinship between the Catholics and the Jews?
Standup comedy is a very Jewish American art form. It sounds pandering, but when I started in New York, most of the comedians I knew were Jewish. Maybe some of it is because I'm so Aryan looking, I get nervous talking about the Jewish experience.
You performed standup in Israel a few years ago. How was your experience being in Israel?
Amazing. I love traveling internationally. I'm not thrilled about carrying the burden of how Americans are perceived, but in Israel there was none of that…There are so many Americans in Israel. English is such a common language besides Hebrew. There were all these kids that were over there for a year. I loved it.
You have a huge Twitter presence, close to 1.8 million followers. What do you like about Twitter?
It fits the attention span of a comedian. Comedians are really spoiled by coming up with an idea and trying it on stage that night. There's a parallel there that you can come up with an idea and post it. I like Twitter because sometimes I come up with an idea, and it doesn't have to be a homerun because people aren't paying $40 [to read the tweets]. The other day I was at White Castle and I took a photo of their sides [to post]. It's just absurd. You should see it. It's like these chicken rings, rings that are made of chicken.
We know about the hands-on, daily ways kids change a parent. In what ways has your worldview changed since having children?
Once you have a kid, all the tired clichés that you hear about children fall into perspective. I would say that I have a greater interest in local news. When you don't have a kid…if someone robbed a building, you're like, 'Wow, that's fascinating.' But when you have kids, it's a concern.
What are the biggest differences from your childhood as the youngest of six children versus how your kids are growing up in a big family today?
It's much rarer to find a large family now. Also, my kids are growing up in an urban setting, and I grew up in a pretty suburban [world]... I was also the youngest of six, and knew a world of joyful chaos in a large family…I love the fact that my kids are not thrown by seeing two men holding hands walking down the street. Every decade, every generation America changes so much.
What is your favorite part about being a dad?
I could talk for an hour about this. Parenting just grounds you. You don't get distracted by the drama or the silliness or the superficiality of our lives when you're around a 2-year-old or a 9-year-old or a 7-year-old. Their point of view on the world adjusts yours. It's this intentional selflessness that's thrust on you. It's a really good influence for me…I also don't want to sound like I know what I'm doing because that's not the case. I'm a comedian and comedians work at night and there's this occupational narcissism to over-analyze things, and kids shatter that.
Are you excited to return to the Midwest for Big Event?
I've lived in New York for 25 years, but in the end, I'm a Midwestern guy... I'm proud of being from Indiana. It's fun to tell people in Chicago that you're from Indiana because they're like, 'Where's that?' It's like 10 minutes away.