Permanent link
10/13/2009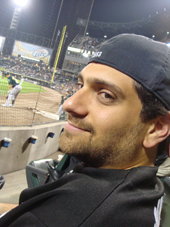 For generations Jews celebrated the storied baseball careers of Sandy Koufax and Hank Greenberg. Since then Jews have longed for more Jewish athletes. And in 2009 we look around the MLB, NFL, and NBA and see several Jews atop their sports. In Boston, Kevin Youkilis trots the bases after each home run; Jordan Farmar of the Los Angeles Lakers hoisted the NBA Championship trophy; and Igor Olshansky makes bone-crushing sacks for the Dallas Cowboys. But Jewish sports fans want to know who is next? Who is the next big thing in the Jewish sports world? Well here they are:
Baseball:
Isaac Davis – New York Mets (Minor Leagues)
Originally, drafted by the Tampa Bay Devil Rays in 2005, Davis decided to go to college and play for the Arizona State Sun Devils. In 2008 Davis became the 18th overall pick by the Mets. He is naturally a first baseman, but he can also play either corner outfield position. This year in Binghamton he batted .309 with 13 HRs, 43 RBIs in 55 games. Davis is our best chance right now of the seeing the next Hank Greenberg.
Jason Kipnis – Cleveland Indians (Minor Leagues)
Kipnis grew up in Northbrook, Illinois. He was the 63rd overall pick in the 2009 draft. In his first taste of Minor league ball with the Mahoning Valley Scrappers, Kipnis had a .306 Avg. with 34 hits in 29 games. Last season for the Arizona State Sun Devils he batted .380 with 66 Rs, 14 HRs, 65 RBIs, and 144 TBs. The way he plays reminds me of a young Ian Kinsler.
Football:
Taylor Mays – University of Southern California (College)
Mays has started at free safety since his freshman year for the USC Trojans. He is a two time All-American and in his junior season was a Jim Thorpe Award Finalists. In his first three seasons he has played in three Rose Bowls and won all three (one against my Illini). Mock drafts boards have him going as high as fifth in this year's draft. He has the potential to be the greatest Jewish football player ever (including Sid Luckman).
Basketball:
Rosalyn Gold-Onwude – Stanford University (College)
She plays for one of the best universities in the country. Gold-Onwude was named Pac-10 All-Defensive Team honorable mention.  Last season she saw action in all 38 games, averaging 3.8 ppg, 90 apg and had 32 steals. She does a little bit of everything on the court.
Jon Scheyer – Duke University (College)
Scheyer is definitely the best Jewish college basketball player in the country. Last season he averaged 14.9 ppg, 2.8 apg, and 3.6 rpg. When you play almost 33 minutes per game for coach Mike Krzyzewski you must be a pretty good basketball player. Scheyer has a chance of being a solid role player in the NBA.
Naama Shafir – University of Toledo (College)
Originally from Israel, Shafir is the first female Orthodox Jew to earn NCAA I scholarship. She has an Honorable-mention All-MAC and All-Freshman Team selection. Shafir averaged 11.7 ppg, 4.5 apg, 2.8 rpg and 1.4 steals.
For more information on these athletes and all different sorts of Jewish sports information check out www.thegreatrabbino.com.